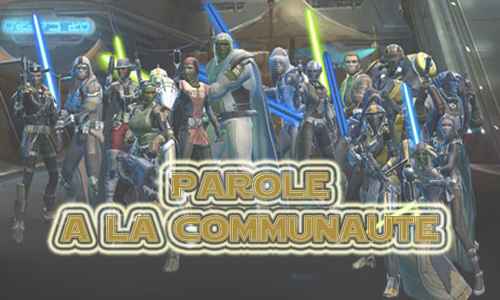 Today we receive the guild Abaddon, from the Mantle of the Force server on Star Wars The Old Republic, in the company of Samhy.
Hello, I am Samhy, Privilege player on the Mantle of the force server and I would like to tell you the story of the Abaddon guild!
Let's go through my little personal presentation, I'm Samhy, little Malfrat Heal in the Abaddon guild, I've been playing SWTOR in casual for almost two years now, I'm the marketing manager of the guild that's why you see me writing here, on Games Managers which for me is the most optimized site for players (hihihi little bootlicker).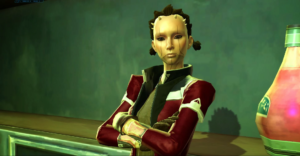 A long time ago, in a galaxy far, far away, lived a hermit with blue skin… No, I'm kidding, but that would have made a good start to the scenario!
Small clarification, the name Abaddon comes from the Hebrew which means "Destruction" or "Abyss", nothing to do with the bosses of other games.
Our history
Abaddon is a guild of players who found themselves through Contentious Areas and some operations, players from different guilds or without a guild. From this base was created Abaddon, grouping all these beautiful people under one and the same name.
Since November 2014, the guild has evolved, whether in advancing operations or new players entering it, and it continues in the same direction so that its name continues to live through the members who are the hub of its to come up.
One-for-all, all-for-one guild system
Having made four guilds in play, Abaddon surprised me about their sharing system on the guild vault. Indeed, if we have three full bunkers to share for everyone and a limited one for guild materials, we are also entitled to repairs regardless of our situation or rank, and that, few guilds do.
There is also the Free-to-play aspect in guilds. If you are F2P or even Privilege like me, the guild offers possibilities so that their members do not get stuck on the progress in game or in guild, in this way, everyone is favored and the players can continue without blocking ( shortcut bar for example).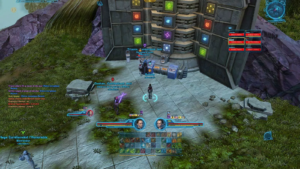 What do we do ?
The guild is geared towards operations and hot spots, we also have a few members who indulge in PvP from time to time, we have a schedule of operations that we will be doing during the week (schedule which gives us the idea of the evening without necessarily following it), it gives us an overview of the guild outings.
The progress of the guild is recorded on our site, so we can see what we are doing and let the curious see the guild in action as well.
For the moment the guild is focused on Story Mode in 4.0, although it drops quite a bit of operations on Hard Mode, it is slowly but steadily progressing at the pace of these members for everyone to enjoy at their speed.
We also have the guild ship to rank in Conquest, we want to put ourselves in first place like everyone else, but as long as the guild tags the top ten our GM is happy hihi.
The conquest is a plus and a small challenge for us because there are not many of us but our geek strength leads us in the ranking and we are proud to show the name of the guild on the board among many others.

How does the guild work?
In our guild, we have ranks like in other guilds, they are not too numerous not to mix the brushes. To put it simply, we have one MG (Ëlli), two officers and the guild members who also have two ranks, the older and the new.
We also have a DKP system (points given in guilds) which are only there for fun and bring a little extra to the guild, which allows members to complete challenges offered in raid without any obligation, because we can very well have points for singing Catherine Lara (thank you Elli!). If the DKP system has been in place for a time of delirium, it remains and will remain a guild delirium.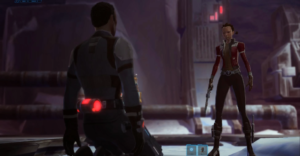 Last word
Abaddon has players who have been there since the inception of SWTOR, always present to do something in-game and we have a strong core of active players (Elli, Piper, Haniia, Ti'canis or even Haga). From this base, the guild continues to live and is always looking for new players who want to enjoy the game or discover it.
We are not many but have a strong heart and a hand to anyone who wishes to join us.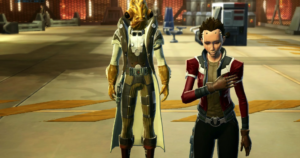 I have to thank people who were there for our GM throughout the game and with whom he enjoyed playing with:
Ialiss, for whom the commando has no secrets.
Saromis, who has no shortage of jokes.
Cloud, the heal that lives up to its reputation (he will understand!).
Balfumos, an (almost) perfect tank.
Adrianne, the celebrity magazine for spanish speaking servers.
Abaddon thanks you.

rjprojectsonline (at) Gmail (dot) com