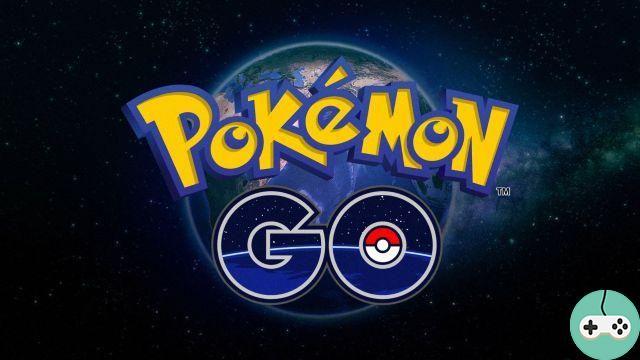 If you're a fan of the Pokémon universe, you certainly haven't missed out on the recent release of the Pokémon GO app, developed by Niantic, in Japan, Australia and the United States.
In Pokémon GO, you will be able to make many players' childhood dreams come true by going on a Pokémon hunt for real. When you launch the app for the first time, it will ask you to log in via a Google account or a Pokemon Trainer Club account. Once you have completed this step, you will get to know the Professor Saul giving you the traditional speech of all Pokemon games, then all you have to do is create an avatar for yourself before embarking on the adventure.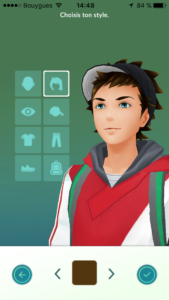 Thereafter, it is a very difficult moment which awaits you, because you will have to capture your first Pokemon among the following starters: Bulbizar, Carapuce ou Charmander. This first capture will give you a first glimpse of the game system.
When you are in the capture phase, you will be able to see the CP (Combat Points) of a Pokémon listed above it. In addition, when you are about to launch your Pokéball, a zone will appear and it is inside this that you will have to make your launch to capture your Pokémon. The more precise you are, the more likely you are to catch your Pokémon on the first try.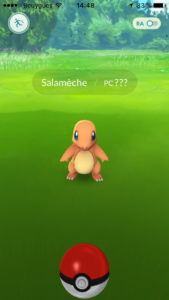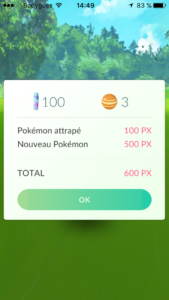 Once your Pokemon is captured, you will get experience points, stardust, as well as three candies, candies dependent on the captured Pokémon (in the case above, for example, I obtained three Charmander candies). The candies as well as the stardust will allow you to either "recharge"your Pokémon and therefore to increase its power or to do so evolve if you have the required number of candies.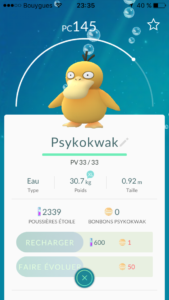 To help you navigate your Pokémon hunt, a map using data from Google Maps will be made available to you and will contain a lot of useful information. In particular, you will be able to spot Pokémon there naturally, but also the arenas and the Pokéstop surrounding areas.
To track a Pokémon, you will need to select it in the small tab located at the bottom right of your map. Once done the application will tell you a number of steps between three and zero separating you from the target Pokémon, the closer you get, the more the number of steps will decrease.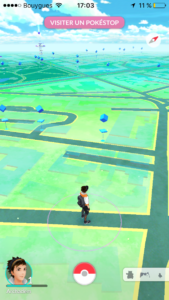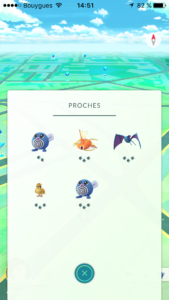 From your card, you can also consult your profile in which will be displayed various achievements to complete. You can also consult your Journal, a real history of your progress in Pokémon GO.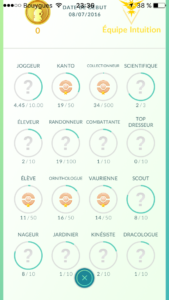 For the rest you will have to survey every corner of your city in search of the 151 Pokémon available, while collecting various objects in the Pokéstop on your way. It is also in these Pokéstop that you can get potions, pokeballs, reminders, as well as Pokémon eggs, which you will have to hatch by traveling a variable distance depending on the egg obtained.
Arenas, available from level 5, are also a very interesting aspect of Pokémon GO with a team system making it easier to take and defend an arena. You will have the choice between three teams, namely: the Intuition team (Yellow), Wisdom (Blue) and Bravery (Red). Small flat however: the Arena once conquered is managed by an AI spoiling the pleasure of immersion in the game a little. Another dark point, the absence for the moment of an exchange system that could prove to be essential moment.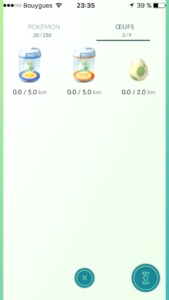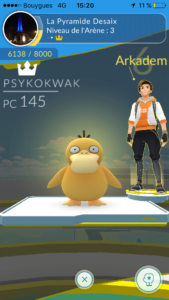 Despite these small flaws, Pokémon GO respects the expectations of fans very well by offering us a complete experience, sending us straight back to childhood. For my part, I was totally won over by Nintendo's proposal, even if in my opinion, the repetitive nature of the game can quickly be felt after a few weeks. It only remains for me to wish you good luck in your quest!
Currently, Pokémon is not available in Spain, but it is possible to install it by getting the APK (installation package). But if you prefer to wait for an official release, know that Niantic has promised it before the end of July.
Have you tested Pokémon GO?