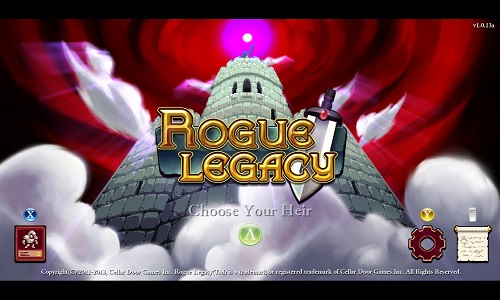 Rogue Legacy is a game that will undoubtedly make most of you nostalgic. With its Castlevania airs and its well-balanced difficulty, it guarantees you a good lifespan. The principle of the game is based on the legacy side of the title. Indeed, when you die (and it happens quickly), it is the character in the following family tree that takes his place.
The game nevertheless offers several choices, which can be more or less easy to make because each character has very distinct characteristics. And I promise you sometimes it really gets Rock N 'Roll to play. To test everything, try to play as many different characters as possible, you may have many surprises!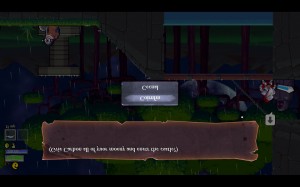 Do you see that? A screenshot upside down! That's the game !
In terms of pure play, we evolve in a castle (classic but so effective), we have a simple attack touch and one for special attacks. For more maneuverability, a joystick is strongly recommended. The castle offers a different map for each generation, unless you have unlocked the architect who allows you to block on a map model to avoid losing your bearings.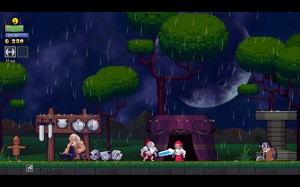 He's the guy on the right! He will be your best friend.
In addition to the architect, you can see other characters above: a blacksmith and a clairvoyant who are used respectively to buy equipment and upgrade it with runes. To unlock these NPCs (and other stuff that you will discover for yourself) you have to go through the talent tree which, it must be admitted, is very original: it is indeed represented in the form of a castle. This castle will grow according to the talent points collected, which means that it will take a lot of time and money if you plan to complete everything, including the towers!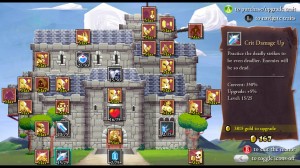 The ! There's a level!
Now that the basics are in place, let's go on an adventure. To enter the castle, you will have to go to the cashier and give all your gold. So you might as well take the opportunity to get your pockets emptied by the merchants before trying the adventure again.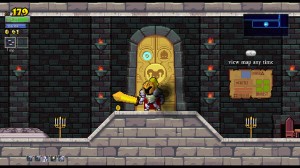 I need the same front door!
The first room in the dungeon is still the same: a relatively ominous heavy door, a crude map, and a teleporter. You can imagine that the latter is capital because given the level of difficulty of the game you will save a lot of time.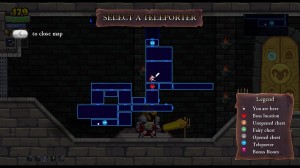 Ha! But it's actually big!
You will understand: the goal of the game is to unlock the main door to find out what is behind it. On paper, it looks pretty easy, but in the end, not that much. I highly recommend a great exploration of the castle before tackling this. The bestiary is relatively classic: knight in armor, flying board, specter ... But don't let your guard down. When you go to explore a castle, caution is always in order.
I hope I made you want to explore its meanders. Here we have an extremely addicting game with graphics that will evoke an era that does not seem so long gone. Lots of humor and lots of easter eggs await you at every turn. This little wonder is available on Steam for € 13.
Thanks Driky for the screenshots!