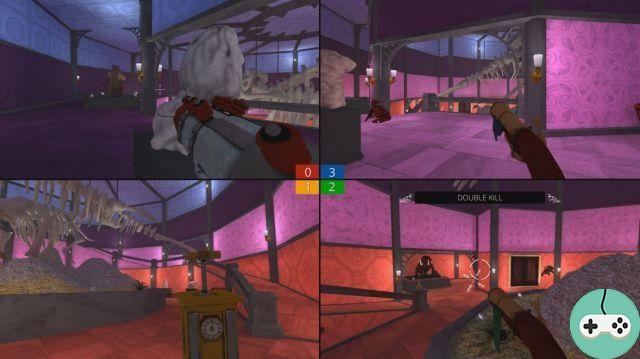 Multiplayer FPS, we all know at least one, whether it's a very old license or a recent one. We all spent evenings with friends shooting each other to get the most points or just achieve certain goals and it is with this idea that Screencheat was created.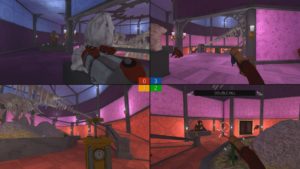 Screencheat goes back to the old school FPS games where players played four-handed with a split screen. One of the big problems that some may have encountered during these evenings is the tendency that some have to look at the part of the screen which is not theirs (thus giving the position of the adversary). Samurai Punk, the title's development studio, wanted to make this element the basis of the game's gameplay.
To understand, it is impossible for the player to see his opponents on his part of the screen. The only solution to guess the position of your opponents will be to look at their screens to establish their position and kill them with your weapon. The FPS side is quite minimalist, you choose, at each of your resurrections, a weapon in a predefined choice ranging from the classic shotgun to the candlestick on fire (some weapons are quite delusional). Regarding the game keys, you will have three: shooting, jumping and moving (ZSQD).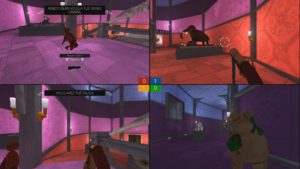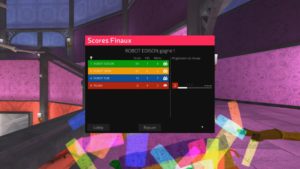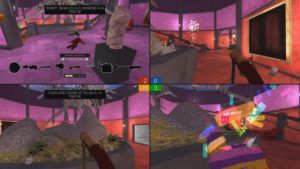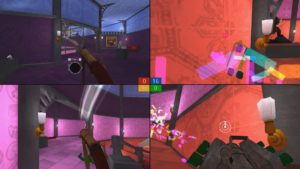 I'm not going to talk about the single player mode which has no depth and which is not the heart of the game anyway. It should be noted, however, that the game's AIs are quite competitive and can give you a hard time. start when you will not have knowledge of the arenas. The bulk of the game will be on the multiplayer part which can extend up to 8 players online. Different game modes are available, some of which are:
Deathmatch: you fight in the arena with multiple opponents. The goal is to kill your opponents to earn points.
Capture of the hill: you must stay the longest on a point of the arena (hill) which allows you to earn points. The "hill" changes location regularly.
Pinata: you must keep the pinata as long as possible. You get it back if you kill the wearer.
Mysterious Murder (the most played mode online): you will have a specific target to shoot down with a specific weapon (to collect in the arena). Chain murders to win the game.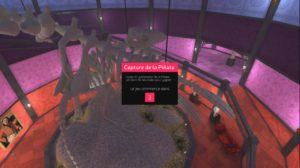 What do you think of Screencheat then? There is still a very nice little independent game to play with friends or online. Even if there are a lot of different game modes, the title may suffer from the lack of maps as well as from gameplay, it must be said, quite repetitive. For now, multiplayer games with other people have been just as difficult to find whether in the evening or even in the middle of the day.