Since Game Dev Tycoon, I became a fan of all these little games that allow you to create works without having to worry too much. Find the right combination, make the right mix, take a solid concept and make a monumental flop, or make a totally wobbly production and reap fame and fortune ... Today, we will be interested in Showtime!, no, not the extension of Sims 3, but of the film creator available in Early Access on Steam for a few months, which continues to evolve via monthly updates.
Showtime! is a game at the crossroads of Game Dev Tycoon et The Movies, a title released in 2005 which also made it possible to create his film, which was very complete, pleasant to play and very pleasing to the eye at the time. But the budget was not the same, the team of Showtime is not helped by Activision and must do with the means at hand. Say goodbye to the 3D engine then. Showtime is a text-only game, but nonetheless fun.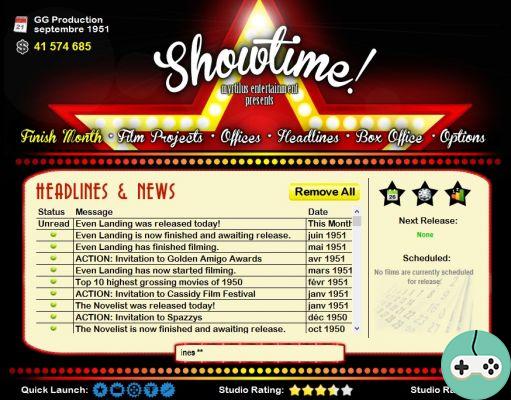 As I said, the interface is not very nice, and not very ergonomic.
I will not go four ways: if you are looking for a game pleasing to the eye, go your way because the interface of Showtime is quite austere and will slow down the ardor of a lot of players ... If, on the other hand, that doesn't bother you, I invite you to continue reading and to discover the depth of this title!
It all starts with the creation of your studio, you give your studio a name, you set a starting budget, the year you want to start and the initial popularity. The game is relatively consistent with cinema technologies. So if you choose to start your game in 1927, don't try to create Star Wars VII - Wookie's Rising with $ 200M in FX, you just won't be able to, as special effects didn't exist back then, and you won't be able to start researching this technology until much later.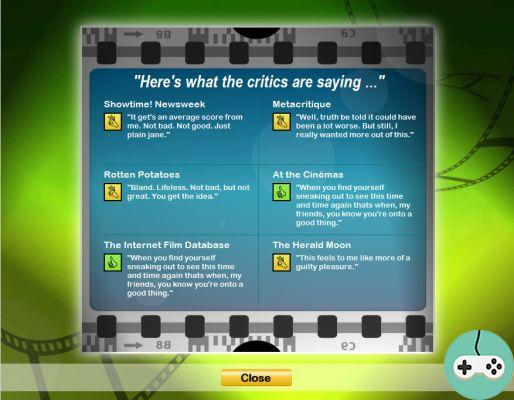 At each release of films, the press will come to give its opinion.
Technologies are relatively important to produce quality films, it will be necessary to improve your studio, your cameras, your sound recordings ... Everything is taken into account and your first films risk turning into filthy dung. Fortunately, the marketing is there and some really bad movies will pay off big if you target the right audiences! So avoid advertising to a male audience when the film is clearly aimed at young people aged 12-24, otherwise your accountant will not necessarily be happy and bankruptcy happens, unfortunately, very, very quickly ...
Of course, to produce a film, you need a whole team, so you will have to constitute a cast according to your budget, fix the type of film (a long list of genres is available and it is even possible to mix genres), by hiring a writer in charge of the script (taking care of his chosen field, if you wish to produce Batman, avoid sticking a screenwriter specializing in Soap type Love, Glory & Beauty), a director, a producer and above all good actors who, depending on their experience and popularity, will cost more or less. Do not expect to hire Brado Pitto and Angela Jolier for $ 20 / film, they will ask for much more ...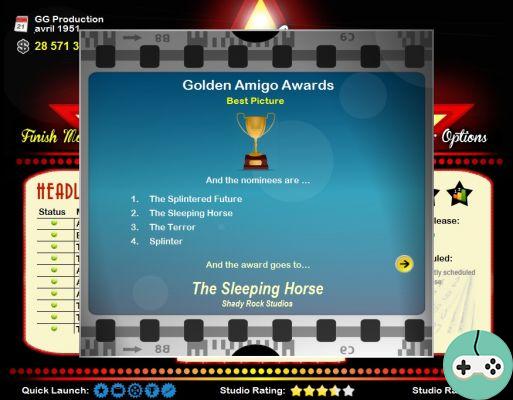 Ceremonies are regularly organized to reward good films ... So not mine.
Then you will have the right to choose the filming location of the film, decide which technologies to use, set an overall budget, watch the filming time, plan the release date, see what the competition offers with the various ceremonies organized in the game (your films could of course be nominated, or even win the grand prize ... But the films of Games Managers Productions never had this honor in my game ...) and do a more or less important marketing campaign, it will all depend on whether you want to make your film an ogre of the cinema with explosive trailers and company, or if you produce a little auteur film confined to your small country ...
Small subtlety: it is possible, if your studio has the means, to buy the right to certain popular cinema licenses to develop suites! It's quite nice and, if you work well, you will be able to gain some notoriety thanks to it!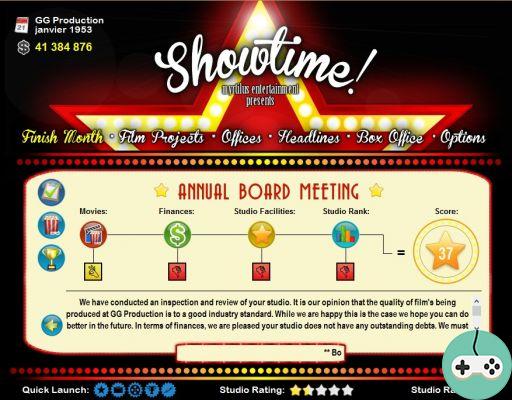 Each year, a small report will allow you to see if you have managed your studio well. Yes, I am a poor leader.
Let us be clear, just like Game Dev Tycoon, the concept is very cool. Being able to create your own film with your studio is great, but you have to ignore the shortcomings of the title which will bother a lot. Currently, the game is not really easy to learn, you must first master English, the tutorial will not help you very much, the ergonomics of the software is far from perfect, and its interface d help will not help you at all. But I remind you, the title is still in early access and the game is still evolving, they are aware of these flaws and intend to resolve them quickly. You should also know that the game is available at a low price, 7.99 € on Steam. This is not enough for a Game Dev who is already proving to be deep enough, as long as we forgive him for his faults.