Are you tempted by an adventure set in London in an alternate steampunk universe? If so, then Blackmore, currently seeking funding on Kickstarter, might be for you.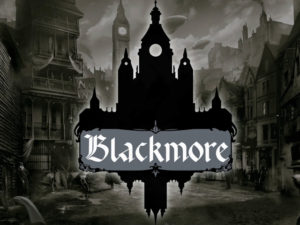 The story takes place in Victorian-era London, but in an alternate reality where European and Asian fashion and aesthetics meet, where advances in automation, electronics and chemistry have made it possible the creation of robotic minions, steam transports and golden gadgets. As wonderful as it may sound, beneath the polished metal lies a grimy world, where homeless children beg for food, their hands yellow from work in the match factory, where families sleep crammed into rooms. infested with rats. A world that is slowly dying, suffocated by its own gluttonous greed.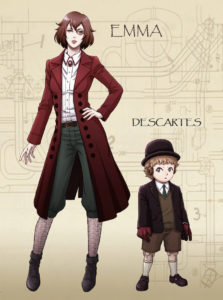 It plays Emma Blackmore, the daughter of the late Lord Simon Blackmore, inventor and nobleman. Emma lives in a huge mansion with her brother, Jonas Blackmore, and mother, Teruko Honda-Blackmore. Emma is strong-willed and determined to do more with her life than become the perfect wife. Having been one of the first women to receive a medical degree from Oxford, she started her own medical clinic in East London to meet the needs of the poor. Her closest friend is Descartes, a robot boy built by her father to watch over her.
At the beginning of the story, Emma's day begins like any other. Awakened by Descartes, she rushes for the morning breakfast served by her family's servant-automaton. Her depressed brother thinks she needs to stop working and find a good husband, while her mother is more concerned with the daily chores and inheritance of her late husband.
Emma jumps on her steam bike and pedals to work, but before the day is over she finds herself facing a gruesome crime scene. With the help of her robot sidekick and various gadgets left by her father, she will embark on a big investigation to find the culprit.
Detailed graphics with 2.5D isometric rendering.
Point-and-click system (with different puzzles) and classic menus.
Orchestral soundtrack written and performed by Motoaki Furukawa, a legend of Konami music.
Graphics in pure classic Japanese style created by Satoshi Yoshioka, who has worked on titles such as Snatcher and Policenauts.
A captivating story based on a screenplay written by Jeremy Blaustein, the man behind English Snatcher, Metal Gear Solid, the Silent Hill series, Shadow Hearts, Suikoden 2 ...
Dubbing directed by actors like David Hayter, Jeff Lupetin, directed by Jeremy Blaustein.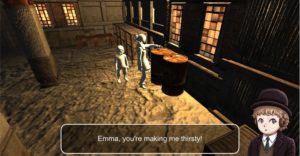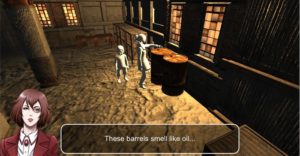 Scheduled for Spring 2015, the game is being developed first for PC and Mac and will be available on various sites, including Steam. Consoles will be considered in additional funding targets. On the translation side, the game will be in Japanese and English and other languages ​​are being considered depending on the support encountered in each country. Supported by a small Japanese studio of ten people, the campaign has now started well, having already raised $ 56 (out of a target of $ 000). The game is priced at $ 200. Count $ 000 for the strategy guide and $ 25 to have an original Descartes, which has exclusive features and dialogues.