Thaerim told you about it a little while ago as the Kickstarter campaign was entering its final week (source). As this Monday no game really caught my eye on Kickstarter (and others), I decided to quickly come back to the astonishing financing of this game, with $ 2 on Kickstarter and $ 134 on its own site. Or, almost 374M (yes, it lacks 4k but at this level, we do not stop at so little!).
Especially since the fundraising campaign continues. As they explain, the more money the studio gets, the more important the content will be at launch. The universe promises to be big, as big as it can get ... and it's well on its way to being gigantic! And how not to fall for all these little add-ons to the initial donation, ranging from a simple new paint ($ 5) to the possibility of naming your solar system ($ 5000)!
Thus, since the last article where we were around 3M, the game has been enriched with many features, completing 10 new missions (stretch goal) which make it even more interesting: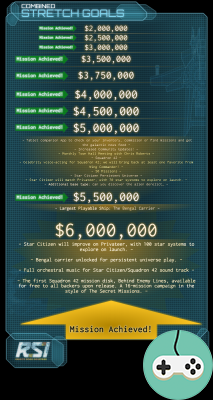 This table is not necessarily easy to decipher, you will find on the site a description of the steps taken. So, while we only had 40 star systems for Star Citizen at 3M, there are now 100 systems planned since we exceeded 6M +! Over time, many additional playable ships have been added: Cruiser, Bengal Carrier ... Some features will spice up the game: at 3.5M, we won the cockpit decorations (did you say Housing?) And boarding operations! Watch out for space pirates. The 5.5M cap brings us an application on tablets to check its inventory, its commissions, find missions or obtain galactic news! In parallel, Squadron 42 won motion pictures for cutscenes with dubbing from famous actors and 50 missions! Finally, the two obtained at the 6M a symphony orchestra for the creation of the soundtrack. The icing on the cake !
So, have you cracked? Are you one of the 98 people who believe in this game and will have to wait until November 143?