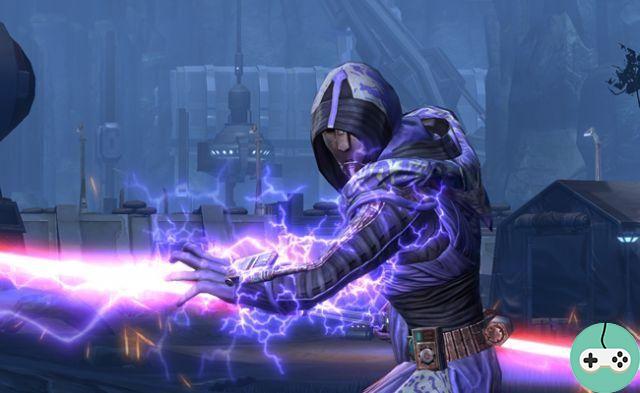 This guide is intended for PvP only, whether in Arenas or Warzones.
Summary :
Talent tree
Statistics and optimization
Equipment
Rôles
Conclusion
Talent tree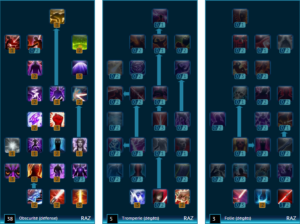 38 / 5 / 3
Statistics and optimization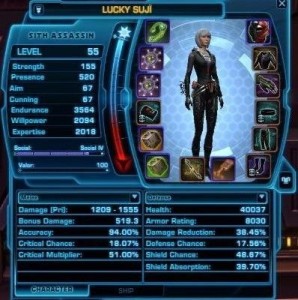 Defense
Close combat
Strength
Point of view : 40000
Defense Chance : 17%
Chance to trigger shield : 35% to reach 50% with the Dark Zone
Shield absorption : 40% to reach 48% with the Dark Bulwark talent
Damage Bonus : 500
Precision : 94%
Critical chance : 18%
Damage Bonus : 860
Precision : 104%
Critical chance : 17,50%
Equipment
Set
Modifications
Sophistications
Increases
Relics
Obroan tank armor set
Bonus 2 pieces : -10 seconds on the tip, your primary control spell.
Bonus 4 pieces : + 5% damage when you protect a player, this bonus is very important because you are not only a tank, you do a lot of damage
Modification 29Bx
+ 63 Endurance
+ 49 Willpower
+ 39 Absorption
Sophistication 29x
+ 68 Endurance
+ 63 Shield
+ 15 Absorption
Increase 66
+ 32 endurance
+ 20 power
With 1 or 2 increases + 32 shield + 20 ability power to reach 50%
With 2 or 3 increases + 32 absorption + 20 power to reach 40-42%
The Matrix Cube is essential, it will give you a lot of health points with the PvP boost.
The Relic of Power that will grant you 625 power for 6 seconds.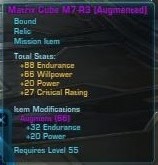 I know you are amazed at my choice of relic, of course this is only a tip if you prefer to have the 2 tank relics I understand.
Now the Defense Chance stat is useful against direct damage, but you are never targeted by the other team. Then the Relic that gives you 625 absorption can trigger even if your shield doesn't trigger, in which case it's useless.
Rôles
Protect
This is the main role of the tank, that is to say to protect your healer, the one targeted by the enemies. So remember to change the protection according to the needs of your team (15 meters maximum between you and the one you are protecting).
Place your Phase shift in the combat zone, thanks to the Ability of Assassin ", it will increase the healing in that zone by 5%.
Control
You have 5 spells to play this role: Overload - punchline - Force pull - Cyclone - Choc.
You must have Sismos grenades for zone control.
Defend
Putting protection is not enough, you also have to use your taunts, you have two so remember to use them.
Le Wilting will reduce enemy damage by 5%, Dump will reduce their accuracy by 5%.
Remember to control the enemy damage classes in a critical situation, this will allow your healer to raise the health bars.
Damage
Does that surprise you? Not me :
Wilting is an area spell
Dump is an area spell
Electrochoc crit automatically, deals 50% critical damage with talent Stimulation and has a 45% chance to proc a second time thanks to the talent Double electroshock.
Flash of strength is a channeling spell that triggers 4 times and is increased by 25% by talent Relentless darkness.
Correction is a melee skill whose damage is increased by 6% per talent Punitive blades.
Here is an example of the critical damage I do on average:
Correction : 1500 * 2 = 3000
Electrochoc : 2500-3000 + 1000-1500 = 3500-4500
Wilting : 2000 * 4 players = 8000
Dump : 1200 * 4 players = 4800
Flash of strength : 2000 * 4 = 8000
You must have double the damage of the tank in front and you will sometimes be even above that of your team.
Conclusion
Don't leave without adrénaline et war zone medipac as well as grenades earthquakes.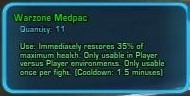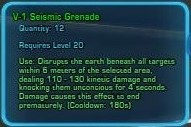 A well-placed earthquake is a won arena!
The role of tank is often neglected, even minimized, I hope that this guide will make players want to play this role which can, if well executed, turn the situation around in the arena.