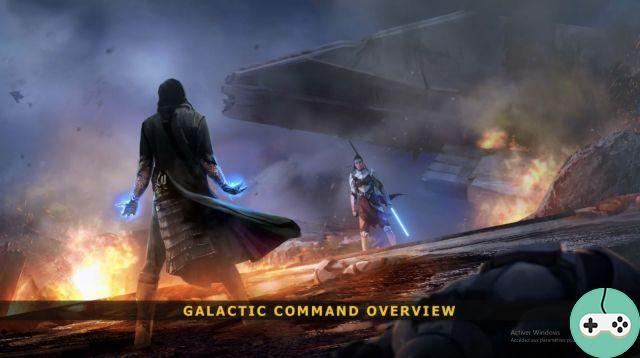 Following the October 17th livestream, Eric Musco posted a post on the official forum explaining the upcoming changes to high level equipment. If these changes were already discussed during the summary of the livestream, it was necessary to group them and put them forward in view of their importance.
Ainsi is notera:
From level 70, the source of the high level equipment will be the Command Crates of the Galactic Command system.
Most activities will grant Command Experience (CXP) which will increase his Command Rank. Each time your Command Rank increases, you will gain a Command Crate.
The higher your Command Rank, the greater the rewards.
High difficulty operations, Uprising content, and Ranked Warzones will be the best ways to get Command experience quickly.
With the removal of expertise, PvE and PvP gear are merged. We will therefore obtain the equipment in the same way.
Equipment will no longer drop from Operation Bosses, all Equipment will come from Crates. All cosmetic loot (mount, decorations, etc.) will of course still be obtainable from bosses.
Players will be able to create similar equipment without a set effect via Crew Skills.
Update 19/10:
Some other explanations were given by Eric:
Despite the disappearance of the equipment dedicated to PvP, the equipment index will still give an advantage, although other factors can be taken into account, such as the optimization of the statistics or simply the talent of the player.
The equipment in the crates will be based on the Advanced Class and not on the chosen Discipline.
Equipment given in crates will be related to pickup, while other items (cosmetics, etc.) will be related when equipped.
It will also be modifiable.
And you, what do you think of these changes?