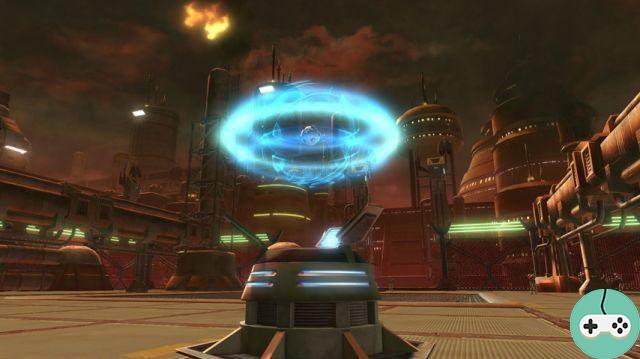 The developers want to find you in war zones on the test servers! This is indeed what Eric tells us in a message on the official forum. So tonight, around 02 a.m., 4 members of the studio, including Eric, will create characters and wait for the players in the PvP queue. Be careful, there are no questions / answers, they will only speak with weapons!
The 4 characters will be:
BWMusco
BWPow
BWSorc
BWMerc
Any other character with a similar name will not be affiliated with Bioware and will have to be reported for abuse of the playing conditions. For the occasion, the PTS will therefore be put online, the first opportunity to test 2.4 and see everything that Bioware has prepared for players who are fans of PvP. You will be able to copy your characters there and, if you are not overnight, go take a look at the content on Saturday morning.
source
Perfect
EricMusco
source
Hey folks,
While talking about Warzone Arenas, I want to tell you all about something Alex and I have been hinting at...the ability to play against some devs in Arenas! That's right, tomorrow when 2.4 is live on PTS there will be a 4-man dev team in the queue with you. Let me spell out the exact details on why, when, and how.
Why?
As we often do with PTS we have some specific things we want to test. We figure what better way to drum up a little extra excitement around the Game Update then to get in there with you guys and play it right there with you. This will also allow us an opportunity to do something we also haven't done yet, play Warzone Arenas in the live environment! Lastly, what player wouldn't jump at the chance to fight some devs in Arenas!?
When?
Our current plan is that we will do this tomorrow night from 5-7 PM CDT. Note that if we hit any issues with bringing up PTS tomorrow in a timely manner, we could push this out.
How?
Simple! All you have to do is grab 3 friends, and join the team ranked queue. We will be playing Arenas in that queue nonstop from 5-7 so hop on and you might just get a chance to take us on!
Here are some additional things I want to point out. We will not be in-game to answer questions or anything like that so even if you play against us, we intend to talk only with our weapons!
Speaking of "we," let me tell you who you can expect to see in-game. Our 4 man team will be following characters:
BWMusco
BWPow
BWSorc
BWMerc
As you can see, I will be one of the players. Just to avoid any internet trolling all I will say is other folks who you will see in Arena tests besides us on the community team include members of the dev team, including some folks from our Combat/PvP team!
One thing I want to stress as that the 4 names I mentioned above and ONLY those 4 names will be representing BioWare during that exact time. If during that test, or anytime besides that, you see someone on PTS who has similar naming and is claiming to be a BioWare employee, they are not. Not only are they not an employee, I would ask that you immediately send me a PM here on the forums to let me know of their action (do not submit an in-game CS ticket). This is a definite breach of our ToS and appropriate action will be taken.
If you want to get in on this action I recommend that you follow the directions below on accessing PTS. This will let you get started on the patching process but note you will not be able to play on PTS until tomorrow! Then tomorrow when PTS is live you can transfer your character and get ready to hop in the queue.
Thanks folks, looking forward to getting in and mixing it up in Arenas with you all.
-eric
PS - If you do not know how to access PTS, here are some handy instructions:
1. Log in to the Star Wars: The Old Republic launcher using your username and password.
2. Click the Settings button (gear) in the bottom left corner of the launcher
3. Under "Enable Public Test Server Access", select "Yes"
4. Click "Save"
5. Now the bottom left corner will have two buttons: select the new button next to settings
6. Under "Pick an Environment" select "Public Test"
7. Click "Next" and you will begin patching on the Public Test Server*
8. Click "Play"