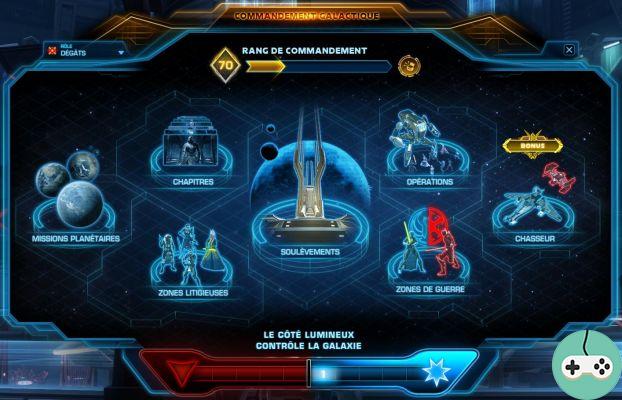 As promised during the last livestream, Eric gave us this week some details on the future changes that will be made to the galactic command. They will concern exclusively changes in speed of progression and will be implemented in two stages. The first changes will take place on February 7 with 5.1.1 and the following during the 5.1.2 February 28. Here is what is said on the official forum:
Perfect
Eric Musco
source
Update 5.1.1 - February 7
All command experience point gains (CXP), CXP Boosts and Legacy CXP Boost will now be additives instead of multiplicatives.

These changes are put in place to regulate the large increases in CXP predicted as possible in 5.1.1. (If you are comfortable with mathematics, a section is dedicated later to the details of how the calculation of the current boost works according to the events and bonuses acquired)

New CXP Progress Event. This event will last until the release of 5.2 in April. During this time, the gains of CXP will increased by 250% (A priori this means gains multiplied by 3.5).

The objective is to be able to earn a crate every 30 minutes or less (calculation based on the experience of third parties 3, so it will be possible to earn much more at the lower thirds).

All CXP packs that you get on monsters or in missions will now be related to inheritance.

This change is put in place to help the player to better distribute the CXP over their inheritance if they want to.

A new 100% CXP boost will be implemented in addition to the existing boosts of 15% and 25%. This boost can be purchased from the vendor for Command Coins (duration: 2 hours) or from the Cartel Market (duration 3 hours).

They will only work up to level 180 not included.
The objective of this boost is to allow players who have reached the highest levels of command to progress faster on alternate characters.
Update 5.1.2 - February 28
Changed CXP rewards for operations. Bosses will now reward more experience than they previously did. The CXP gain from weekly trades will have their earnings increased significantly.

The CXP gain from operations is way below what we would like it to be, which is why we will be increasing their earnings.

Group research will now yield CXP. Completing the Group Finder Bonus Mission will reward you with a CXP Bonus Boost.
Completing Flashpoint missions will see their CXP rewards significantly increase.
CXP rewards from weekly Flashpoint and Uprising missions will be increased.
Weekly and Daily PvP quests will drop unassembled components.
The number of unassembled components gained in Ranked and Unrated PvP will be increased.
In the future
Unassembled components and inheritance. We understand that legacy is important and we agree. We are looking at how to tie these two elements together in the future.
He ends with the usual reminder that the feedback will be read and that they will follow the evolution of these changes.