Colonel Vorgath is the puzzle game of this Explosive Conflict Operation. It breaks down into two parts:
A crossing of a minefield under turret fire and the assault of enemy packs
The fight against Colonel Corgath himself
A red barrier separates you from the main room, crossing it will start the fight.
The minefield
One of your two tanks or an offtank goes up via the platform in order to access a demining console. From there he can manage the display of green zones (which can be crossed in safety) or red zones which must be cleared. Be careful, the revelation of minefield areas on the console has a cooldown requiring you to do it little by little.
Finally, he will be able to materialize in the room via a hologram to reveal elite camouflaged probes who, upon their death, will randomly give a defuse kit to one of the members of the group. It will then be necessary via the console to make this mine 'defusable' (the area becomes orange) for 10 seconds and the person with the defusing kit can enter it and click on the mine, the area then becomes green and your group can continue to progress on the grid.
Enemy packs will hamper the group's progress:
3 soldiers who run towards the group and do not represent a real danger.
2 droids who arrive slowly on the group to descend quickly by the distances, they explode once in contact.
1 add on the platform where the console and the tank are located (we can possibly assist it with distance dps to save time)
Of course, an enrage timer regulates the combat and puts a bit of pressure on your party. It is therefore not necessary to hang around but to opt for the shortest route and not to fall behind on the revelation of mines and probes.
The turrets will do constant damage to you throughout this phase of demining and crossing the room, so your healers will have to do constant healing but the group is still gathered and the area heals are effective.
Finally, once you have crossed the last area of ​​the minefield, quickly click on the button to your right which stops the timer to enrage it.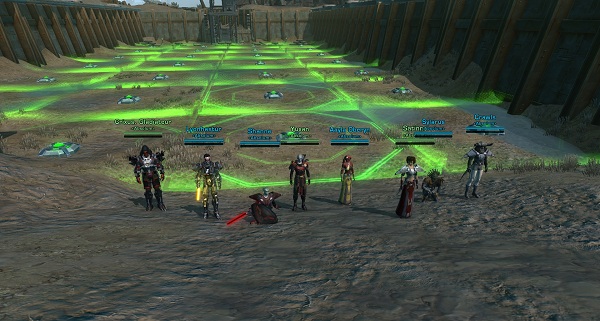 Colonel Vorgath
Finally comes the fight against the Colonel himself, much more conventional. Some important points, however:
He is accompanied by two accomplices to descend at the start of the fight, this will give your tanks time to mount their threat.
Projection of all nearby targets
Damage zone, with target, on the ground to avoid
4 turrets appear, the distances take care of them as a priority because they duck the group
The combat can prove to be trying for the healers who have already been heavily involved during the crossing, remember to let them regenerate their energy after crossing the mines - each in turn for example with assistance in the care of hybrid classes (agent secret, bounty hunter, wizard).