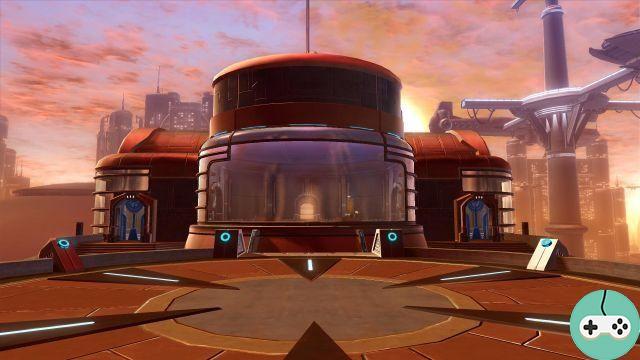 All our guides on Galactic Strongholds
Here I am converted into a real estate agent to present you a first glimpse of this new extension, which will allow you to own your little home and decorate it at your convenience.
The first stage takes place in the fleet, in the area formerly devoted to crew skills and which now accommodates two large spaces: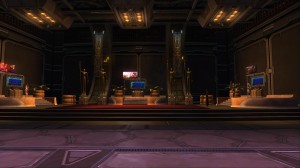 The first with counters for each of the three fortresses, where it is possible to buy them, consult the public lists and manage them.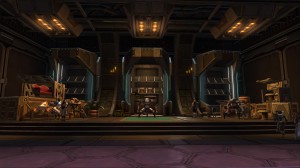 The second houses droid vendors, offering decorative items in exchange for materials that can be crafted through crew skills:
Industrial Prefabs (Armor Manufacturing, Weapons Manufacturing and Cybernetics)
Universal Prefabs (Tous)
Synthetic Prefabs
New plans must therefore be learned for each trade, allowing the manufacture of these famous Prefabs. But that will be for later. Let's go back to our famous fortress.
Three vendors are also seated in this area, allowing the purchase of a few items.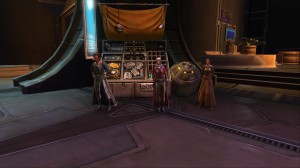 Cartel Market Decorations
Agent personnel
Decorations merchant
Currency: Cartel Market Certificate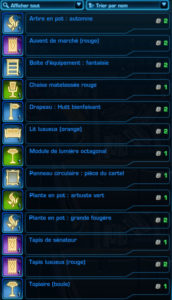 Currency: Cartel Market Certificate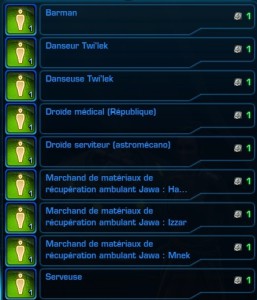 Currency: credits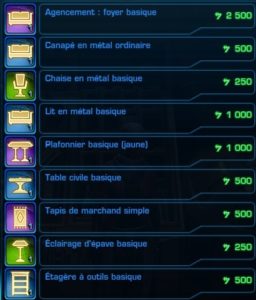 A hologram in this redeveloped area therefore offers us a quest, asking us to go to our fortress.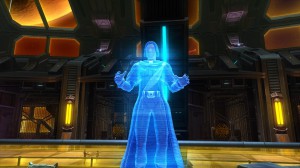 So you have to buy it first, so head to the counters I told you about. Each counter is dedicated to a fortress and gives you the price to pay to unlock it:
Coruscant: 5 credits / 000 CP
Nar Shaddaa: already basic unlocked
Tatooine: 2 credits / 500 CP
Guilds can also buy a fortress:
Coruscant: 100 credits
Nar Shaddaa: 2 credits
Tatooine: 2 credits
Well, I'm a soldier, eh, I don't have senator pay, so it'll be Coruscant for me.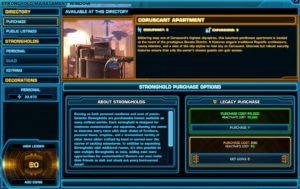 Once the fortress is purchased, I can access the management panel, allowing me to travel to my fortress, invite people there, ban them or even give them a key, in bronze or silver, giving them different benefits. You can also check the maximum number of occupants, the number of unlocked rooms, as well as the Prestige of the fortress.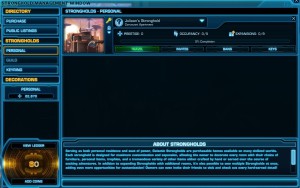 Come on, let's go, let's travel to my new home.
Barely a foot in the apartment, the introductory quest is over, offering me some decorative items.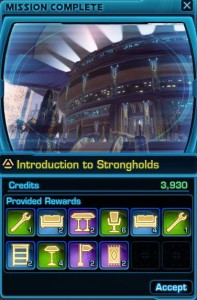 Let's put them aside for now and walk around the owner a bit.
Basically, the apartment consists of three small rooms, as well as a hallway.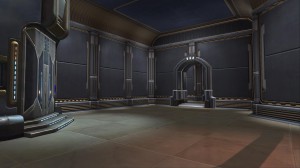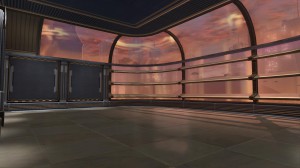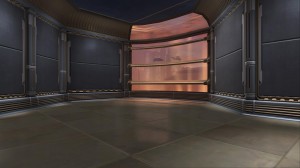 In this corridor, three doors are blocked: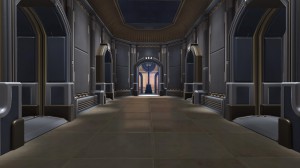 Door to the garage (250 credits / 000 PC - +750 occupants, +5 decorations)
Door to the east staircase (10 credits / 000 SF - +100 occupants, +5 decorations)
Door to the west staircase (10 credits / 000 SF - +100 occupants, +5 decorations)
Garage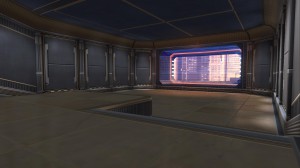 Stairs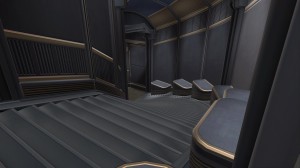 Unlocking the stairs gives access to two new rooms: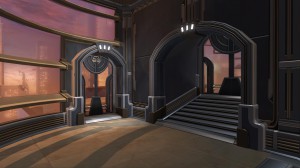 Balcony (1 credits / 000 PC - +000 occupants, +1250 decorations):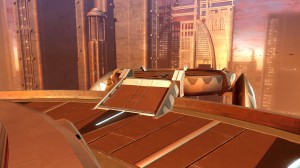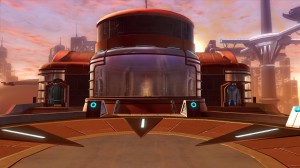 Main room (25 credits / 000 PC - +200 occupants, +5 decorations):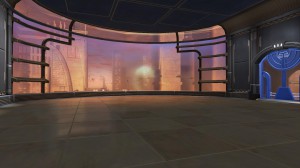 The main part allows you to unlock the living room (25 credits / 000 PC - +200 occupants, +5 decorations).
Which allows itself to unlock three other small rooms (40 credits / 000 PC - +300 occupants, +5 decorations).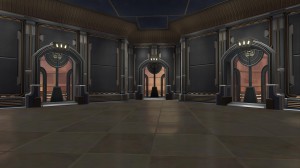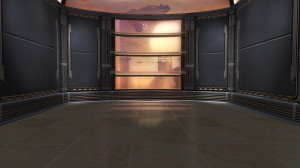 Pfiou, what parts! This gives us a total of 9 complete rooms, allowing to accommodate a maximum of 50 occupants at a time.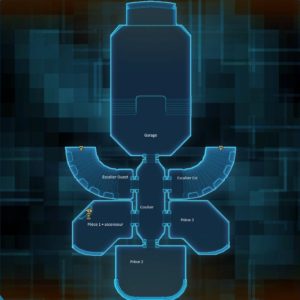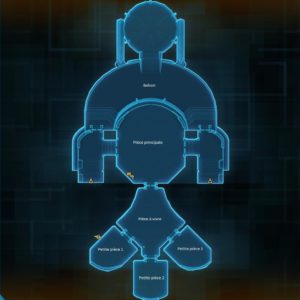 Well, it's not all that, but such a big house, it has to be decorated well. The living room will be perfect to start decorating this fortress. First, I received a few items with the intro quest, then by email. A little right-click on it in the inventory and they go automatically in the storage of the fortress.
A small interface window allows you to enter Edit mode to display the hooks that will be used to place the decorations.

To place a decoration, all you have to do is right-click on a hook. A window opens, with two tabs.
The first allows you to select the decorations you want to place in it. Several filters are available to facilitate the search.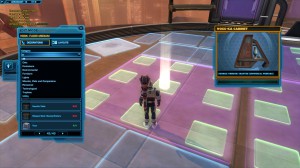 The second allows you to choose "layers", allowing you to modify the arrangement of the hooks: a single large one or several small ones for example.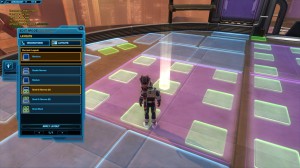 Once your decoration has been chosen, just click on "Place" to see it appear. The window expands to provide several options for moving or rotating the object.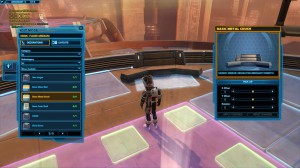 Once completed, validation and the object is placed!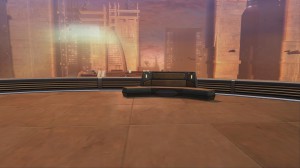 It is also possible to place interactive objects, such as the letterbox and the long-awaited inheritance chest.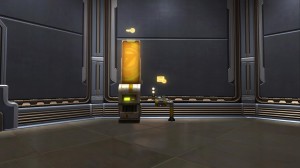 A chest that offers 80 basic slots and offers to buy additional bunkers. The first is at 5 million, the second at 10 million.
I received four rather intriguing objects by email:
Electronic Safe
Dielectric Tendril
Desh junk pile
Rubat Crystal Formation
These 4 items allow you to collect crew skill components for Archeology, Bioanalysis, Salvage and Hacking.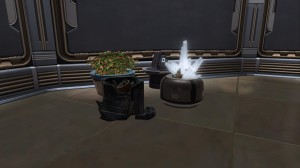 As expected, it is also possible to place pets.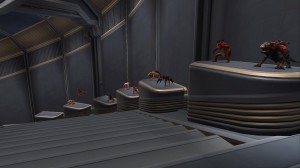 And of course the frames.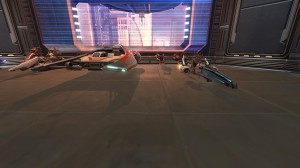 And the partners!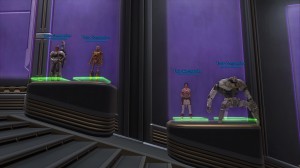 I also received by mail three droids, the same as on the Fleet, which allow the exchange of Prefabs. But lack of luck, bug or not, I can not interact with them.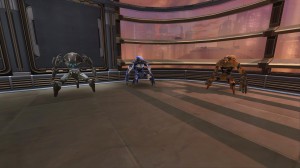 What if we decorated the walls a bit? Lamps, trophies of past achievements (via achievements).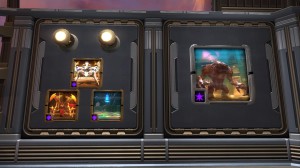 That's it for this first overview of housing in SWTOR. Other articles will follow soon, rest assured, in particular a discovery of the other fortresses, with a list of prices, etc.