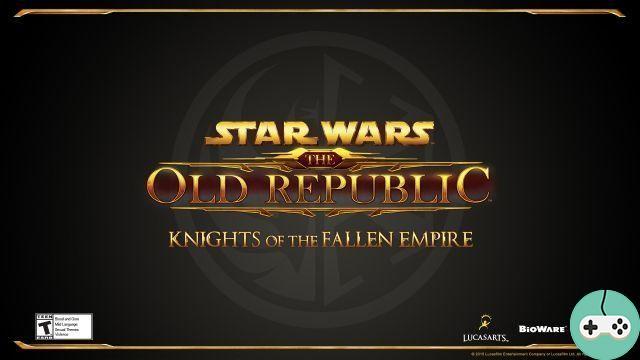 Please note, this article is a Tribune, presenting personal points of view and not representative of the entire editorial staff.
Knight of the Fallen Empire is causing me problems. Not from a script point of view or vis-à-vis the changes in mechanics. At least, that's not what I'm going to be talking about in this article. When I present myself in the title as a Loremaster (although usually it's Juliaan who calls me that), it is because I am going to talk about the Lore of The Old Republic and the Extended Universe in general. . But to write on this next extension, some difficulties appear. And I wanted to talk to you about it because it may influence the articles on this subject that I will propose to you later.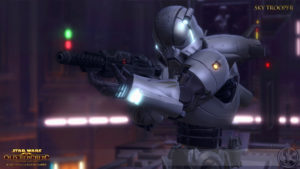 But first, I need to talk about the methods and sources that allow me to write these articles about Lore. Prior to the release of The Old Republic in December 2011, this part of the Extended Universe was underdeveloped compared to the period of the films. With the exception of some comics and two video games (the KOTORs that preceded TOR), much of what happened before the movies was left to Lucasarts encyclopedists and role-playing textbooks. However, it was exploited very early during the creation of the Extended Universe in the 90s, to the point that it was realized that Georges Lucas had made a nice hitch in the tapestry under construction with the Rule of two taken from its Episode I. It was necessary to correct later with a novel on Darth Bane, with which the author of screenplay for video games (KOTOR, the Jedi knight in TOR) Drew Karpyshyn embroidered to draw from it a trilogy of novels among the best of the EU.
But even if these sources are few in view of the tens of thousands of years it covers (in comparison, the two years of the Clone Wars are overloaded with so many novels, comics and other series that it is impossible to keep a real timeline. Everything happens too simultaneously), they exist and allow to establish the bases where the Lore of The Old Republic is established. The developers drew on it extensively, building on it the intrigues and twists of certain planets.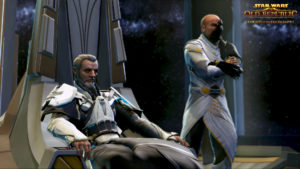 Like TOR in December 2011 and the other expansions that followed, KotFE should continue to tap into and nurture this established Lore to evolve it. Yes, but it's not that simple. This extension risks greatly upsetting this universe which has developed, much more than the previous extensions. The only release that can be compared in terms of changes is that of The Old Republic itself. But this was not done alone. A paper encyclopedia was released at the same time, as well as the presentation of some key figures on the official site. This allowed to understand the basics of what was going to be SWTOR, its universe and its particular Lore. It is possible to research certain aspects of the game without having touched them.
The most striking example is certainly Master Gnost-Dural, whose biography you can find in the Galactic History section. This character, prominent for many people because he is the "author" of the timeline to which we all refer on the events leading up to the Treaty of Coruscant and the last events before the start of the game, is not yet never appeared inside this game. Without these side elements, he would not exist and it would be impossible to talk about him.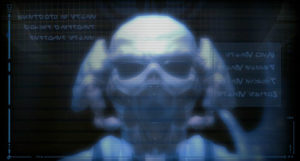 Of course, I also wrote many articles on things that had no point of reference other than the game itself. Except that at the time of this writing, we are in August 2015, more than three and a half years after the release of SWTOR. During this period, the authors of many online encyclopedias of the Extended Universe (in English or in spanish, personally I prefer to go and compare my knowledge in original version, they have many more sources than us) have had ample time to search the nooks and crannies of the different planets offered to discover their different secrets. And so I can compare our impressions against the topics of different articles. KotFE risks shattering some elements we thought were fixed, undermining parts of the factions and introducing an unprecedented enemy. Without external support (Rise of the Hut Cartel and Shadow of Revan were based on already existing elements), it will take time before exploring everything that this expansion offers us.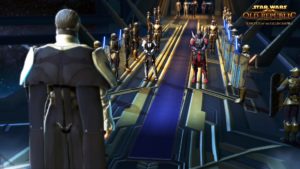 Juliaan finds me pessimistic and negative on this subject. He thinks that the temporal ellipse isn't going to change much, but all the new things will be explained. I admit, it's possible. And if it's true, I will present my mea-culpa. But for the moment, I tend to agree with George RR Martin. In an interview, the creator of Game of Thrones explained that one of the reasons that had created such a big delay in the release of his last tome was related to changes in the main plot. He had also planned a time jump (to allow certain characters to learn their new roles), except that it was impossible to justify that no line had moved during these years. So his ellipse was canceled and he had to do some research to restructure his story. If nothing changes between two precise dates, why switch from one to the other without tracking continuity?
The developers of TOR have already announced that things will not stay the same. A new enemy has arisen and brought both galactic factions to their knees. Some important planets have fallen, like Korriban in a video. It is also an enemy about which we know absolutely nothing. KotFE's release mode also plays into the time it takes to explore all of this, with its chapters arriving at a certain pace and not all in one block like before. Whether there are changes or not, we will have to wait and play for several months before being able to realize it.
All this to explain that if the entire editorial team is preparing for its release, we will have to wait a while before we are able to share the Lore of KotFE.