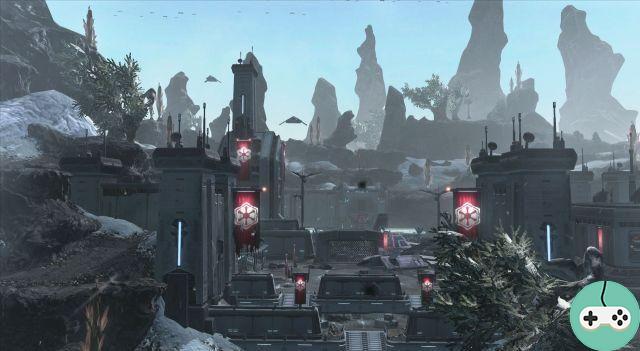 This livestream only lasted 45 minutes, but was a real compendium of information! If we can only remember one thing, it is the launch of the public test server (PTS), which will allow us to learn a lot about the upcoming update! During these 45 minutes, the developers mentioned several points:
The upcoming update: what will it be made of, with first during the discussions: the planet Ziost. But also the creator of appearance.
Improved playing comfort.
In-game gift on May 4th.
The future of the Cantina Tour.
Reminder of the Choose Your Way promotion.
Let's see all of this in order!
Ziost and history
Patch 3.2 update title (reminder: April 28 release) will be Rise of the Emperor
This will take place on Ziost, of which we had the first images.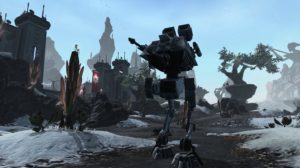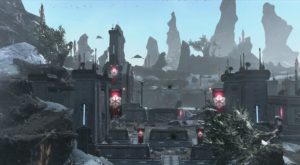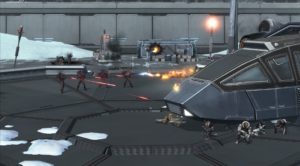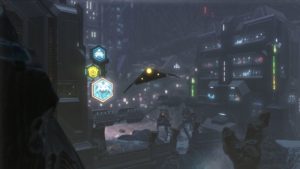 The first in-game references to the icy Ziost, the ancient capital of the Empire, were there as early as Tatooine.
Emperor Vitiate, who is alive and well, has taken control of the planet Ziost and its inhabitants. Most everyone obeys his will: Sith, Jedi, soldiers or even civilians are under his mind control.
Ziost is a large Kaas City type city, but in a huge cave.
This arc will introduce a new Jedi group called "The Sixth Line". This name refers to their Jedi code to which they added this line: "There is no contemplation, there is only duty". This is a very militaristic group. They are led by a woman: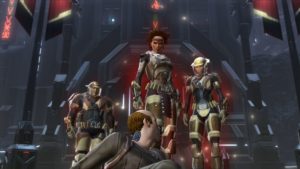 The Emperor's spell can be broken, but we will have to face people who may be dear to us.
Lana and Theron will be back in this story arc.
You can now discover a presentation of Ziost and the introduction to quests in our article on this subject.
Improved playing comfort and outfits
Now all speeders will be unlocked directly upon arriving on a planet.
Fast travel points will not. However, it will now be enough to pass nearby to unlock it, no need to click on it.
Fast travel duration has been lowered to 6 minutes, with reduction time improvements reducing this delay to 0 minutes when maxed out (yes yes, no delay).
New tool, the appearance creator! For more information, see our article on this subject!
Gift May 4
On the occasion of May 4, official Star Wars day (May the fourth in English), an astromechanical familiar will be offered to all players. Its small name is M4-1S.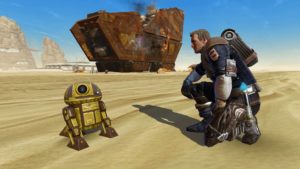 The future of cantina tours
It will no longer be a pet that will be returned as an exclusive cantina tour item. Instead, in addition to the USB stick, participants will receive a code to unlock an exclusive speeder.
The only way to unlock such a speeder is to have a code.
Once the code is entered on the site in your account, you get the exclusive speeder as well as a random item. There is intentionally no precision on the type of object accessible randomly, but quite nice things are possible.
In addition to getting the mount and this item, you receive 5 additional codes that you can give to your friends. They themselves will then be able to unlock the speeder, the random object and the 5 codes for friends.
If you cannot go to a Cantina Tour, you will therefore be able to obtain the speeder by successive transmission of code from friends.
The Star Wars Celebration Cantina Tour (in April) will be a pretty big thing. The 501st Legion was mentioned in particular, Lucasfilm's "favorite" costumed group. Star Wars objects, a green background for photos, direct internet ...
Here is the speeder that will be Anaheim's reward: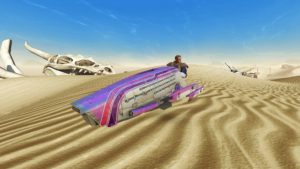 A nice concentrate of information therefore! Who finished superbly with the opening live of the PTS! As a bonus, here are all the images shown during the livestream! Starting of course with the unpublished ones!