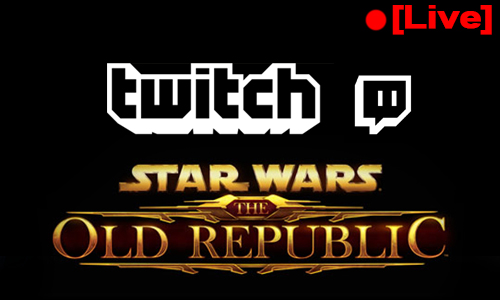 Tonight, a little day ahead, was the producer's monthly livestream for the month of March. At the presentation: Ben Irving and Eric Musco accompanied on the late Charles Boyd to discuss the story.
Summary
State of the Galaxy
Chapter XI: Disowned
New PvP Maps (Odessen and Rishi Arena)
Quality of life improvements
Eternal Tournament
Subscriber rewards
Chapter XII and focus on the story with Charles Boyd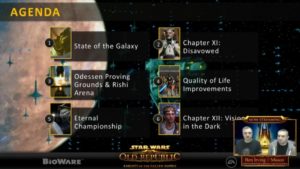 State of the Galaxy
Community discussions over the past month have revolved around:

Chapter XI - Disavowed: small bugs at launch, an update tomorrow to fix this.
Eternal Tournament (more on this later in the summary).

Community content: There is a lot of great quality community content, and they don't highlight it. There is a lot of talk about it where they encourage to continue producing it, and especially to share it on the forums for new players. I'm not sure if they want to do anything more concrete to showcase this content, this point is unclear.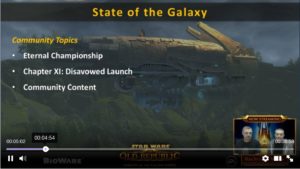 Chapter XI: Disowned
Access to all subscribers tomorrow.
Join forces with Major Jorgan and the Chaos Squad.
An adventure far into enemy territory that could change the course of the war against the Eternal Throne.
New Disowned Cartel Pack available.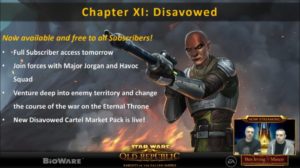 New PvP Maps: Odessen Proving Ground and Rishi Arena
Released on April 5 at the same time as Chapter XII: Odessen Proving Ground AND Rishi Arena.
Improvements underway based on feedback from PTS.
The improvements were chosen from a list of about fifty possible, from the forum, videos, ...
They showed a video explaining how it works. For an explanation in spanish, you can already see the first version given during the last livestream (some minor adjustments since).
Asked if the interaction will be available for other war zones? Maybe in the future, but not now!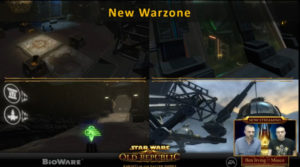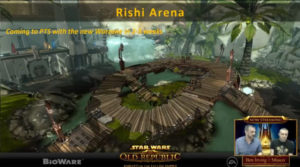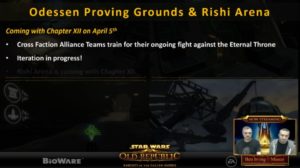 Improved quality of life
Reminder of what has already been announced and which is to come during chapter XII (April 5). See the summary of the previous livestream.
We should have an answer soon as to whether the fortress bonus will remain the same or will change with the possibility of having all five fortresses.
Improved character name: we can have un space in our character's name.
PvE and PvP-type instances to come. See the PTS patch notes for more information.
Updated the server selection screen.
Improved social windows.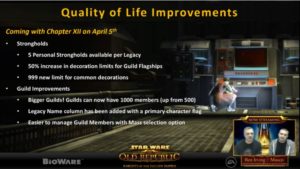 Eternal Tournament
Reminder of previous announcements in principle: see summary of the previous livestream.
Launch date during the Producer's next Livestream, at most. This will take place on April 5.
PTS and blog scheduled for late March about the Tournament. The PTS is done as they have had some great feedback on the two new PvP maps.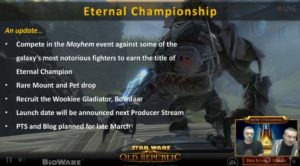 Subscriber rewards
Rewards for April (Subscribed April XNUMX)

HK Weapon Set: Sniper Rifle, Blaster Pistol and Whiskblade.
Early Access to Chapter XII: Dark Passages. Early access will be on April 5.
Story time with Charles Boyd
A vlog (video blog) very soon (about 1 week) entitled Inside the Story and which talks about the elaboration of the story of KotFE.
Chapter XII: Dark passages.

Early Access April 5
New information leads to a potentially deadly mission for the Alliance.
Valkorion has brutal plans for the Stranger
Special comeback of two fan-beloved characters
Spoiler on identity
Darth Marr and Satele Shan
Coming up with Chapter XII: Partner Recruitment Mission!

Alliance Recruit: Akghal Usar, a dashade to face /
It is hidden in a mysterious tomb on Yavin IV and there will be a puzzle to solve to successfully unlock it.
He's a deadly ally with ties to the past and present
Question / answer session:

Between thawing and Chapter XI: about a month or two (they want to roughly follow real life, like before).
Elara Dorne: she's somewhere else for the moment. But it is intended that she is not with the Chaos squad yet!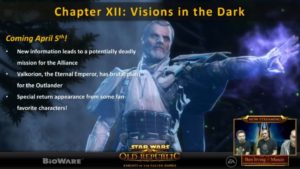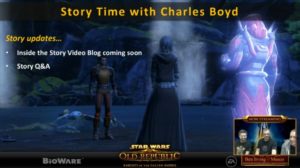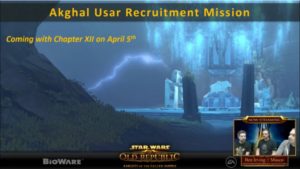 In summary on a single image: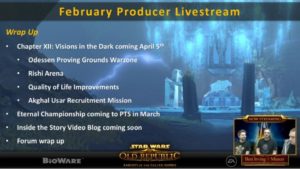 Finally, information on the next livestream. It will surely be brought forward by 2 days, so Tuesday April 5.
By the way, tomorrow is announced a maintenance (yes one more!) From 16pm to 18pm.