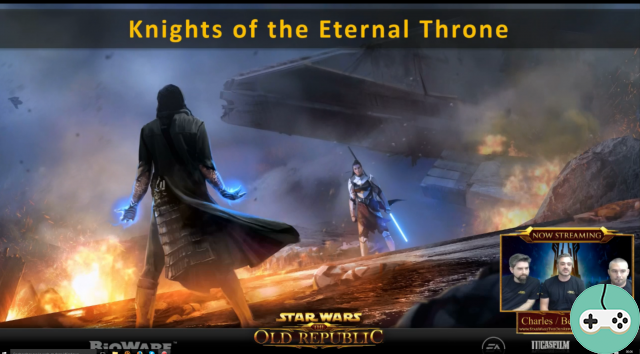 The announcements in this livestream follow on from previous ones for the next expansion and answer some questions from the community. What about KOTFE right now? What follow-up will be given after the release of the final chapter? What about current events?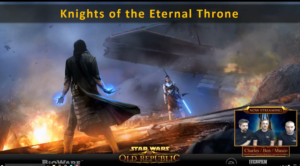 First of all, some confirmations and news concerning thehistory :
The KOTFE cycle ends with chapter 16.
The end of the story is special, with unresolved questions but this is perfectly intentional.
The following expansion Knights of the Eternal Throne (KOTET) will have a story that directly follows that of KOTFE.
There will be a bonus chapter focused on HK-55 (release scheduled for 7 September).
There will be one new alliance alert on the same date.
The big ads concerning the next cycle will arrive with the New York comic-con beginning October.
KOTET is expected to arrive during the winter, but without further details. The full announcement will be made during Comic-con in October.
Next are the announcements about PvP with the end of season 7 during the launch of KOTET. All participants will receive decorations and securities. These may vary depending on the rank reached. The second row will also have a single color crystal and the players with the highest ranks in the leaderboard will receive a single frame. No images of these awards have been released yet but they are announcing news for September.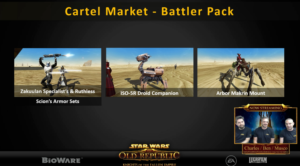 The Cartel market has also seen changes lately with the release of a new pack opening system that they expect feedback from. The week of the 5th day of each month will offer big discounts in the Cartel market on the occasion of the 5th anniversary. In addition, there will be promotions displayed on the launcher. These promotions will not always be available to all players or every day. So be careful if you want to take advantage of it.
Finally, the team announced that they are aware of the concerns related to the Dark Vs Light event, some fixes of which could arrive during 4.7.1 and Eric confirmed that the team is working well on group content development but without further details.
HK-55 Bonus Mission - Beware spoilers
This bonus mission is scheduled to arrive on September 7 and will offer to recruit a droid partner, Z0-0M. It should be a lot lighter and more fun than the Stranger chapters.
A new Alliance Alert will recover Rusk who is cleaning the streets of Nar Shaddaa.