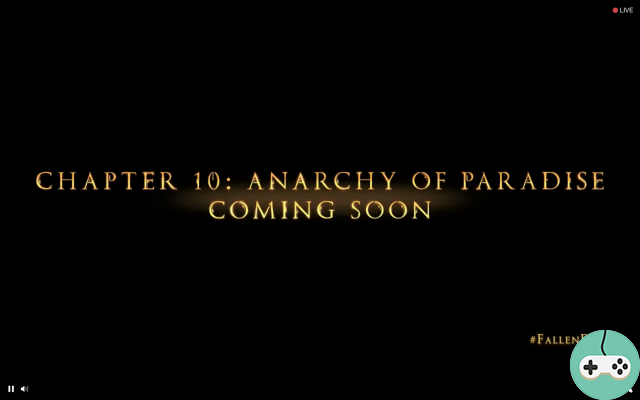 The famous livestream "with an exceptional announcement" is now over. Here is the essential to remember. They (Eric Musco and Ben Irving, Lead Producer) started with an inventory of the Galaxy, talking in particular about the fact that the story was a regular request received by all possible forms of feedback: social networks, forums, Cantina Tour ... Things already known then. Announcements were then made on three topics: Knights of the Fallen Empire Chapter X, events for December, and upcoming subscriber rewards.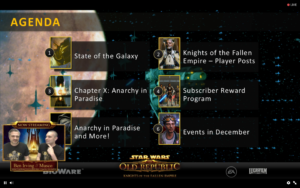 Chapter X and continuation of KotFE
Chapter X, titled Anarchy in Heaven will be available on February 11, 2016.
Two-day early access (February 9) for those subscribed on February 1.
It is the continuation of our personal history.
We will have the opportunity to recruit a dangerous partner.
To find out which partner it is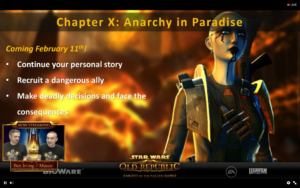 It's probably Kaliyo, or it's another very similar rattataki!
There will be fatal decisions to be made, and their consequences will have to be faced.
The choices of the previous chapters will have an impact on this one a priori.
There will be other elements besides the chapter itself. Another companion to recruit via gladiator arenas.
To find out which partner it is
By defeating enemies in the Zakuul Arena, you will be able to gain affection and even recruit a wookie as a partner: Bowdaar the Gladiator.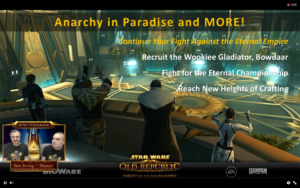 Possibility of obtaining the title of Eternal Champion. Note that it is possible that this is just a title in the story and not available to display in-game.
New crafting rank possible to achieve.
Chapter XVI will be released on August 1 a priori, and one chapter per month in the meantime, but not necessarily the first of the month.
The synopsis of chapter X is available.
See the synopsis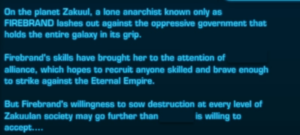 On the planet Zakuul, a lone anarchist only known as Calcinis lashes out against the oppressive government that rules the Galaxy with an iron fist.
Calcinis' skills have caught the attention of the Alliance, which hopes to recruit anyone skilled and brave enough to strike the Eternal Empire.
But Calcinis' eagerness to wreak havoc on all levels of Zakelan society may go beyond what [Character name] is willing to accept.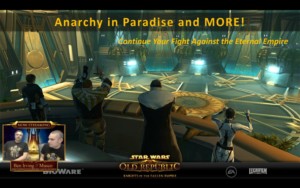 December events
From December 8 and for a period of one week each:

Relics of the Gree
Resurgence of the Rakghouls
Bounty hunting week

The exact dates and associated conquests will be communicated shortly (normally tomorrow)
A period of double XP is expected
The Day of Life event will return (and we can still throw snowballs). All items previously exclusive to this event, including those from the Cartel Market, will be available in-game for snow-covered packages.
If you log in between December 8, 2015 and January 4, 2016, you will be entitled to rewards for the fourth anniversary.

We should escape the fireworks this time
Decoration: Commemorative statue of HK-51 ... or HK-47, the livestream says one while a message on Eric Musco's forum says the other.
Other things to come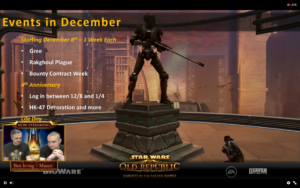 Subscriber rewards
In case of subscription on January 11, 2016: HK-55 available as a partner from chapter X on February 11. It will be available through an alliance alert.
In case of subscription on February 1: Possibility to pick it up earlier and early access on February 9.
Being a subscriber on the 1st of each month allows you to have 2 days of early access to the chapter published that month.
Each month an exclusive reward for subscribers (the list will come later). These awards will be on the theme of HK-55.
In case of subscription from January 11 until August 1 (without interruption): an exclusive bonus chapter that we will play while being HK-55.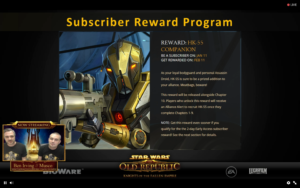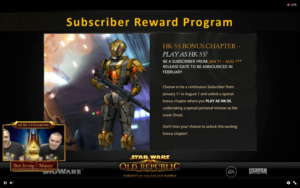 That's all for this livestream, which is already quite good. Are you happy with the Subscriber Rewards announcements or were you expecting something else?