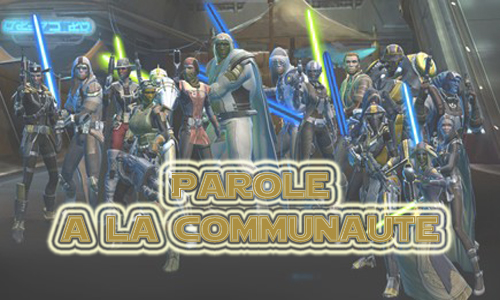 Today we are going to introduce you to Krakko, SWTOR player! Good reading !
Past in the video game
I started playing video games quite early on, notably Fifa 06, as well as Colin McRae 04 and Portal 2 on PC, but around 13 I stumbled upon Star Wars: The Old Republic when the game went into F2P mode. It was love at first sight (unrelated to the Sorcerer's lightning!). I already knew the game, but the very long downloading of the different patches quickly got bored.
One day, I decided to reinstall the game, no matter how long it takes to download the updates. Here I am finally in the Star Wars game! Head to Darth Nihilus, the PvP server. Hop, a little Soldier created, but alas, I did not know the game well enough, and I ventured into a level 6 zone while being level 4, I decided to delete this character because I could not pass this damn zone! Rebelote, hop a created smuggler, this one will go up to level 14 (but where is the logic, I am level 14 and I am on Taris ?!).
Once again, I have to delete my character because I can't do it! After 2 failures, I finally managed to understand the game and create a Sniper that will go up to level 23, but I was not attracted by this class. So once again, I delete this character and this time I decide to recreate a Soldier, which is currently level 37. I also have a Mercenary specializing in healing in the Dog'Z Squad, as well as 2 characters on Battle Meditation ( level 14 and 20) and 2 characters recently created on Mantle of The Force.
How long on Swtor? Subscribed player, f2p? Occasional, regular?
So, I'm going to make more than one scream! I have been an F2P player for over a year and I do not intend to become a member or privilege! I am a fairly regular player, around 5 hours a week during school term.
Class (es) played? Preferred role (s)?
My favorite class is surely the Commando / Mercenary, although the Specialized Sorcerer Lightning attracts me enormously. On the other hand, I hate the Smuggler / Imperial Agent classes!
Player JcE, JcJ, RP?
I'm a big PvP player! Even if I practice a lot of PvE (especially Kuat or other Litigation Zone) as well as Roleplay on Battle Mediation.
In-game activities? What do you particularly like to do?
As in the previous question, I mostly do PvP, PvE, and a bit of PR. I also hang out in the Republic Fleet, either looking for gear or just to keep busy.
An anecdote in play?
Not one but several. First things first, I must be the only Specialized DoT Commando that plays without the DoTs. I am regularly in the top DPS. Then, I waited for level 36 to go to Alderaan.
Passions / Hobbies IRL?
Obviously, I am a big fan of Star Wars! I know most of the history of Star Wars inside out. I am also a big fan of LEGO, but not just any! The LEGO Star Wars! I also host a channel that currently has 228 subscribers.
Other games in sight?
The future Battlefront 3, as well as DC Universe Online and other MMORPGs like Guild Wars, Swordsman ...
rjprojectsonline (at) Gmail (dot) com.