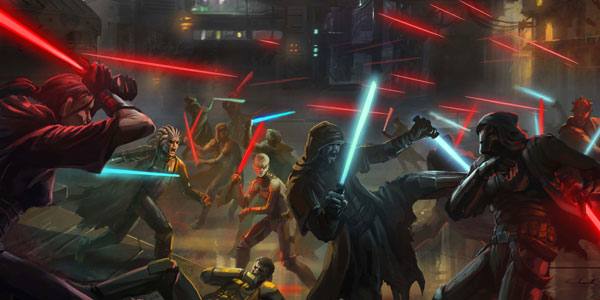 Yesterday took place the now traditional Producer livestream, to give a little update on the game.
Here is the replay:
And for non-English speakers, here is a little summary in spanish.
June Subscriber Rewards
Eternal Empire Patrol Vehicle
Early Access Chapter 14: Mandalore the Avenger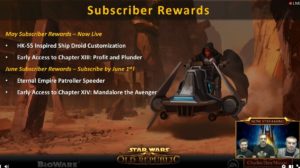 May the 4th
Players logged in on May 4 were entitled to a small Zakelien M4-I6 astromech droid
Multiple double XP events (Normal XP + Legacy, plus Warzone and Galactic Starfighter Awards)

from 3 to 10 may
from 26 to 30 may

Eternal Championship Speedrun Contest: To enter, go to the official page and click Enter Now. To be won: a trip to the Star Wars Celebration in London in July.
So Far Story Contest: Just complete Chapter 13 in May. 5 winners are chosen every 5 days (i.e. May 10, 15, 20, 25 and 30), awarded with a set of Zakuul armor and a vehicle.
Chapter 14
Attention spoilers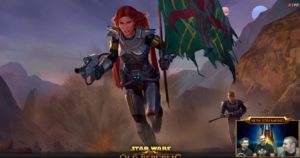 We will team up with Shae Vizla, Torian and Mandalorian clans to storm a fortress
We can find out how the Eternal Fleet works there.
Beautiful music in this chapter.
Broonmark can be recruited there, in search of revenge.
See you next month for a new livestream.