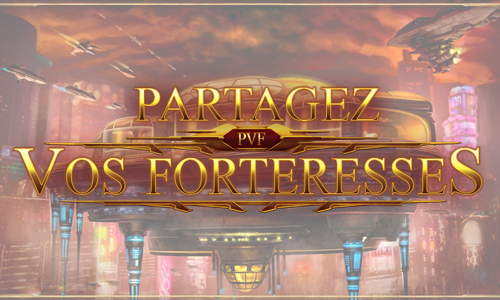 Once again, we meet for Fortress Sharing from Battle Meditation. I would have to check in detail, but a priori, I would say that it is the server that shares the most, before Mantle of the Force then Darth Nihilus. Today I entrust you in the care of a charming twi'lek who will give you a visit to her select casino on Nar Shaddaa!
Welcome to Ryloth's Luck, the brand new luxury casino in Nar Shadaa!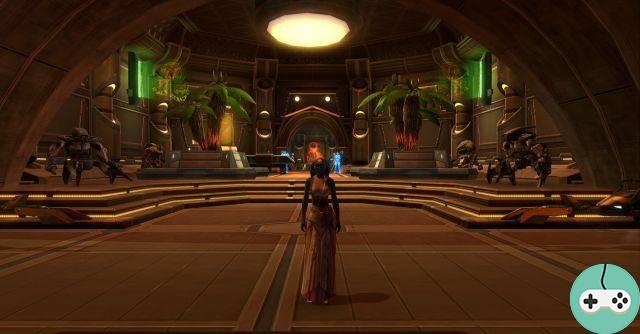 Good evening and welcome to Ryloth's Luck! I am Elinwa Rijiera, owner of the establishment and your hostess for the evening. Let's go for the visit!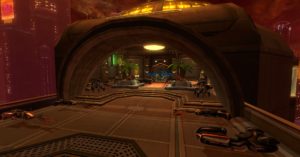 We are a serious establishment that cares about the comfort of its customers, so you will be able to find a small parking lot for your speeder. Your magnificent machine will even be able to benefit from a special treatment at your request, for a very ridiculous sum! And you can take advantage of the very nice patio to wait for your friends before entering.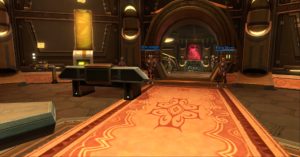 Our seriousness also goes through security. The carrying of weapons as well as the use of illicit products is scrupulously prohibited and one cannot enter without passing the very security of the casino, made up of armed guards and state-of-the-art defense droids. Nothing is excessive when it comes to the safety of our valued customers.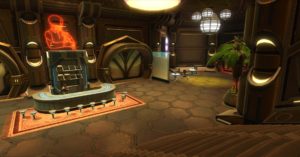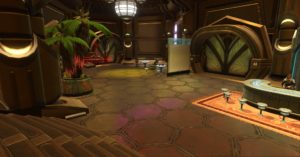 Once inside, why not take advantage of our cantina space for a moment? Drink and full meal, prepared by our Michelin-starred chef. What to spend a good evening before or after going to play. You can stay in the first room ...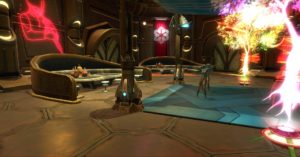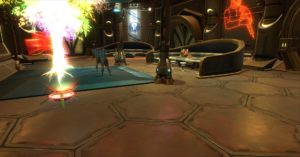 Or ask to go to the second room and enjoy the free show of our magnificent dancers.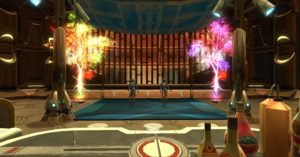 But let's go back to the first room for a moment. You will have noticed the presence of four private rooms, rentable by reservation with our switchboard. We have two game rooms and two private party rooms.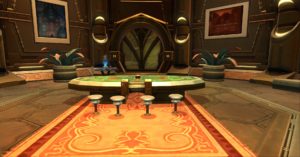 First of all, the gaming rooms. Simple, comfortable, perfect for long nights of play with friends. You also have an intercom to place your orders directly at the bar, without leaving the room.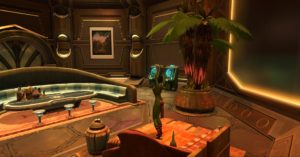 The so-called party rooms! Friendly lounge, slot machines directly in the room, and the possibility of enjoying a private show by one of our dancers. Check with her for any information on the content of the show, as well as its prices if you want something more… hm… exotic, shall we say.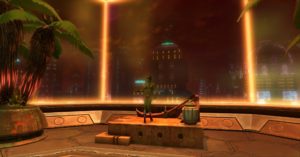 But I'm sure… hey? You can enjoy the show later! The visit is not yet over. So let's go to the heart of the establishment.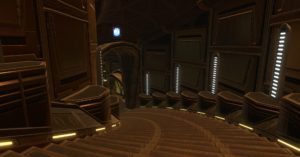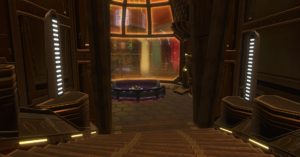 So let's take the staircase, at the foot of which you will find a somewhat isolated fireplace, ideal if you want to dine in a quiet place.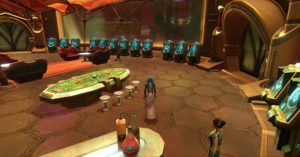 And here is the great room of the casino! Slot machines, gaming tables, bar and friendly foyers! Our openers will be happy to animate your games. And don't hesitate to go and quench your thirst between two shots of pazaak.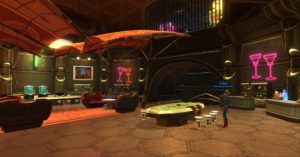 If you want to refresh your ideas after strong emotions, you can take advantage of our superb balcony-garden, quiet and isolated from the noise of the playroom. But it can be lively on request, having plenty of room to welcome people. your frenzied dances… Yours or those of our dancers, of course.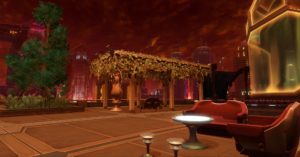 Aaaaah I love this place.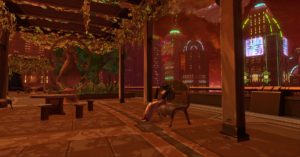 Sorry ? What is behind that last door? Oh… Ah… yes, hey well you see…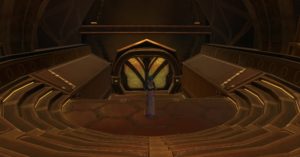 We are a very young establishment and we are still under construction. We are setting up new rooms for your comfort and satisfaction, but in the meantime, we apologize for the inconvenience caused.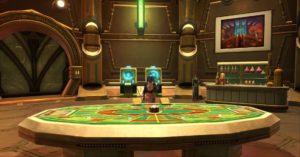 But that's okay, in the meantime come and try your luck, and maybe tonight the Ryloth's Luck fireworks will light up for you!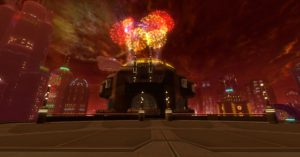 What I took away from this visit : I appreciated, as usual, the greenery present in this fortress, which gives it a less bling bling and richer, select side. In this sense, the casino is perfectly and offers everything you need in terms of diversity of parts. Of course, I also liked the use of the new PvP decorations, like the pergola, and especially the indoor use of the awnings over the sofas. We fell in love with the central dance scene and its three seating areas to enjoy the show! I hope to have the opportunity to come soon to do some PR at an event?
If you enjoyed the visit and would like to explore more, the fortress is available on the public Battle Meditation list under the name Cantina from Elinwa Market. By the way, this fortress is intended to be used for role-playing. Also, if you wish, you can request a silver key on the Cantina chat channels. You can also collect them directly from their owner who is happy to give them away. You can contact him under the following nicknames: Aldorn ou Elusine in the Republic, and Séliana ou Elusine in Empire.
Last note concerning the fortress: events will possibly be organized there.
You too can share your fortress with us, or that of your guild, don't hesitate any longer!