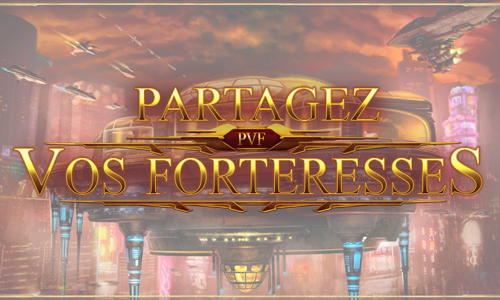 This week in Share Your Strongholds, head to the Sanctuary of the Republic of Jaa'dee, accessible via the list of Public Strongholds on the Mantle of the Force server. And we let him speak to present his pied à terre Coruscanti.
I had always dreamed of a pied-à-terre on Coruscant even before I acquired my Cargo Corellien XS, when I was wandering in the lowlands of the Planet-City, now I have the chance to live at the highest point of one of these gigantic buildings.
But today I am traveling more and more to the four corners of the Galaxy and have met a lot of people from various planets. So my apartment in Coruscant is not a private apartment but a public apartment where everyone can come and relax, trade, discuss or contemplate certain trophies ...
The only way to access the apartment is through an elevator located at the foot of a speeder area. When you get out of this elevator, you come across Treek, an Ewok mercenary whom I poached during my bounty hunting wanderings. It combines both a warm welcome and first-rate security at the apartment.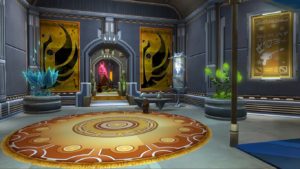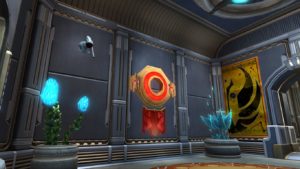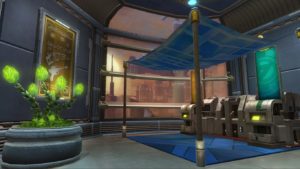 Once you have shown Treek white paw (and not White Claw), you can access the first floor of the apartment, on your right is the Voyageurs reception. A place that allows everyone to come and spend a night, rest for a few hours, trade with a merchant, request a service from C2-N2, have access to your messages and even cook.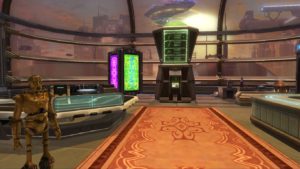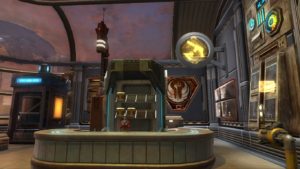 Coming out of this room, the entire dimension of the corridor is visible. We also notice the strong influence of the Voss culture that reigns in the apartment. Just as security is ensured day and night by four guards of the Republic.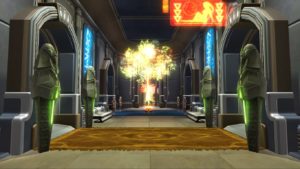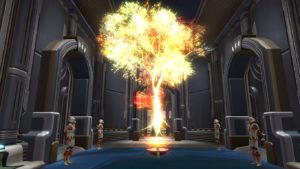 Once out of the Travelers' reception, after having left your belongings and other amenities, you can go to your right in the Cantina. It has a dual function. First of all, it allows everyone to come and relax in a luxurious setting where subdued light, quality wood and alcoholic drinks blend perfectly. There is even enough to welcome a Hutt, by the time Professor Oggurobb wants to come and say hello. Still, the Cantina is a place of life, currently I welcome friends of Rishi.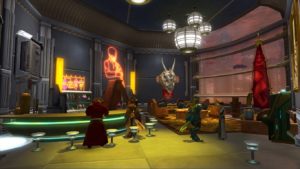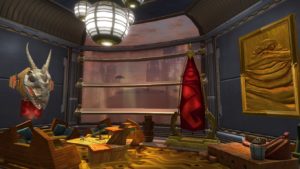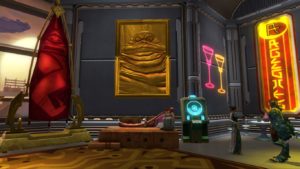 The second part of the Cantina is intended for taking out a bounty hunting contract. Now being considered a professional at the ACP, they allowed me to open a branch in my apartment, which is run by the coldest killer, HK-51.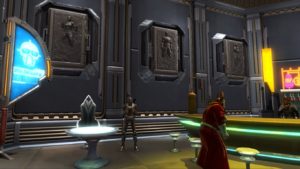 Average Travelers have access to another room which is located at the end of the corridor. A large room initially intended to accommodate speeders or other light transport vessels. I nevertheless decided to transform this place. As you walk through the front door, you immediately notice that there is still life there. Indeed on your left a small desk and signs referring to space missions. It's a smuggling office where I take my missions with whoever wants to do business. Now that I have obtained Republican immunity after what happened on Yavin IV, I no longer need to hide to carry out my personal operations as Republic Corsair allowing a significant enrichment.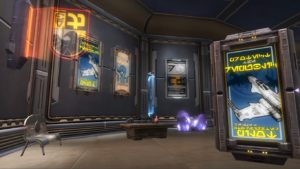 Added to this is my reserve of weapons that I cannot store on the Cargo.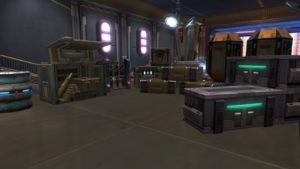 Next to it we find a medical corner managed in pairs by my faithful Guss Tuno, who we must admit is gifted in the medical field, and a nurse from the Republic.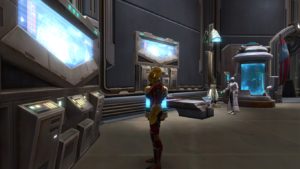 The part located below is completely private, however. Anyway, you shouldn't expect to enter this old hangar without my presence. Unless you are unconscious, but in this case it means that you probably won't remember what you see there anyway. Because this vast room is intended for Espionage. Since the event on Nar Shaddaa where the SIS had used my services to deal with the Shevin Conglomerate, I decided to keep an espionage activity which knows gradually developed until it becomes a large complex of surveillance and monitoring. listen for SIS. Recent activities with Theron Shan have allowed me to further refine spy protocols. We find Risha busy building a spy droid disguised as a protocol droid. Akaavi is she, monitoring the data flow and Corso is in charge of preparing missions throughout the Galaxy.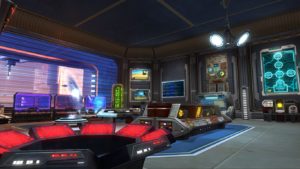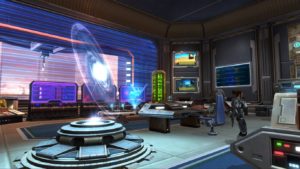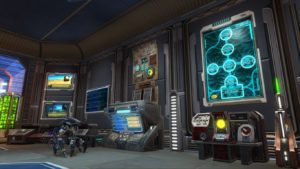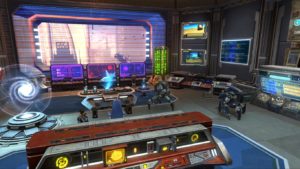 To be able to access the upper floor you must have a connection with the Jedi Council, the SIS, the Prophets of Ashla, the High Command of the Republic or be one of my very good friends. The East and West stairs are sober, paintings of different planets and at the top of these Rakata pylons from Belsavis.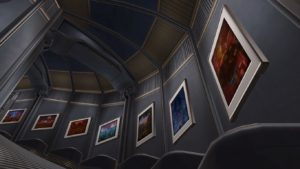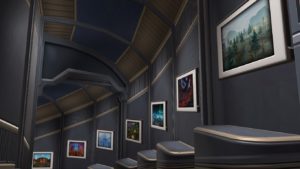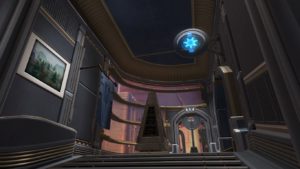 These stairs both lead to a Botanical Balcony where we find a diversity of plants from Yavin, Rishi, Rakata, Alderaan… As well as fountains in the same design as that of the Jedi temple. My faithful Varactyle greatly appreciates walking there elsewhere. One should not either neglect the gigantic Holocron of the Masters reconstituted after the plundering of Tython by the Revanites, Holocron which seems to levitate above all.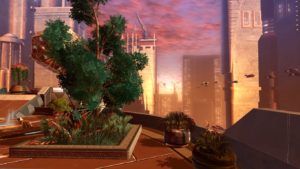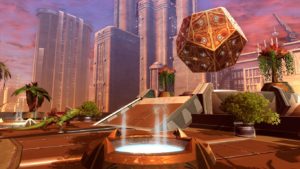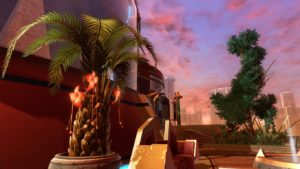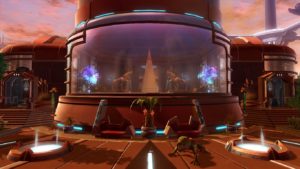 Once you have walked around the Balcony, you can enter the Great Hall of the apartment. A room that gives a breathtaking view of the Balcony and the legendary endless skyscrapers of Coruscant. A table and sofas for private moments of relaxation, all this in a harmonious atmosphere thanks to the fountain flowing in its center, the luxurious lighting and the incredible mysticism emerging from the Statues.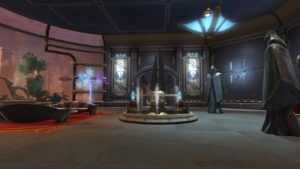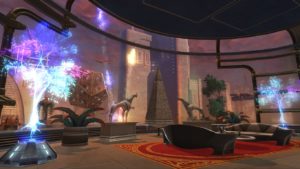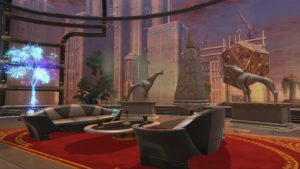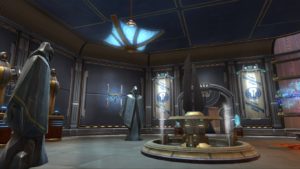 Then we enter a room which is only transitory to the other three, always it is that this room is well guarded by Bowdaar, last bulwark against the possible powerful aggressors who would be angry with me. Manaan and Voss shrubs mingle with Gree columns that light up a large Ilum crystal.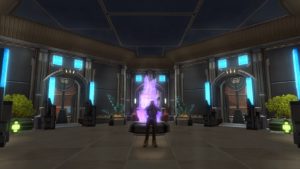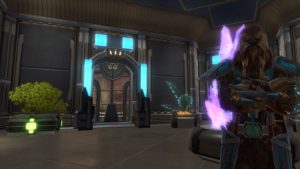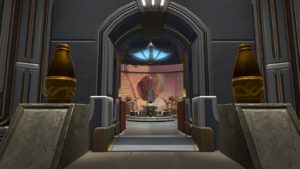 The Force room allows any Force user to meditate, consult archives or datacrons, use crystals to forge a lightsaber and a forge of course ... because after the devastation of Tython I put in my available this room for young padawans. In this room, however, there are statues and structures reminding all Force users that there is not just one Order and that we must remain vigilant.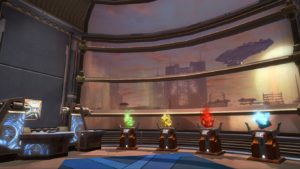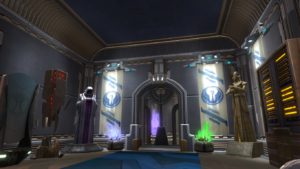 In the center is the Council Chamber, where I meet the High Authorities of the Republic during briefings and debriefings of missions. In memory of my childhood, a throne of Alderaan allows me to preside over the assembly. On the walls there are eight small paintings representing the greatest enemies I have been able to face, the latest being the Pirate Captains.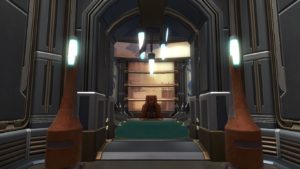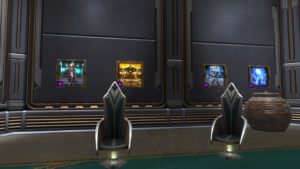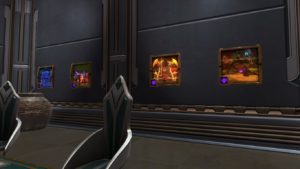 The last room is none other than my Bedroom, a totally private place for me or my crew where I can ... sleep, rest on spacious sofas, take care of my Mawvorrs, or work on a desk directly from Voss- Ka. Banners on the walls remind me every day of where I come from, Alderaan.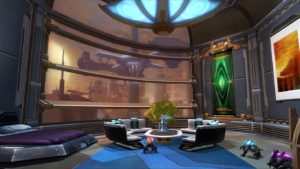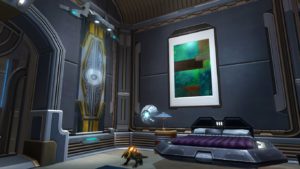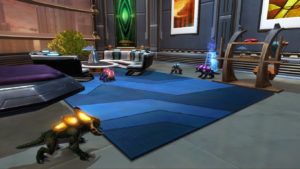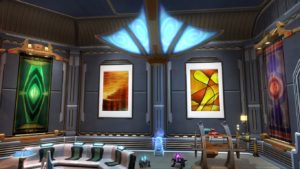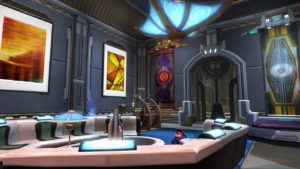 Jaa'dee, SIS provider
What I learned from this fortress : Well, the main point is the balcony, I like its lush vegetation whose tones blend perfectly with the colors brought by the sky of Coruscant. The lower floor also, we have the impression of being in a small district with its merchants, its cantina ... We also find very well the spy side in the hangar with various screens to monitor a whole lot of things. across the galaxy! Finally, last point, the central room upstairs, Bowdaar gives a sacred impression with the surrounding elements!

If you want to see more, don't forget that you can find this fortress in public listing on Mantle of the Force under the name "Sanctuary of the Republic of Jaa'dee".
If you too want to share your fortress or guild ship, don't hesitate to contact us!