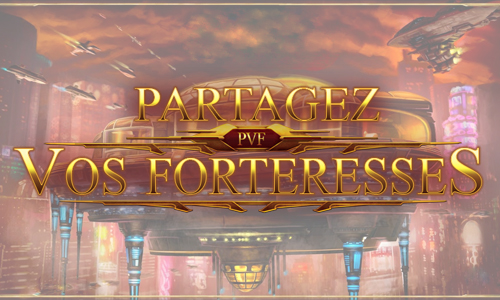 After a few Christmas holidays, Share Your Fortresses is resuming on the Battle Meditation Server for something that we have, I find, not often had the opportunity to see in the PVF. Today, the guild The Red Order, one and a half years old and more PvE oriented, welcomes us on its guild ship: The Ankou. Without further ado, I let the text of Raug-Sama (the decorator) guide you with her illustrations as well as those of her guild master Pack'Pas'Cher.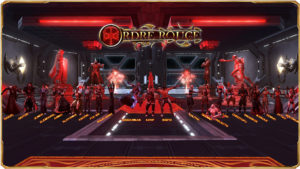 The Red Order welcomes you to its ship the Ankou. Before entering, be warned: this vessel takes its name from the Breton God controlling the vital cycles, life, death, day and night. So don't be surprised if you come away changed, with an inordinate desire to hit the mob and your heart filled with dark force. My name is Raug-sama, decorator of the guild and I will be your guide for this visit.
It all starts with the footbridge, a living space in its own right for all our members. Not only is this the place where we choose our destinations of conquest with our army standing ready to satisfy our every wish ...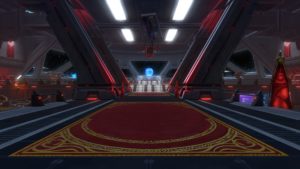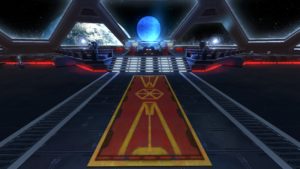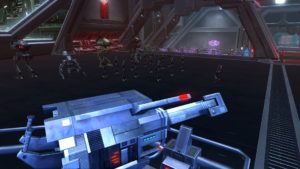 But it's also our PvP training and combat arena. Whether it is a simple HuttBall, it is not uncommon to see the carrier of the ball suddenly explode, or a duel between players, it is rarely empty. Sometimes the shots or spells go beyond the circle of the arena so don't be surprised if you find ceiling lights or droids on fire ...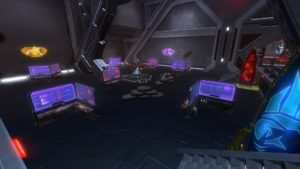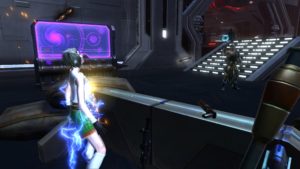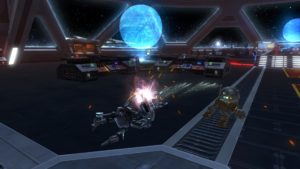 Of course, what would a place of life be without its cantina! A space of relaxation par excellence and frank camaraderie over a drink, our dancers are there to entertain you at any time. However, I prefer to warn gamblers addicted to the casino, because you might not see the time go by, nor your bank account taking a hit!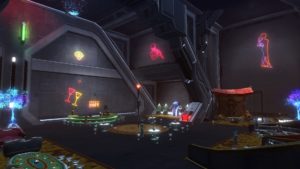 Speaking of bank accounts, it is also challenged by our activity center a few steps from the cantina. The galactic market and the jawas are here to serve you and we abuse them to fill our coffers. You can also get a facelift or upgrade your weapons to be ready to strike.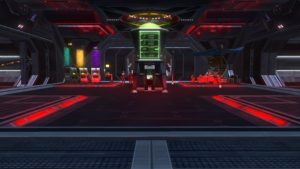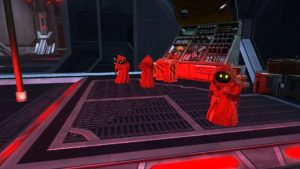 On your right, after an elevator, is our council room, where officers and advisers make the important decisions, which will or will not change our future.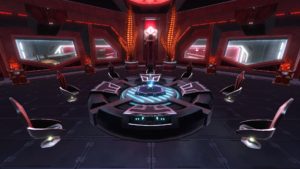 But this place is not open to "all the public". Let's go back to the bridge this time, take the central elevator and descend into the depths of the ship.
Even though it bears the name of the command bridge, the first floor has an entirely different purpose. "Welcome to Jurassic Park".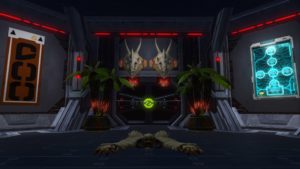 Our mounts are vital companions everywhere and at all times, so we carry them on the ship with us. Each species needing a different environment, we have taken care to recreate their natural habitat, so that they feel at home. A powerful neurochemical, made by us, allows them to coexist. However, do not get too close to the Rancors and Vorantikus, especially if you are injured ... I only say that for your safety!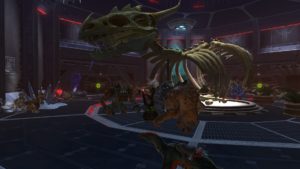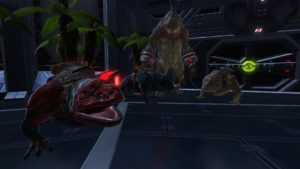 At the exact opposite of the entrance is our nursery. We keep the little ones there in order to raise other mounts. Don't make too much noise, they are often fearful.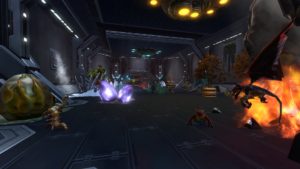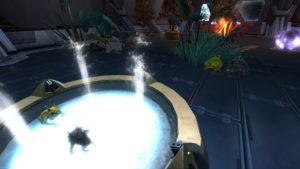 Once out of there, go to your right. This is the museum where we keep our trophies from every planet and operation.
The last room on this floor is our Sithstine Chapel. Our preacher guides us and blesses us with snowflakes. He is a little crazy, of course, but the anger he instills in us is such that our power continues to increase.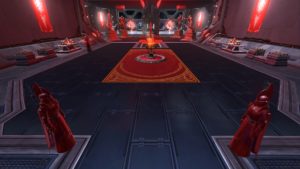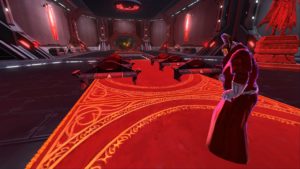 Take the elevator back and go down to the next floor, the crew deck. On your right, the first room is the infirmary. A cozy waiting room, for those who come to wait for a friend or to treat a simple headache, gives way to a state-of-the-art emergency service: kolto tanks, cryonics and nurses are at your disposal.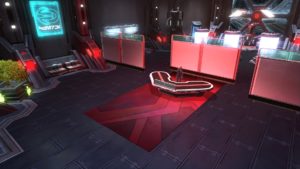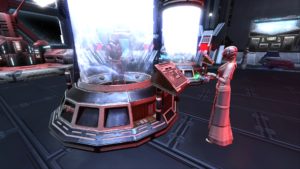 Opposite is our armory. Although all the equipment is available, a Trandoshan mercenary makes sure to record the entries and exits in a register in order to replenish stocks and avoid theft. Also don't touch anything!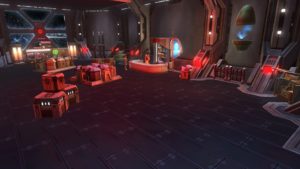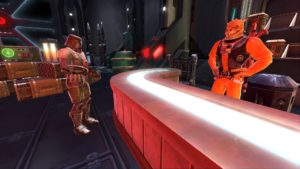 Let's continue down the hall. On your left you will find two rooms which are also very important. The refectory with its self, its long tables and even, for fellow meat lovers, a Tuk'ata barbecue!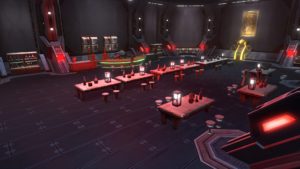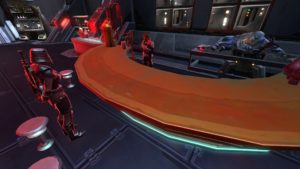 And the dormitory to take a well-deserved rest.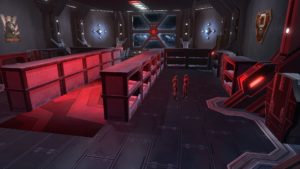 To the exact opposite, there are still two rooms to visit. Our archives room and access to the Holonet.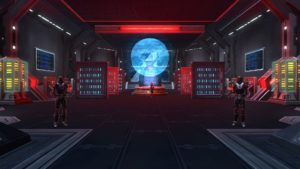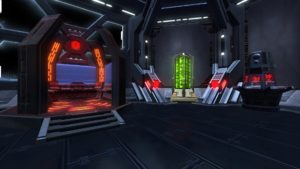 As well as the prison. Our worst enemies are locked up there, tortured, even cryogenized. We are also closely studying Rakghoul disease. Ah! One of the Sith Commanders is killing a smuggler, would you like to stay for the interrogation session?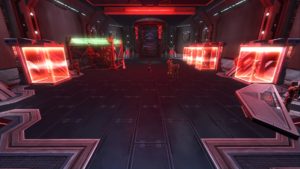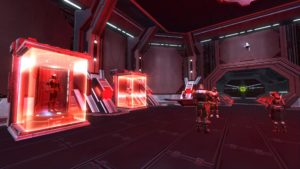 Oh I'm sorry, you have some blood on the bottom of your bure… A droid will take care of it for you. Let's resume our visit. We now go down to the hangars. The one on the left is used for our trade, while the one on the right contains our "private jet". Arriving on a planet by standard shuttle is not suited to our rank.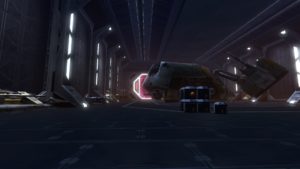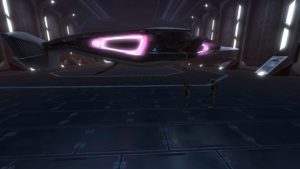 Here is our visit is over. What do you mean I forgot a floor? The machine room? But anyway it's a place without interest, bathed in engine grease ... Okay if you insist ... So our team of Rodiens technicians take care of all the operation of the ship using these consoles ...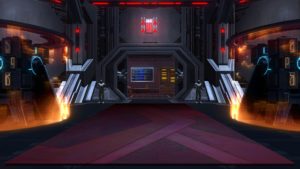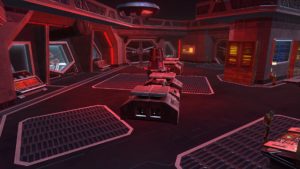 NOT THE BIG RED BUTTON!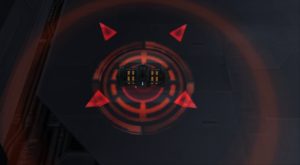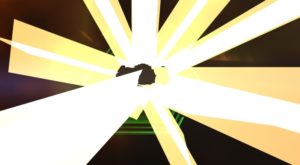 Well I think it's time for me to walk you back to what's left of our catwalk. Thank you for taking the time for this visit, hoping it was to your liking and pleasure!
May the type be with you!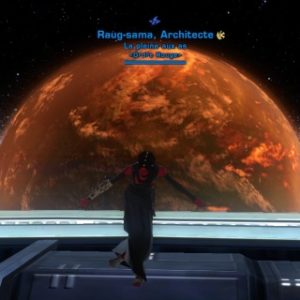 What I took away from this visit : I really like the decoration of this vessel. I enjoyed the "board" room with the selkath chairs around the holo projector, but my favorite rooms are on the crew deck! Starting with the dormitory with its rows of beds which in addition make it possible to make three "sub-rooms" including a small relaxation room. The second room that I liked the most is not far from the first and also has rows of decorations: it is the refectory, with precisely this large table, it is perfect. Special mention for the barbecue of Tuk'ata, very good idea of ​​combination of decorations!
Did you enjoy this sharing too and would you like to visit more in detail, or maybe go and enjoy a tuk'ata leg on the barbecue? You will find the Ankou in the public list of the Battle Meditation server.
If you too would like to share your stronghold (s) with us, whether personal or guild, do not hesitate to contact us.