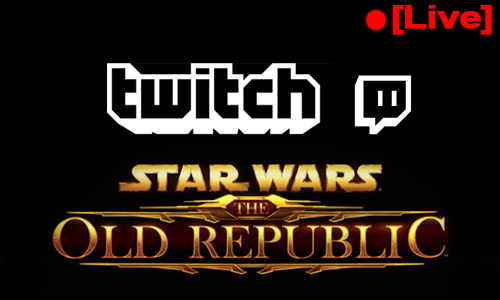 Today took place a live of the SWTOR team ... not at 23pm but at 22pm ... and yes, if we have changed the time in Spain, it is not yet "the hour" case in the US. No more talk and moldy pun, make way for the summary of this livestream on the repeatability and difficulty of the chapters. A livestream still with Eric Musco and Charles Boyd, but this time with Ben Irving with absent subscribers. A livestream also which was, it must be admitted, quite poor in information.
Summary
Community discussion topics
The "Influencers" program
Repeatability and difficulty levels
Veteran level
Schedule of upcoming streams
Spoilers
Community discussion topics
Honors: Fans have talked about their conversion into credits and the upcoming cost for items in KotET.

They are concerned about this, especially gifts from Rank 5/6 companions.
In KotET, companion gifts will not be given, because there will be a lot in the command crates, those that can be purchased by credits should only be added.

Changing the livestream schedule: also a topic of discussion.
Overview of class changes:

It is being translated to be disclosed simultaneously to everyone (spanish and German speaking players felt aggrieved to receive all information late through official channels - we are not talking about fan sites here).
It won't be as detailed as in a patch-notes, but there will still be a lot of information.
Should arrive early next week.
Influencer Program
In short, this is a new program intended to showcase creative SWTOR content, as they recently did in the monthly live streams during KotFE. What they want to highlight:

Direct from the players
Blogs
Podcasts
Youtube videos
Even more.

For example, they can host certain people on their channel for the streams. This is the case of Rushlock following their livestream.
Just contact Eric Musco if you are interested in participating in this topic. This is possible in various ways: by forum, Reddit, Twitter, email from the support team ...
Repeatability and difficulty levels
Created following player feedback on the repeatability and difficulty of the KotFE story.
The 25 chapters of KotFE and KotET will be available for this.
The HK bonus chapter will also be repeatable but only in story mode.
New interface to launch chapters and change difficulties. Photo below.
Story and Veteran modes will be available at launch, Master level is coming a little later. In all cases, you must first complete the Story or Veteran mode of a chapter before you can tempt the Master.
Regarding the possible choices, that of the first time we have made a chapter will be kept.
You can try out different choices to see their impact and earn light or dark points. But we can therefore only test the impact of these choices in the short term.
To be confirmed but the influence should also be able to increase by redoing the chapters.
The romances also keep the first choice made and not the repeat of a chapter.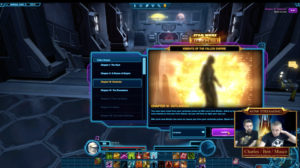 Difficulty veteran
Available from the first time you try the chapters, if you want a greater challenge.
Adapts to player level, including equipment once at max level.

60-70 for KotFE chapters
65-70 for KotET chapters

Balanced for a mid-tier end-game gear, and a companion of influence rank 20.
You can lower the difficulty level at any point in a chapter.
However, increasing it requires restarting the chapter.
It is not necessary to have done the previous chapters in this difficulty setting, either as part of a rehearsal or a first time.
In the game demo made during this live, Eric Musco played chapter 3 of KotFE, his life bar was dropping quickly against ordinary soldiers, while he had 20 influence with his companion and good equipment for a level 66.
This will be a good way to gain command points, more than doing heroics or chapters in story mode.
New achievements will be linked to completing certain chapters in more difficult mode.
Schedule of upcoming streams
Next live on November 10 with special guests.
Next topics:

November 17: The New Planets / Details on the story with Charles.
November 23: KotET summary and Q&A session.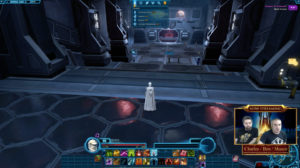 That's all there was to remember. In the additional details it will be noted that the menu bar at the top of the game has undergone a modification. It is now more condensed because in the form of drop-down menus as the photo above shows you. Another minor change on the mercenary class at least, the cylinder is no longer to be activated, it is now a passive of the class.
In any case, if you want to watch the stream again, it's here. But not so fast! Do not go !!!
Spoilers
You will have been warned!
At the end of the live, the two friends played a short clip of KotET before giving way to Rushlock. In this excerpt we can see a conversation of our character with Vitiate, the time being in "pause" mode. Several locations are passed through, including the throne room that you know is sitting there with, and a ruined planet, which could well be Voss, or one of the two new ones to come. I let you see this extract at minute 44 and 32 seconds ... Especially its last image!