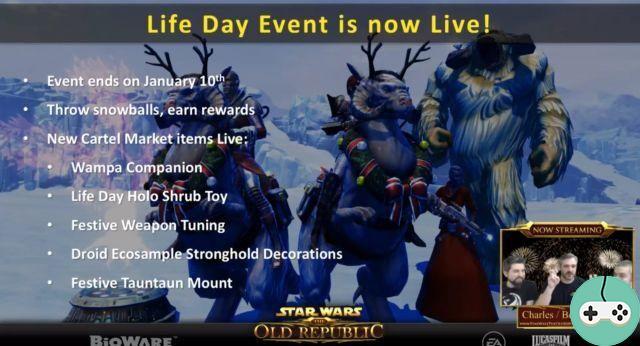 Star Wars: The Old Republic is now 5 years old and has evolved a lot since its release. At the start of the fifth year, the Bioware team looks back on the future of the game with a livestream that addressed the following points:
Fifth anniversary rewards and events
5.1 update
Galactic Command
Awards and Events
Anniversary rewards are already available through a vendor on the Imperial and Republican fleets. This seller gives access to the following rewards:
Celebration Jawa.
Senya hologram.
7 art paintings for the fortresses.
Dromund Kaas and Coruscant Fortresses can be purchased for 5 credits.
A statue of galactic alliance for players who have been subscribed for 5 years without interruption.
This seller will be present until January 17, so take advantage of his presence to collect these rewards before they become permanently inaccessible. In addition, at the end of the year, the day of life event is back. The sellers will only stay until January 10, however.
5.1 update
The content of this update has been relatively well known for some time with the implementation of the master level on the chapters, the arrival of 5 new uprisings and the announced changes to the galactic command systems. Here is the list of uprisings and the types of cards they are inspired by:
Trench Runner - Again
Destroyer of Worlds – Makeb
Landing Party – Rakata Prime
Divided We fall – Coruscant
Trial and Error – Station Spatiale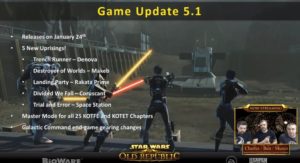 This future update will be released on January 24, 2017 and will also see the allocation of Season 7 rewards which have unfortunately been impacted by investigations into the fair play of players in the top 3 rankings.
Galactic command
The changes we already talked about in our guide to galactic command have been confirmed. If the system is still in monitoring state, the basics of its operation have already been specified.
New: Command Tokens

Retrieved from the Command Crates.
Linked to inheritance.
Retroactively given in 5.1 depending on the level of command achieved.

New: unassembled component

Rewards for participating in war zones.

New: unassembled command piece:

Redeemable from Operation Bosses.
To be exchanged for an unspecified amount of unassembled components.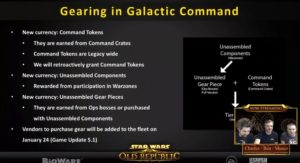 Equipment vendors will be added with 5.1 on January 24, and the next livestream will take place on January 26. It will concern the next updates to come by March.