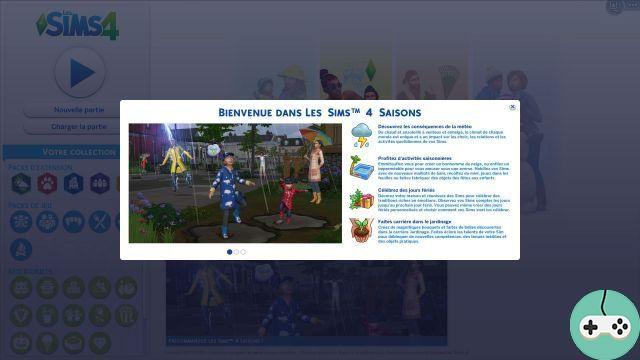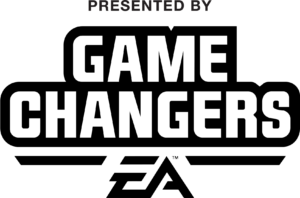 At the end of last week, the Sims 4 got a new expansion pack with a very apt name: The Sims 4 Seasons. Thanks to a code provided as part of EA's Game Changers program, I had the opportunity to bring new adventures to my Sims.
New outfits
Two tabs are added to the end of the outfit choices when creating the Sim: hot weather and cold weather. Because the Sims when they go out will now need to put on a coat or on the contrary to uncover themselves so as not to be inconvenienced by the temperature.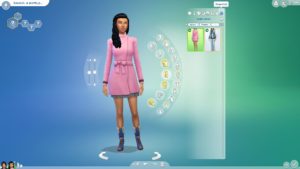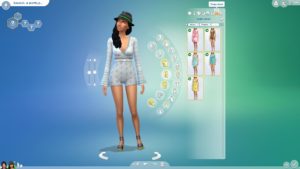 In addition, there are of course dozens of different clothes for men and women without really specific style, there is something for everyone.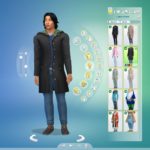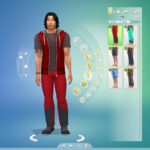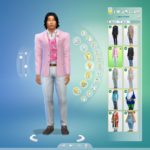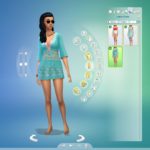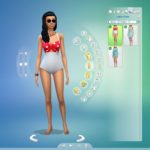 As well as costumes more ridiculous than the others to celebrate ...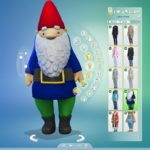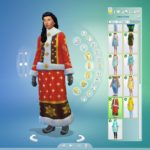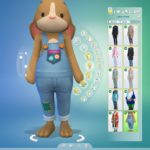 ... without forgetting hats and the traditional short outfit of Mother Christmas to warm up on Christmas Eve!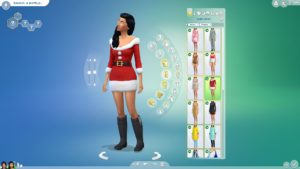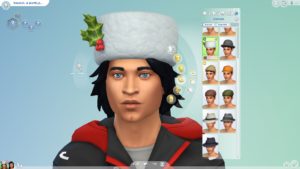 New objects
The kit adds a multitude of various objects to furnish its interiors: beds, toilets, tables, sofas, rugs, paintings ... It is not easy to bring out a general style to objects which are quite colorful and varied. A predominance of wood is however to be noted for a majority of them.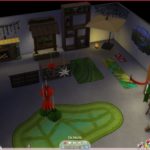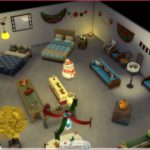 Of course, there are festive decorations, with the desire not to offend anyone and to cover all traditions. Christmas is however the most represented with garlands, wreaths, stickers, reindeer for the garden, fir trees and garlands. But there are also Chinese lanterns, a cornucopia or a candlestick with three branches.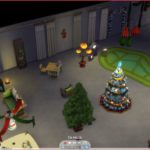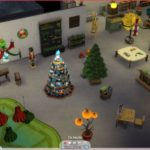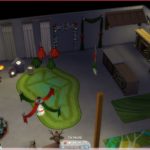 The new creations go well with all the natural objects of the recent kits (Dog and Cat, Laundry day ...). They also make it possible to create "country chic" interiors thanks to their resolutely modern shapes. For the outdoors, there are ice skating and roller skating tracks. They come in two styles: modern and rustic, and in two sizes: medium and large.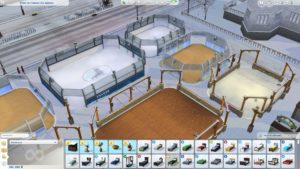 Finally, there is a swing, two small swimming pools for children and little houses (used during festivals by merchants of various goods).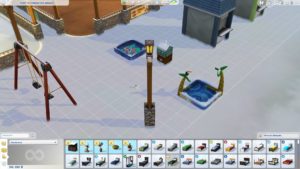 Parts
The new objects are arranged in ten rooms, each in at least three colors. A living room, an entrance and a garden shed: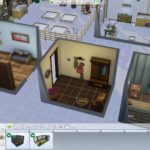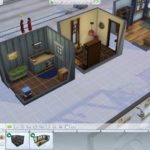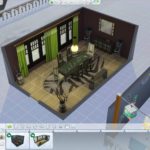 An office, a living room, a bedroom and a bathroom.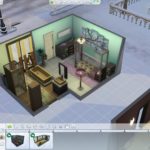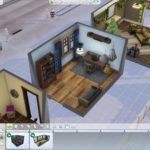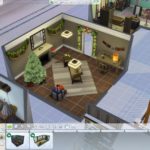 A garden, a terrace and a pretty veranda.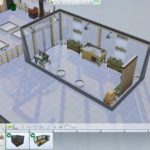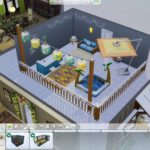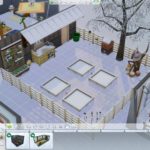 Temperature and climatic events
Sims Days are now organized into seasonal weeks. Every seven days, the season changes, the start being selected at the start of the game.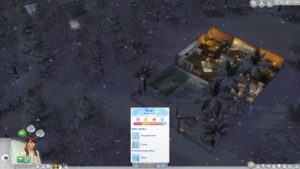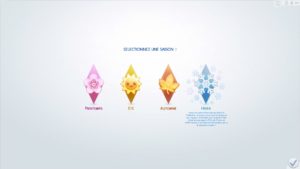 In play, it changes the outside environment with related climatic events like thunderstorms or snowstorms. Sims will find new opportunities to have fun like playing a snow angel, a snowman, or a snowball fight.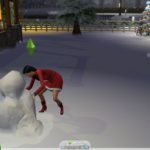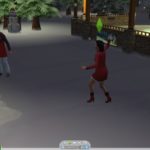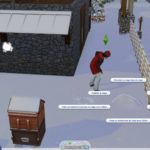 To cheat with time, there is a DIY-based hellish machine. The result is not guaranteed for beginners and I have had several Sims electrocuted from handling it. Finally, despite the side effects, when the rain has been falling for two days and the Sims are stuck inside, it makes you want to DIY every object in your house to become a pro!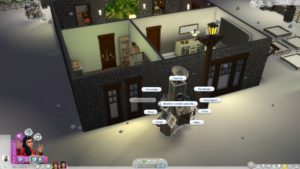 revelry
There are four festivals by default: Winter Festival, New Years Eve, Love Day, and Harvest Festival. Players are free to add as many holidays and events as desired in the calendar.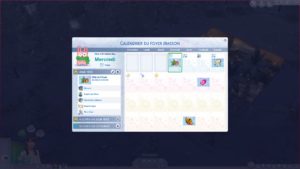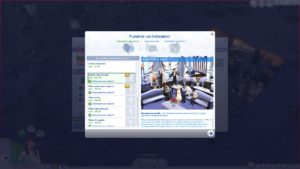 The day before the holiday, an alert is displayed in-game to prepare for it. Sims will potentially go to school or work, so plan to ask for vacations if possible or deal with your Sims' schedules. Once the party has started at 6 a.m., a series of objectives is displayed at the top left, which must be achieved by 2 a.m. the next day.
A recurring activity is giving gifts that can be purchased from the phone or computer. There are also bundles that are added to the world that offer multiple interactions, here in the case of the Winterfest.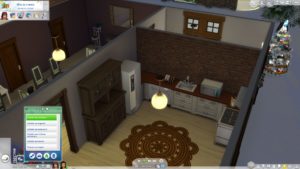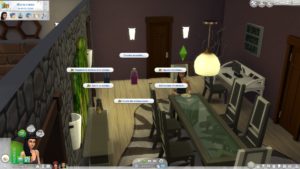 Interactions are unlocked on their Sim and others, with a special icon that appears next to each to identify it (icon that is shown at the top left in case of doubt).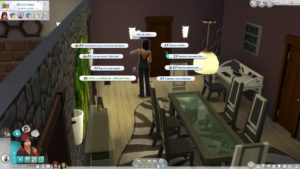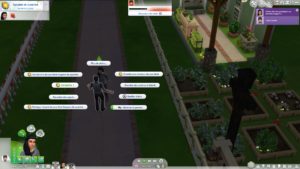 The exterior decorations are added automatically from decoration boxes, it will be necessary to go through the classic creation tool for everything related to the interior. Each season has its related decorations (here my house sports those of the winter festival).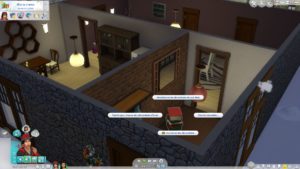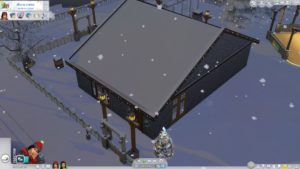 What would a party be without a good meal? Special dishes under the heading "Grand Repas" are available to cooks.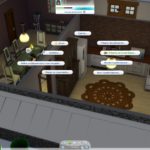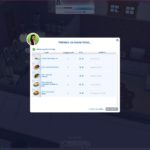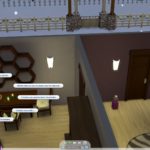 And the festivities are also an opportunity to meet atypical meetings!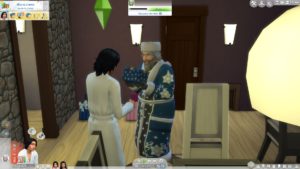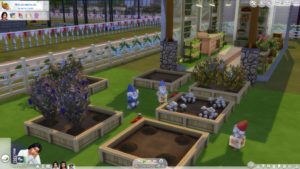 Finally, New Year's specialty: resolutions.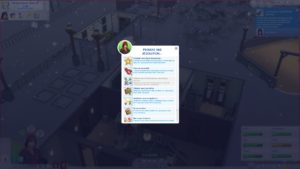 Resolutions are validated automatically if they are successful within the time limit.
Other interactive objects
In addition to all the objects mentioned above because they are linked to the festivities (gifts, decorations, etc.), there are also other activity generators.
Ice skates or roller skates
Linked to fitness, the activity requires good coordination that the Sims do not have at all at the beginning! It makes for some really funny moments when they break their necks! Fortunately, with practice, they gain confidence and become great professionals capable of performing tricks.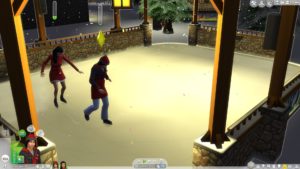 Each track is personalized in terms of light, music and effects.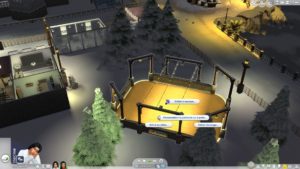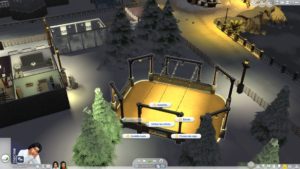 Hive
The Sims Become Beekeepers! By clicking on the hive once installed, a beekeeper combination is available.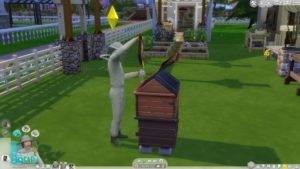 Then you have to wait to be able to harvest the honey. At any time, the Sim can have fun disturbing the bees ... at their own risk.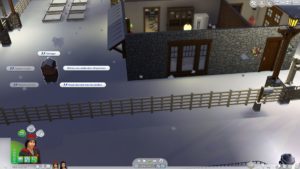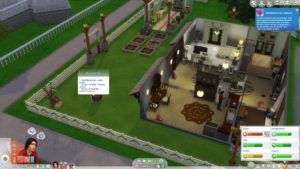 Umbrella
When the rain keeps falling, there's nothing like an umbrella for protection.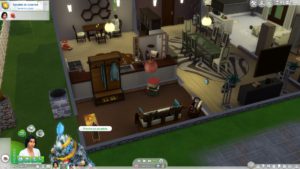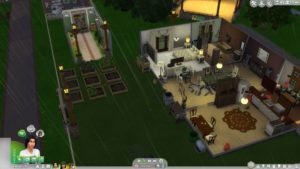 After clicking on the pot, the umbrella can be chosen from a wide choice of colors and patterns.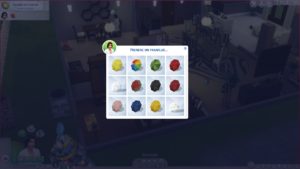 Career "Gardener"
Although it has long been possible to garden outdoors, the Sims are now able to make it their profession. As you can see below, the Sim goes to work on his own in this career, limited to one-off interactions that require making choices.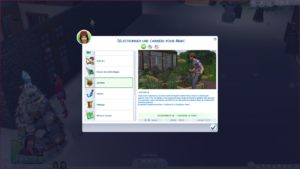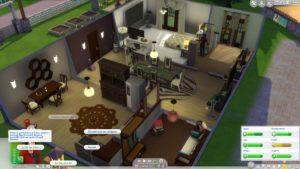 A choice must be made after some time between two paths: botanist or floral designer.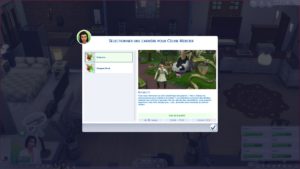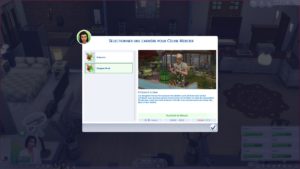 I opted for the former, which unlocked new interactions for me on the computer.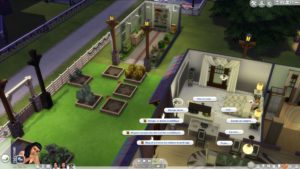 "Flower arrangement" skill
New activity with its dedicated workbench, the creation of floral arrangements is intimately linked to gardening to grow the necessary flowers. Buying them individually costs a lot more than the resale price of the composition, so not all Sims will be able to afford this deadly Simoleons loss. On the other hand, those who have a green thumb will appreciate it, because the arranged flowers are resold more expensive than what they would bring back by being resold directly from the garden. There are compositions to create with all species of flowers, so you can plant just about anything you want.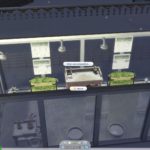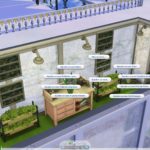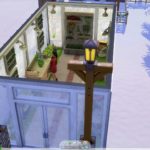 Note that having a greenhouse will be the only solution to obtain flowers all year round if you want to make it your main source of income. With the arrival of the seasons, winter makes planting outdoors impossible and plants will only grow in certain seasons.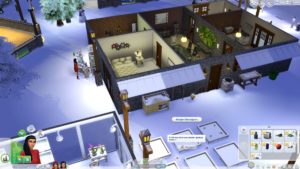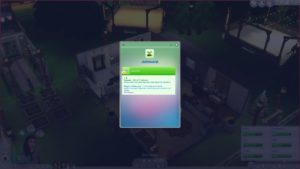 Conclusion
Important addition to the background of the game - to wonder how the game ever came out with frozen seasons and a feeling of time that never passes - 4 Seasons is not a fun expansion in and of itself. There are actually quite a few new opportunities for direct gameplay, the festivities are fun, but they are quite similar to the parties already present in the game and therefore will probably not be followed every year. The profession of gardener remains classic, without the richness of these professions which offer to go to the field and to investigate.
On the other hand, it is clear that from now on, I no longer see myself playing again with the eternal Californian sun ... even if I did very well before and that I have come on several occasions to regret the rotten weather that prevented my Sims to go out and do certain activities. This extension is therefore to be preferred if you like to bring the maximum possible realism to the lives of your Sims. With the 4 seasons, your games will never seem monotonous again!
If you don't have the base game, a pack is available. Otherwise, the DLC can be purchased independently:
The Sims 4, The Sims 4 Seasons and The Sims 4 Digital Deluxe Collection at € 59,99
The Sims 4 Seasons at € 39,99