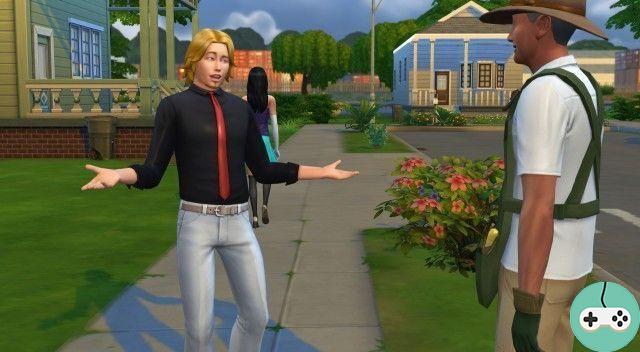 The competence Charisma remains an extremely useful skill in many careers. You will be asked for it very often to obtain promotions. In addition, thanks to it, you will be able to be invited to all the possible parties and have a bunch of friends or enemies !! You choose.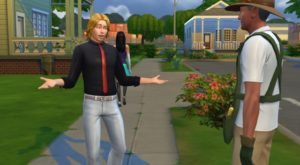 Characteristics and career
Required for aspirations: Popularity - Friend of all - Love - the romantic series
Matching stroke: Confident of herself - Extrovert - Member of a group of friends
Required for the following trades: Astronaut - Artist - Secret agent - Culinary - Painter - Author (Journalist) - Criminal
Learning ability
The capacity for Charisma can be learned and developed in different ways including discussing with other Sims or by practicing in front of a mirror.

Depending on your Sim's mood, they can give a simple speech or go on long serenades. In addition, you can also increase your skill with 3 books :
Charisma Vol. 1 corresponds to skill level 1 to 3
Charisma Vol. 2 corresponds to skill level 4 to 6
Charisma Vol. 3 corresponds to skill level 7 to 9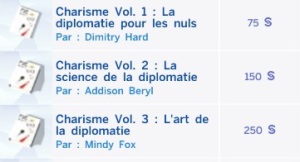 From level 5, you will be able to increase your skill thanks to the computer. When your Sim is happy, it allows your capacity to grow faster.
Charisma ability levels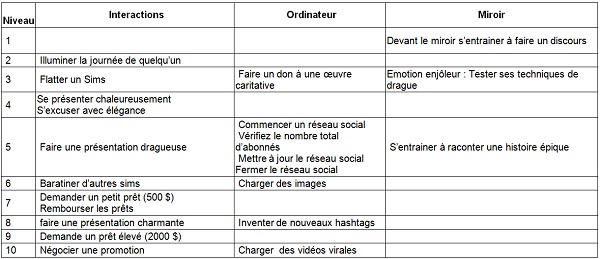 Influence on emotions
When your Sim gets certain emotions, the number of interactions is increased. Thus, a Sim with a very low Charisma level can gain access to certain higher interactions. Example: If your Sim is flirtatious, they will be able to access the Test Flirting Skills interaction.
Rewards
Here is the list of rewards that will allow you to learn your skill faster:
Fast reader: 1.000 points
Night owl: 1.000 points
Scholar: 4.000 points
Morning Sims: 1.000 points
Challenge
You have certain challenges to achieve if you want to challenge yourself, here they are:
Friendships for life - Make 20 best friends for life among Sims not controlled by the player.
Irresistible - Have a Sim reach the highest level of the Charisma skill.
My friend for eternity - Make a friendship with the Grim Reaper on a Sim.
The big event - Earn gold for each social event
To your mirrors!