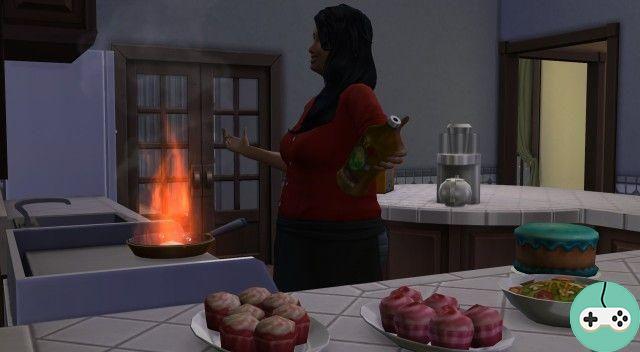 The Cooking skill is important, it allows your Sim to eat. If initially you will have to make basic recipes, as your skill progresses, you will unlock new recipes. Your Sim will be able to eat well and have access to a list of awesome recipes.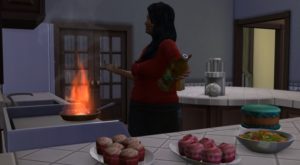 Characteristics and career
Required for aspiration : Food - Grand Chef
Matching strokes : Creative - Gluttonous - Gourmet
Mandatory for the following professions: Culinary career
How to learn the skill?
You can send your Sim into the kitchen and let them do it. However, at the start of the skill, you will see that your Sim has hesitant gestures. As he increases his skill, you will find that his gestures will become much safer while he is cooking. He will even make figures with these knives and pans, to watch!
Here are the actions that will increase your skills:
To cook
Discuss favorite recipes (level 3)
Give cooking tips (level 9)
Read cookbooks
TV - Watch the kitchen channel
TV - Watch Cooking Class Videos (Culinary Career)
Recipes
Most of the recipes will be unlocked by increasing the cooking skill, while others under certain emotions or career level.
Birthday and wedding cakes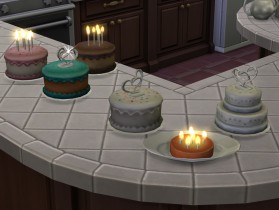 You have to make your birthday cakes yourself as well as the wedding cakes. Each cake can be decorated for anniversary or wedding. Some cakes require the gourmet cooking skill to be made.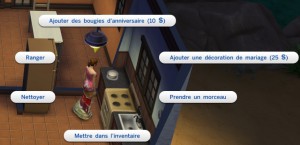 You should know that in the small skill levels, you will be able to do some. The more you level up, the more beautiful your cakes will be!
Rewards
Here is the list of rewards that will allow you to learn your skill faster:
Fast reader: 1.000 points
Night owl: 1.000 points
Scholar: 4.000 points
Morning Sims: 1.000 points
Influence on emotions
Eating delicious food makes your Sim happy whereas a low-quality dish can cause discomfort and nausea. From level 5, your Sim can, when preparing a dish, gain the emotion confident.
Ideal mood
To cook, your Sim's ideal mood should be inspired. To have this emotion, you can make him take a meditative shower, he search for recipe ideas on the computer or even make him watch cooking shows to find ideas (Trait Gourmand).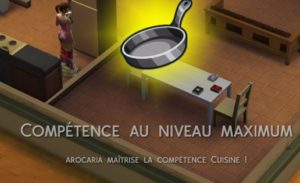 Challenge
You have some challenges to achieve if you want to challenge yourself here are:
Undisputed Leader - Have a Sim reach the highest level in the culinary career.
Rex connoisseurs - Have a Sim reach the highest level in the Gourmet Cooking skill.
Gold in Bar - Have a Sim reach the highest level of the Mixology skill.
Furnace Pro - Have a Sim reach the highest level of the Cooking skill.
At your stove!