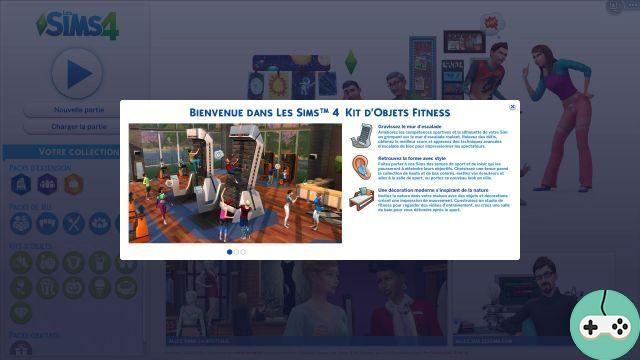 Late last week a new Stuff Pack for The Sims 4: Fitness was released.
According to the sign displayed when the game is launched, on the program: climbing wall, sportswear and modern decoration.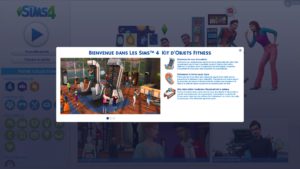 Outfits
Let's start with creating a new Sim and choosing their outfits!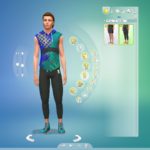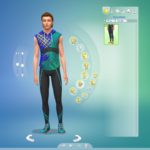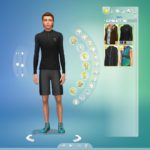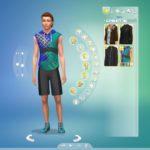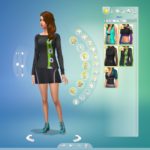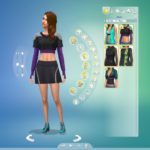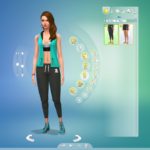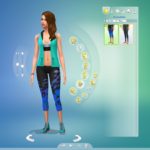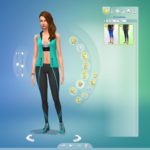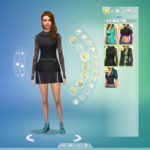 Objects
This kit offers beautifully crafted objects. Take a look at the tables and chairs, themselves lit by lamps from the pack. The wall is also one of the paints in the kit, giving a faux wood look that I love to render (and will most certainly use in most of my rooms now).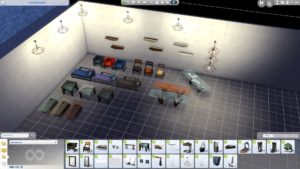 And here is the suite of new objects with paintings, objects for the bathroom (sink, toilet, shower, bathtub, towel rail and mirror), sports machines, rugs, a bookcase and flowerpot.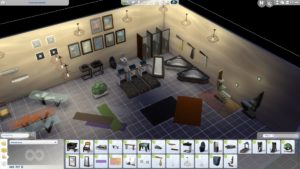 Finally, the famous new climbing walls: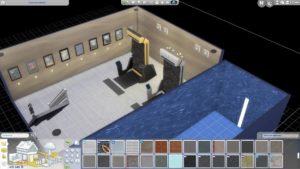 Climbing wall
This new object requires a large room to be placed and especially a high ceiling (it will be necessary to make walls of maximum height if you want to put them inside). It costs 2600 and comes in 9 different colors, ranging from black / brown to yellow / brown to black / gray. So there are only very natural colors.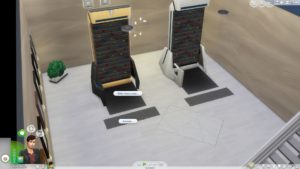 When interacting with the object, my Sim has several options:
Endurance challenges:

Vertical challenge: beginner
Vertical challenge: easy

To climb :

Climb with a slight incline
Climb vertically
Climb on a slope
There is no new skill, it allows you to build the classic Fitness skill, just like treadmills, weight benches or puching ball. Still, even using a few cheat codes to increase my Fitness Skill to 10, I'm not unlocking new interactions. So it looks like the item is linked to a hidden climbing skill (it doesn't show up in Sim skills).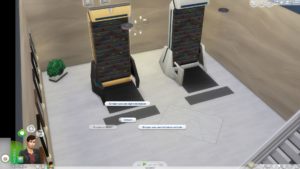 Fitness Videos
For those Sims who don't have enough money or space to have machines at home, you can now level up your fitness skill by watching special TV shows.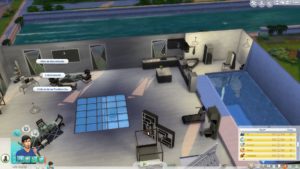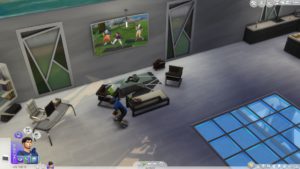 There are currently two training programs:
Video by MuscloCardio
Plumboomba dance video
Hitz headphones
It was a bit by chance that I was surprised to discover this novelty thanks to an advertisement sent in-game!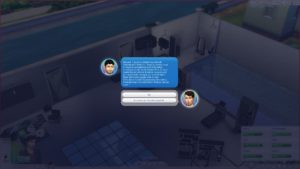 They no longer know what to invent these publicists! Of course, I gladly accepted these free headphones that allow my Sim to listen to their music without disturbing others. Now when I click on my active Sim, I have a new Earpiece option.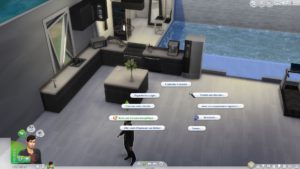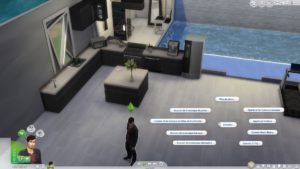 The item is also in my inventory and allows access to more interactions: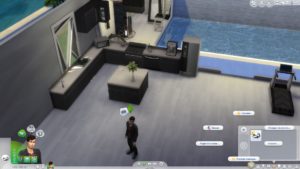 So these headphones also offer access to dancing, which comes in handy for endlessly sad dance machines when there is no music to have fun on the floor.
As a conclusion, a few images of my new interior using mainly objects from this kit: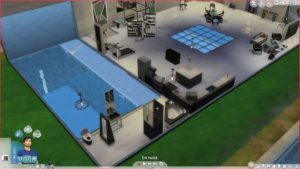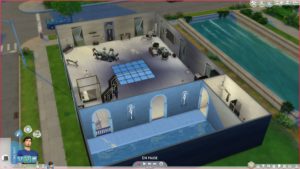 I'm generally not that keen on item kits which usually feature items already present that don't add much, supplemented with limited gameplay elements. So yes, concretely, the climbing wall is fun, without being revolutionary and the kit adds tables, chairs, bathroom objects, nothing that we did not already have. But the style of these objects is really special and goes well with modern interiors. The color palette is also perfect for creating environments with diverse moods, ranging from black & white zen to colorful orange. I also really fell in love with the new paints, of which you can see my use above.
Even though, as I say every time, Stuff Packs aren't necessarily the first thing to buy if you have a DLC purchase to make for The Sims 4, this is clearly the first thing to buy when you are doing the Sims XNUMX DLC purchase. if you like classy and modern interiors, you'll tackle item kits!