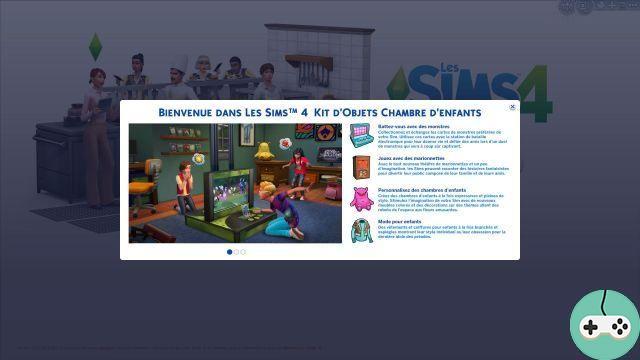 Children's Room is the new item pack released on June 28 in The Sims 4. Let's explore this new content!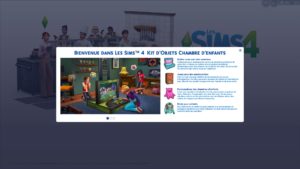 New objects
I bought a large empty space, then I put all the objects of this new pack, in the majority of the colors.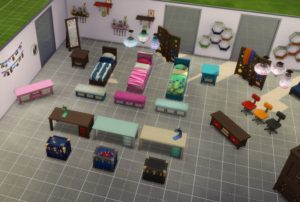 There are therefore about forty pieces of furniture: a single bed, an armchair, a chair, chests of drawers, a desk, two screens, a desk lamp, a ceiling light, a trash can, numerous stickers for the walls, tables, a mirror, a clock and two gameplay elements that I will come back to later.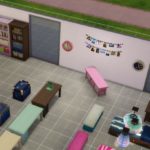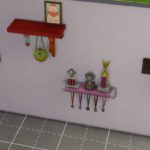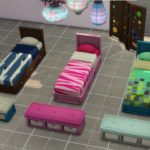 A close-up of Bosley robots:
The Coolala plush:

The shelves :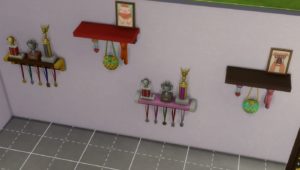 All stickers in different colors and models:

Posters, for all fans, whether they prefer singers or footballers: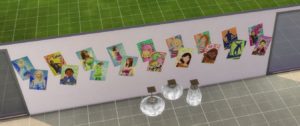 Some other paintings with butterflies:

Magnificent Punchinello puppet theater
With an alliterative name, Peter Punchinello was born to do puppet shows. After total denial during his adolescence, he ends up accepting his fate. Having gathered his last savings, he now travels from town to town in a motorhome to educate families about the Punchinello Academy & Puppet Club program and sell DIY puppet theater kits like this one!
This object allows to improve the social faculties of the child by performing a show. To use it, once installed in the room, just click on it to choose the show, knowing that it is possible to perform on your own, or to do it for one or more other Sims. In this second choice, the guests come if they are not busy (sleeping or at work, for example) and sit in front of the small stage.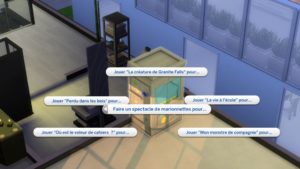 It is possible to follow the play in the company of the spectators.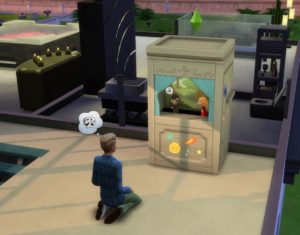 Void Creatures Battle Station
Leif. Barry. Lora. Finn. Ellie. Revered names of Void Creature trainers, master of the five elements. Will you add your name to their heritage?
Choose your item. Find your creature. Train her and get stronger together. Make her fight. Fulfill your destiny!
* CHOKING HAZARD - Small parts not suitable for children under 7 years old.

Kids can now get Monster Cards, collect them and bring them to life with Battle Stations. To be able to interact with the object, you must have at least one card. There are several ways to find Void Creature Cards:
interact with other children (in the Friendly category). When trading, there is a good chance of getting a card of similar value, both on rarity and potency.
buy packs on a computer.
rummage through logs and outdoor garbage cans.
cheat and use the command "bb.showhiddenobjects" after enabling cheat mode (testingcheats true). You will be able for 20§ to buy packs of rare or common creatures (search "empty" to find the cards), place them in the world and then open everything with your child!

Once a pack is found or purchased, it can be found in the active Sim's inventory. You just have to open it to get the map, defined by an element (earth, water, fire, air and void) and a power level.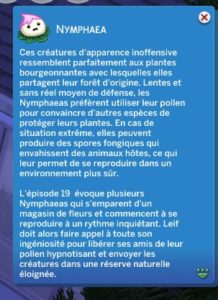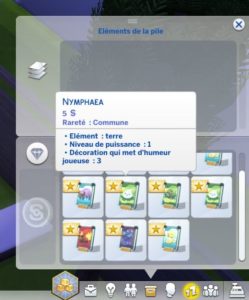 In all, there are twenty cards available, each also existing in a premium limited edition version.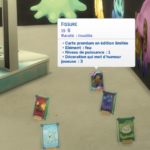 The card can be physically placed in the world, or kept in inventory for use on the station. If another child sits opposite, then the training becomes a fight. The elements, which only children can really understand, must be taken into account to win the match:
Water> Fire> Earth> Air> Vacuum> Water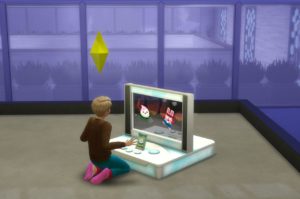 Note that the cards can be sold in shops, a good idea for a business that promises to be very lucrative!
List of creatures
Diverse
This item pack also adds:
clothes,
a Pop radio station for pre-teens,
a pre-teens TV channel,
monsters under the bed!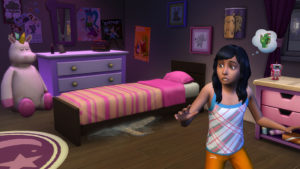 Unfortunately, adults are unable to use these two new items, even while in possession of cards. Frankly, what adult would go and collect monster cards ... One wonders! I personally find it a shame that they have limited this interaction, every Sim should be allowed to play puppets and train their creatures, no matter how old they are.
Like most other object kits (Luxury Evenings, Patio Atmosphere, In the kitchen, Scary Accessories, Like in the cinema, Romantic Garden), Children's room does not add anything essential. There was already plenty to make lovely bedrooms for our children until now, especially since there isn't always a child at home all the time. I admit that for my part I don't usually keep my Sim very long at this age, preferring young adults. If you are looking for a pack to buy, give priority to expansion packs (At Work or Living Together), then move on to game packs (Destination Nature, Relaxation at the Spa and In the Restaurant). Clearly, the item packs remain optional, there mainly for builders, collectors or the most assiduous players.