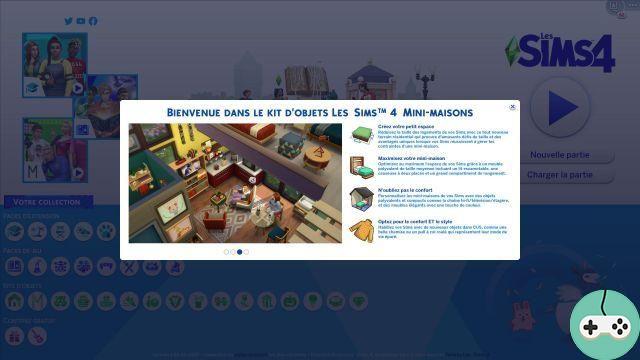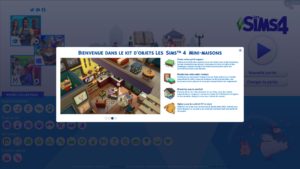 As usual when new content comes out on The Sims 4, I was quick to test it. This time, we are going to create very small houses, thanks to the pack of objects very simply called "Mini-Houses"!
You will understand with the video above, the concept is simple and consists of offering the Sims to live in very small interiors, with new furniture adapted to the lack of space. A mini-house is built on classic land, but to activate the related bonuses, you must first select the appropriate option in the type of land. By default, the game offers a house, which you can install on the land of your choice to discover the possibilities.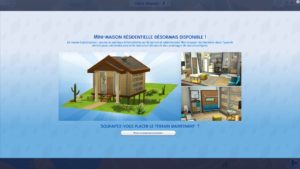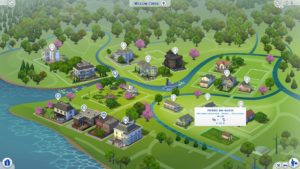 Land
The mini-house brings different bonuses, depending on the number of tiles used, whether on the ground or on the floors:
Level 1, called micro-house, is built on a lot of 32 tiles at most, offering the following bonuses: Light loads which allows you to reduce your bills by spending less energy, Get along well (or not) which doubles all relationship improvements, Rapid growth which makes plants grow twice as fast, Permanent well-being which makes the Happy, Inspired and Focused states of mind last twice as long, That talent! which allows skills to improve twice as quickly and finally Total comfort which makes any object twice as comfortable.
Level 2, called a mini-house, is built on land up to a maximum of 64 tiles. It only offers the advantages What talent !, Total comfort!, Light loads et Permanent well-being.
Finally, level 3, the little house, cannot be larger than 100 tiles and in return will only bring two advantages: Light loads et Permanent well-being.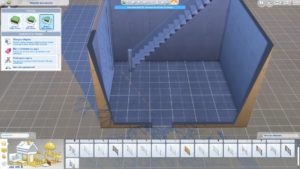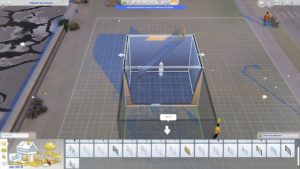 New parts
Three pieces feature the objects in this pack. The Very small bathroom is a room at only 2§, with a bath, sink and toilet, all in a room measuring only 407 tiles. The Small bedroom, big dreams costs 5§, including a single bed, two dressers, a mini-console, some decorations and a wall-mounted TV, all on 809 tiles only. Finally the Miniature lair is a cozy living room, with a two-seater sofa, a TV stand, an ottoman, two lights (ceiling and standing) and even a bookcase and two coffee tables. It costs 6§ and uses 252 tiles.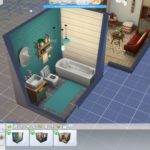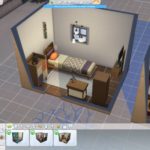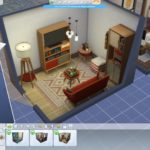 You will understand that building a micro-house is difficult. With the three rooms above, we already border the maximum of 32 tiles, and the bed is only a single bed, while important elements are missing, such as a desk or a kitchen!
New objects
Compared to other packs, the number of new features is more limited (there are only 35 elements), but we can only salute the inventiveness of these modular objects which will thus cover several functions, offering the click of the item a large list of options, normally belonging to a single object.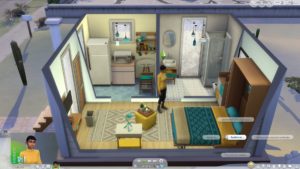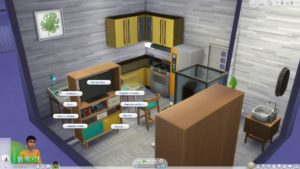 On the bed side, there is a fairly basic single bed and four modular beds that make it possible, during the day, to get rid of the bed to save space, completing the piece of furniture either with shelves, or with a loveseat, or with a or two libraries.
To sit, an armchair, a chair, a stool, an ottoman and a loveseat. On the surface side, a mini-console, a pedestal table, a coffee table, a desk and a high dining table. For the sanitary facilities, a toilet and a sink, as well as a shelf for towels and shower products. The decorations are not left out with a shelf dedicated to the kitchen, small plants hung vertically, several series of paintings, a mirror, books, and a rug. The luminaires hanging from the ceiling are delivered in 3 heights, completed by a desk lamp and a free-standing luminaire. Finally, so that the Sim locked in his small space does not get bored, modular furniture offers all-in-ones with a stereo / TV / bookcase system (with or without shelves), a bookcase and two dressers.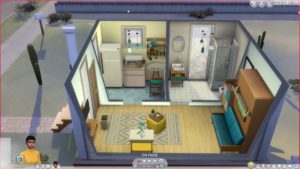 On the screenshots, you can see the chosen shades, quite vivid sets of yellow and blue that give the interior a pleasant modern touch, which goes perfectly with the furniture of modern packs, such as City Life or Moschino.
New outfits
Surprisingly: the pack also includes a few outfits, with practical clothes, offering a clear trend for warmth, and a necklace / earrings set perfect for a budding architect.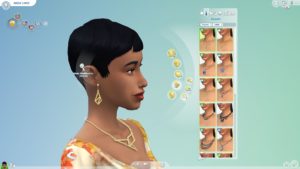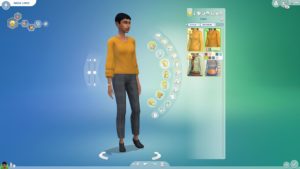 Conclusion
Usually, I'm not particularly thrilled with item packs, being hungry for more. Here, this pack is really a "must have" because the objects are very practical and can be used for all creations, mini-houses or not. The problem of space is inherent in any home and having a bed / sofa / bookcase is as great as being able to rely on that new channel / television / bookcase.
So yes, the pack is not free from bugs, in particular due to the lack of space which sometimes makes the Sim's circulation a little hazardous in its 30 tiles. Finally, overall, it's less catastrophic than I thought. The main concern comes from double beds which require free access from both sides for Sims to sleep together. So, you have to place the bed in the center of the room and when the house is only 6 tiles wide for 5 long, that doesn't leave a lot of space around! Finally, this concern is resolved by going to 64 tiles (which only sacrifices the advantages Get along well (or not) et Rapid growth).
Beyond these constraints, having a Sim live in a mini-house allows you to focus on the essentials. The charges are lower, so the Sim does not need to bring in that much money daily. He can work part time, as an artist or as a freelancer (I managed to balance the books by just writing books). As the needs rise more quickly thanks to the increased comfort and that in addition the Sim learns better, while keeping their positive states of mind for longer, getting a competent Sim becomes so much easier, and that without even having to resort to the codes of cheat!
So go for it! This is, in my humble opinion, one of the best Sims 4 item packs. Plus, as if that weren't enough, the perks of mini-houses outweigh the cons of other packs (like for example the hellish pace imposed by the studies in At the university)!