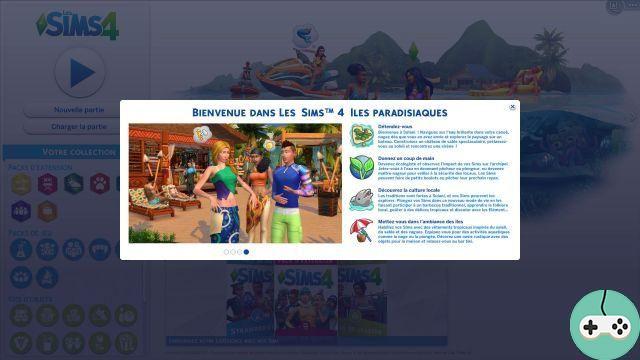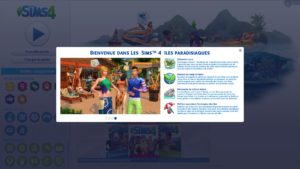 Released on summer day, the expansion pack "Paradise islands"takes you to a vacation destination, to a tropical island and its cabins, with your feet in the water. With a few weeks delay, here is my memory book below. You will excuse me for the delay in coming back to you, I enjoyed myself so much on this island that I had no desire to take the plane home!
This article was produced as part of the EA Game Changers program.
Sulani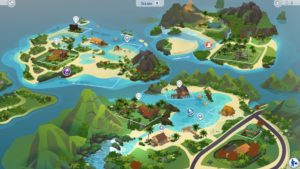 So is called the tropical archipelago composed of three islets. To the north there is Mua Pel'Am, a place to explore wild nature, with its still active volcano, waterfall and natural cave. West, Lani St Taz is an idyllic tropical paradise with a long white sand beach and warm, lively waters. Finally, to the south-east, Ohan'Ali Tow, a former fishing camp, is one of the liveliest areas of Sulani with a bar and a beach.
In addition to the few families already established, two places are free for newcomers (an oceanic paradise of 50x50 at 10§ and an off-grid ocean paradise of 750x40 for 30§). For more fortunate households, there are empty houses already furnished:
Perfection on the Pier (30x20, with 1 bedroom and 1 bathroom, at 19§)
Camp Caldera (30x20 with 1 bedroom and 1 bathroom, at 19§, but suffering from volcanic activity)
Admiral's Wreck (50x50, off-grid, with 1 bedroom and 1 bathroom, at 51§)
Lagoon view (30x20, with 1 bedroom and 1 bathroom, at 17§)
L'Enchevêtrée (20x20, with 2 bedrooms and 1 bathroom, at 16§)
The "off-grid" trait is not particularly practical as electricity, but also internet and phones, do not work in these locations, making many gameplay features of The Sims impossible. As always, I for my part opted for free land, creating for the occasion a new home made up of a young couple in love.
Create a Sim
This pack is very generous in new outfits, offering light clothing for both sexes, revealing large parts of the Sims' body: t-shirt, skirts, shorts (and mini shorts), dress, swimsuit, bikini ... Everything is of course very colorful, in vaporous fabrics, which show the navel or the shoulders. The printed decorations are summery, with birds and flowers ... I clearly preferred the feminine clothes, more stylish than the masculine ones which lack form and are difficult to marry with each other.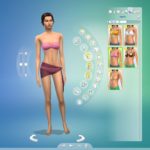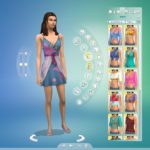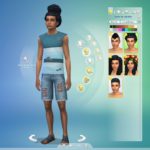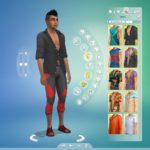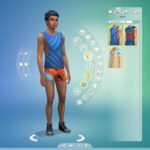 The accessories, on the other hand, are quite limited, created with natural elements, such as a leaf bracelet, a necklace of flowers and seashells. To dive in the crystal clear waters of the lagoon, the mask is provided. I expected more items, such as sunglasses, caps or straw hats ... But no.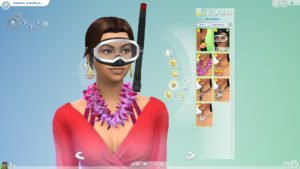 Among the new traits, I noted in particular:
ocean child : Sims with this trait prefer water-related activities and feel closer to the inhabitants of the sea.
island child : Sims with this trait like to honor islands by participating in their culture. They are able to bring in powerful elements and obtain the rewards of their blessings or the consequences of their anger.
There is also a aspiration linked to the area, asking to perform activities in Sulani (sunbathing, participating in the festival, diving ...).
Finally, of course, the new supernatural being of Mermaid ! I created my second Sim, the boy, as a mermaid ... well a newt we should rather say in this case! There are four different designs for his fishtail. His human-fish appearance can be completely personalized or associated with the human form, on one or more parts.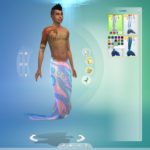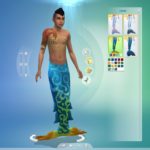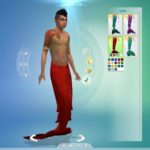 To build
Eight new pieces are available, I'll let you estimate the number of pieces of furniture added with this expansion pack! Of course, the theme remains in the tropical island atmosphere, in pastel colors, with materials mixing wood and fabric.
Island dining room
Luxama bathroom
Luxama Room
Luxama games room
Sun and sand beach bar
Coastal arbor
Terrace of kava
Lovely Sulani Campfire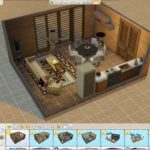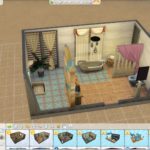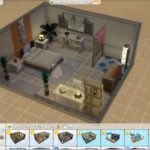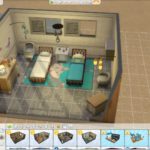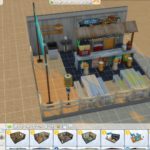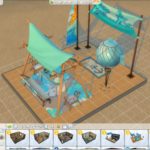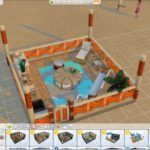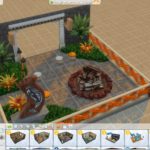 Enjoy nature
The archipelago is a unique opportunity to experience adventures and even make money by going frog hunting or exploring the cave to the north.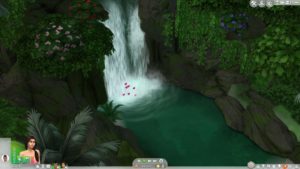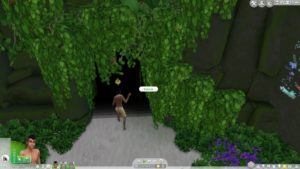 The ocean is explorable by swimming, requiring you to equip yourself with snorkel gear for all Sims who don't have fins. Even mermaids will have to buy special equipment from certain buoys to unlock treasure hunts, seabed research and underwater photos.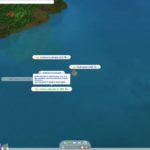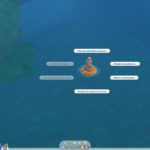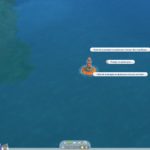 Boats and jet skis are fun and fast vehicles for exploring the area even though they are a bit expensive and Sims tend to park them anywhere.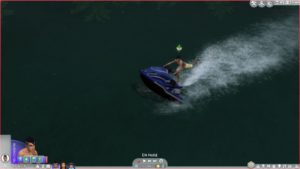 My newt has made a new friend in the person of a dolphin that he can call at will as soon as he is in the water. They discuss together, they play, they splash each other. The dolphin even performs tricks ...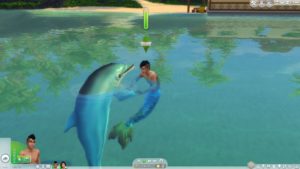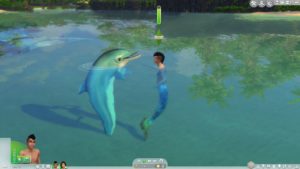 Sand gives the opportunity to creatives to indulge in the construction of structures in sand. The most patient, or the broke, will try to find treasures there. The lazy ones will be content to sleep on a beach towel.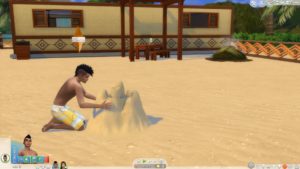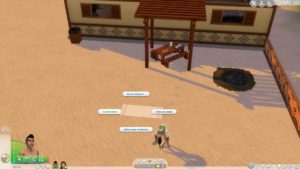 The fishing spots are less numerous than I expected, although there are a few good places to increase your skill, with the key to fish (resalable or to cook) and, more rarely, treasures (the most expensive that my Sim found sold for over £ 1).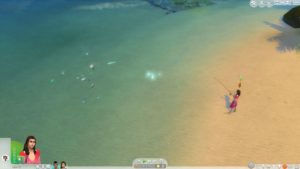 The weather is changeable, it will sometimes be too overcast for sunbathing. This area is also the first to host a random weather event in the fall, the tropical monsoon. This hot thunderstorm is characterized by thunderstorms with all that characterizes them: rain, clouds, wind, thunder and lightning. Child of the islands, my Sim was not afraid and took the opportunity to take a shower!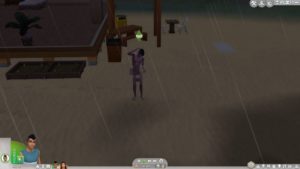 Jobs & odd jobs
There is a full-time career, an ecologist, which evolves between two professional branches: Environmental Manager and Marine Biologist.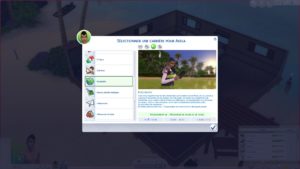 If your Sim enjoys hanging out on the beach and building sandcastles, they can embark on a part-time career, working only 3 or 4 hours a day as a lifeguard, diver, or fisherman.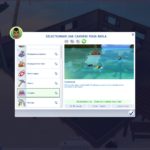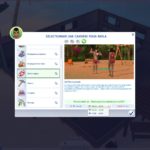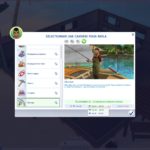 If he can't even stand the idea of ​​following schedules, odd jobs are perfect. In addition, it can happen to do odd jobs without realizing it before starting, so you might as well watch regularly so as not to miss out on a significant source of income. Some missions can be accomplished from anywhere, and the Sim disappears for a few hours to complete their task. Others need to be played, but they are not always obvious (I was unable to find any treasure within the time limit). A little job not completed on time or failed (this can happen even with having the right skill in missions where the Sim leaves) lowers the Sim's appreciation rating which, I presume, lowers the pay offered.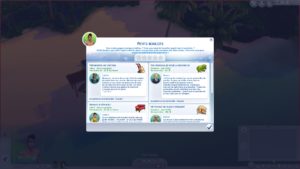 Conclusion
Perhaps not offering as much content as the previous packs, the island is nevertheless a place to visit and live differently with its Sims, in the middle of nature, making its income from the ocean and the beach, while enjoying sun for sunbathing. If you don't have the opportunity to go to the sea in real life this summer, then go ahead and take your Sim on vacation to this heavenly place that smells of warm sand and sea spray.
Boutique Origin - 39,99€