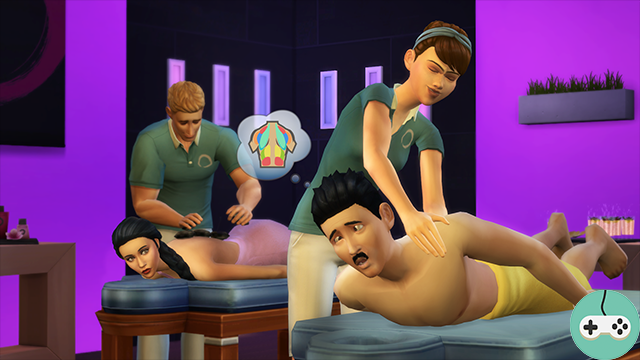 The launch of game pack: Relaxation at the Spa just happened. To start making the most of this new content, here is a quick guide to help you create the spa of your dreams! In the game pack, you will find basic 3 spas that you can place. However, you can also make your own if you want to specialize it or build it in your own image!
Beginning
To start your spa, you must first choose your land. If you have no ideas, feel free to use the world of Newcrest. Once the location has been chosen, go to construction mode and select the objects by function in order to display only the objects of the game pack.
Familiarization with new objects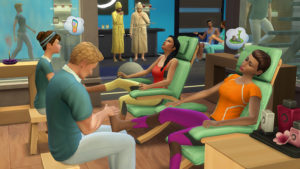 The Happy Hands and Feet Chair : this chair is mandatory if you want your spa to offer hand and foot massages. Remember to space the different chairs well to let the professionals work. The NPC taking care of these massages is the reflexologist.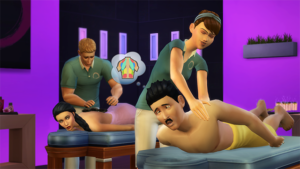 La La Relaxante massage table : as its name suggests, this massage table is used for more traditional massages and aromatherapy massages. In addition, in a spa you will be able to be massaged by competent NPCs, but you will also be able to increase the new Well-being skill to perform massages at home.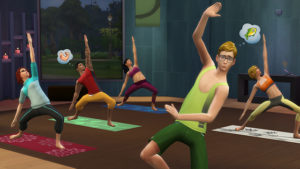 Finally zen yoga mat et Finally Zen Teacher's Yoga Mat : these two types of mats have two different functions. The Finally Zen yoga mat can be used on any terrain, including your home. This will allow you to practice different yoga postures on your own. If you want to learn with a professional NPC, you will have to take the Finally Zen Teacher's Yoga Mat. This mat can only be placed on the Gym and Spa grounds. Note that if you place the professional mat, a green area will allow you to lay personal mats to follow the courses given by the NPC!
The artificial fever sauna et the LithoZone sauna : the sauna rooms are quite large and can accommodate up to 4 Sims at the same time. This friendly room allows Sims to chat with each other while relaxing. When a couple is alone, they can even cracklew away from prying eyes! Be careful, however, not to leave your Sims exposed to steam for too long to avoid unfortunate deaths. If you are creating your own spa, do not forget to put a door, you can also make a large room to put two saunas side by side!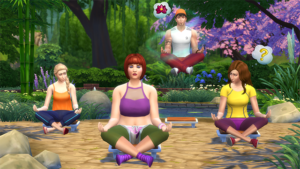 Ohmm my god meditation stool et the introspective Contemplation stool : if you want to develop the new Well-being skill, these stools will be mandatory in your spa. The higher the skill, the more they will develop new interactions such as levitating or teleporting to a land they have already visited.
New models of walls and floors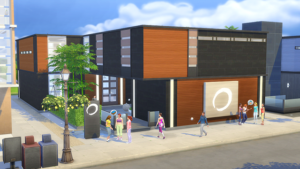 Le game pack: Relaxation at the Spa implanted new walls and floors. Now you can use the unique "Radiant Beam" wall panels and tiles that were never seen before in Sims history! These new objects light up and evolve thanks to a soothing light that is available in several colors. There are also light strips for the walls and floors that can decorate your spa. The design of your spa is essential to give a welcoming or modern atmosphere.
Decorations
New decorations are available to create different atmospheres for the spas that will be created. You can create a modern spa with Ethereal wood slat panels. On the other hand, if you want to create a zen space, opt for the water walls. These cascading water walls are available in 3 different heights. The color of the water mood is even customizable! Finally, if you want to create a natural style, use plants, bamboo screens or the plant with Serenity stone.
Lighting
New lights are available to give different atmospheres to your spa. Forms never seen before in The Sims are implemented such as the "Radiant Ray" wall and floors. You also have backlit wall mirrors, two story chandeliers, and illuminated floor stickers. Remember to properly illuminate the rooms of your spa. Indeed, blue gives a romantic style, yellow will make your room warmer.
To not forget
Remember to place doors so as not to corner your Sims.
Don't forget to mark out the locker rooms with Sims men and Sims women doors.
Place your locker rooms next to mud baths, gyms, or yoga mats so your Sims can wash up quickly.
Change the colors of your lighting to create different atmospheres in your rooms.
Don't forget to place a Deluxe Beverage Tray in an easy-to-access location so your Sims can cool off quickly.
Remember to use the new Stickers available!
You now have all the cards in hand to create your own spa!