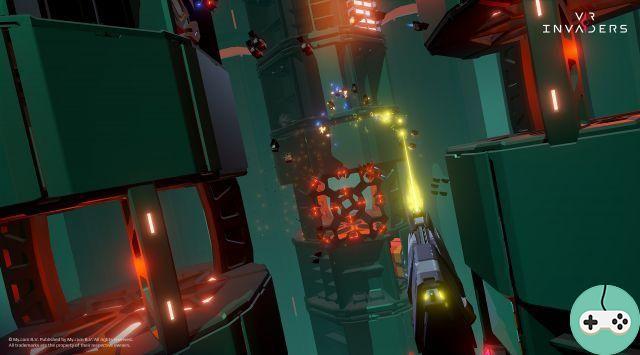 Continuing to enjoy my HTC Vive headset, I had the opportunity to test My.com's latest game, VR Invaders.
Contrary to what I expected, we are not in a Space Invaders, although there are weapons and a lot of enemies. We are in 2046, virtual reality is everywhere, the perfect distraction, an escape for all the difficulties of life. To the delight of the global corporations that run the planet, some people spend their lives in VR. But not everything necessarily goes well, and sometimes a user cannot exit due to a bug or virus. To protect their profits and extract the stuck person, companies hire freelance hackers to reach out to the customer in their gaming session and help them out. We play one of them, Thomas Hall.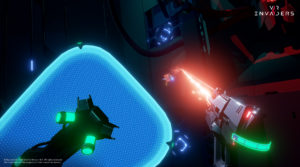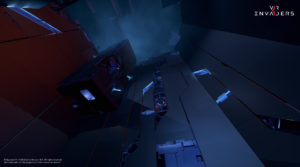 The story unfolds through different in-game dialogues, each mission being a contract, with a little description of the client and what happens to him. Everything is incidental and, in itself, not really important. A button allows you to skip the discussion for those who are not interested and who are there only to kill things.
The character has a pistol in his right hand, a shield in his left hand. You have to kill as many enemies as possible with this weapon, while protecting yourself because life is not eternal. In addition, there are bonuses that appear (extra life, accelerated fire, invincibility, different weapon ...). As this is usually not enough, to be able to cope, the shield is equipped with a temporal slower to gather enemies and survive the bigger waves. The principle is quite simple, in just a few minutes I was at ease, shamelessly killing all those mechanical enemies to save my client. As if the drones weren't enough, there is at the end a boss, tougher than the others, with more health, and dealing more damage.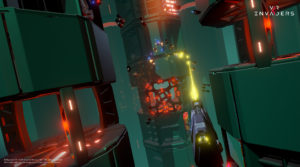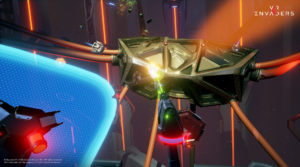 The levels are varied, in different styles, some are dark, others large and bright. This makes it possible to liven up the phase of the game and to change the atmosphere a little. Once a story mode level is completed, you can replay it in three different difficulty levels to try and beat your own score.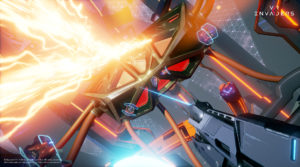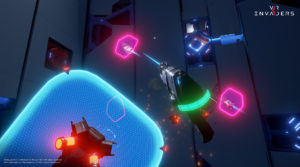 Some tips that will certainly be useful to you, directly delivered by the studio:
when things are going too fast, it is imperative to slow down time by using the trigger of the shield. This allows enemies to be gathered or to take the time to check that no one is attacking from the side.
do not be reckless, life goes down quickly and is indicated at the level of the pistol.
each environment requires a tactic, open ground or confined space, you have to adapt.
it is possible to move because sometimes it is better to dodge than to try to block.
the orange indicators in the corners of the screen show where the balls are coming from.
when the character has two weapons (the shield being replaced), it's time to stop thinking: the character benefits from total invulnerability.
the enemies are numerous, always more numerous, and of different types. Everyone behaves differently and asks to adapt their combat tactics. Always kill the baddest first! Which one is the meanest? Quite simply the one that hurts the most!
boosts stay for a minute before disappearing, giving them time to use them and not waste them all at once.
the shield blocks bullets, but enemy projectiles can also be shot down (which is handy as it brings points).
To maintain combo counters and get more points, a simple technique is to simply wait for more enemies to arrive. This is bound to be dangerous and will then require good firepower to get rid of the mace.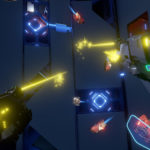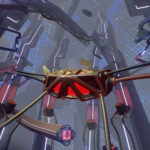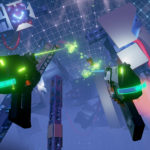 Compatible with HTC Vive and Oculus Rift, VR Invaders is a good virtual reality shooter. The enemies are tough, numerous, dangerous, and there is no respite. Virtual reality is well used, I did not have any feelings of discomfort, however, having only played about thirty minutes in each session. The precision is good, the targets fall easily and naturally. On the other hand, the difficulty is important and increases rapidly. Once the first really easy level is completed, the second immediately raises the bar much higher and that may be able to discourage players who are not aces. If a good challenge doesn't scare you, then you'll find plenty to satiate your inner sniper. Especially since I tested in easy mode, and there are still two more notches for even more drones, guns and killings in order! For less than 20 €, if shooting is your thing, you will undoubtedly get away with this game!