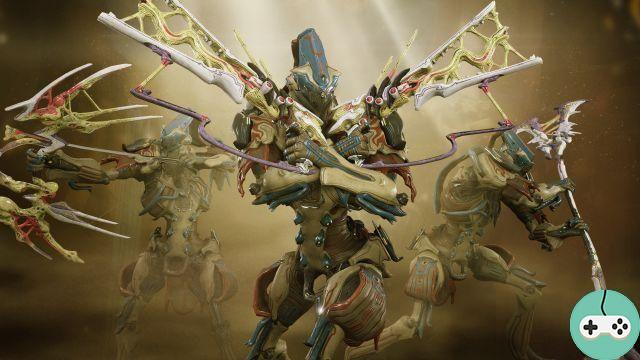 The years go by for Warframe which is already blowing its third candle. Since release in 2013, over 22 million players have completed 2.1 billion missions, created over 18.5 million Warframe in the Foundry, killed over 13.8 billion Grineer enemies, and gained over 53.9 trillion XP!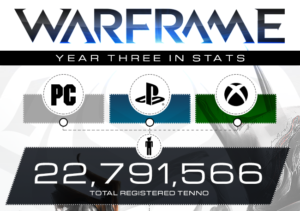 For the occasion, the Sands of Inaros update, already available on PC, is now available on consoles (Xbox One and PlayStation 4). And if you play Warframe between April 8 at 20 p.m. and April 15 at 20 p.m. still on consoles, you will automatically receive the Dex Sybaris, a Lotus-themed weapon, as well as the two weapons from previous birthdays (the Dex Furis and the Dex Dakra). PC gamers must have received these weapons in a previous update.
Inaros update details
NEW INAROS WARFRAME
Here are the skills of Inaros: Absorb the life of your enemies and enjoy increased health with the new Lotus Warrior, Inaros. Use your skills to appropriate the lives of those who dare to challenge you, or subdue them by summoning the power of the sandstorms of Phobos.
DESICCATION : Attack your enemies with a wave of cursed sand that blinds them and absorbs their life.
Devours : Continuously use your power to trap your target in quicksand and bring them back to you to devour them, absorbing their life to ultimately create an allied Sand Shadow.
SANDSTORM : Transform into a swirling spiral of sand that sends your enemies flying and devours those trapped in the quicksand.
FLOOR OF BEETLES : Charge your power to transform your health into reinforced scarab armor. Unload it to strengthen your allies and send a swarm of scarabs on your enemies; the survivors see their lives running out.
MOON OROKIN - NEW GAME MODES: The Orokin Moon environment has been expanded to include new game modes. These additions include:
Defense, Espionage and Capture missions.
20 new environments.
Overall improvements to older environments, including graphics and brightness adjustments.
NEW WEAPONS
LESION : An instrument of relentless violence
CERNOS MUTALISTE : Infused with infestation, this bow's arrows now spread a poisonous contagion to every surface they touch.
TOXOCYST DOUBLES : The blows to the head excite this bio weapon which quickly releases toxic ammunition.
STATICOR : The Staticor fires bolts that explode when they hit a surface, resulting in radioactive radiation.
TRINITY DELUXE SKIN COLLECTION
Stand out on the battlefield and join the dark side of style with the new Trinity Deluxe Skin Collection. This collection of skins features a new Deluxe skin for Trinity, the Bo Staff skin, as well as Trinity-inspired armor for your Kubrow.
TRINITY WITCH : Join the dark side with this Trinity skin.
BO VOLU : Enchant the Bo with this skin.
BRUJA KUBROW ARMOR : Armor for Kubrow in the same style as the Trinity Strega skin.
FOCUS 1.1: Players will be able to recover "Convergence" loot in missions if they have the focus lens equipped.
CHANGE ON CHAT: The Sands of Inaros update also brings a complete overhaul of Warframe's user interface, including new features and more intuitive settings for private chats and player searches.