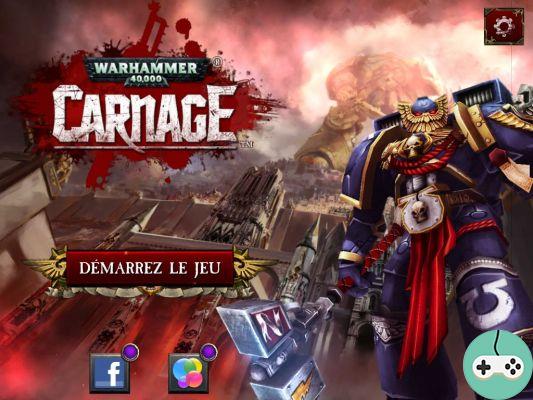 Armed with my iPad, I stormed Roadhouse Interactive's latest addition to test Warhammer 40,000: Carnage. Be careful, as you can imagine with such a name, it could be bloody!
The game starts off pretty well. We are level 94 and go on an adventure. This is the opportunity to explain the basic commands that are released little by little:
under the left hand:

move forward and backward (down)
put a shield (up)

under the right hand:

strike with sword and shoot (down)
jump (up)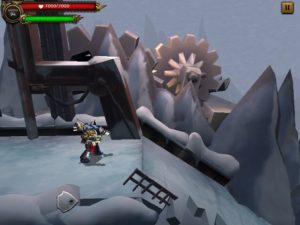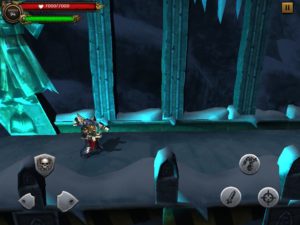 The controls are therefore extremely simple and very easy to access (just a little less when I try to jump at the same time as taking a screenshot, but I will pass you the details of this acrobatic position). The game is side-scrolled, meaning that the screen scrolls to the right as our character advances. We therefore have a limited vision which can sometimes hold some surprises. Note that it is not possible to go back either, the screen is blocked to the left on the current view.
I advance serenely with my Space Marine when suddenly, the ceiling is lowered and a big boss arrives with his hammer.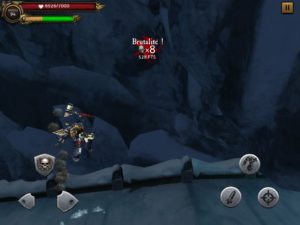 And boom, I'm dying and I'm level 1! Well, I guess that was planned ...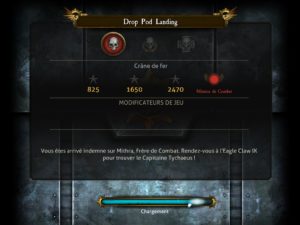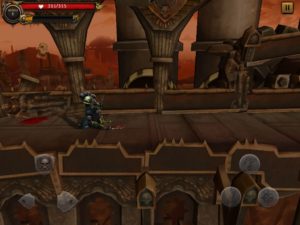 From there, the game is in the form of a map, with points for loading missions.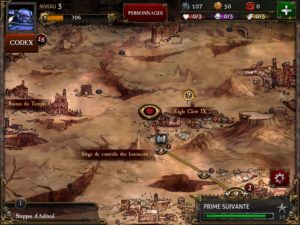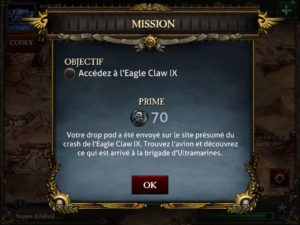 All of these missions must be completed on standard difficulty before they can be attempted on higher difficulty. Below, on the left, the other 2 missions are locked with padlocks. They become accessible when I return to the same menu after completing Iron Skull (screenshot at right).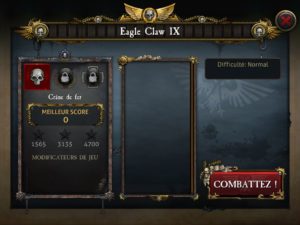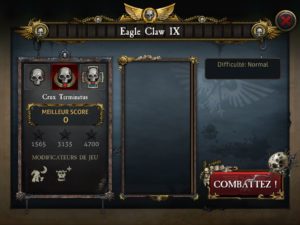 Beyond the simple higher life points of the monsters, the mission will also become more complex by modifying the playing conditions. For example, achieving the same level at night! It is immediately less practical when you do not see the monsters arriving or only discern the precipices. Memory and concentration will then be necessary to finish in a correct time.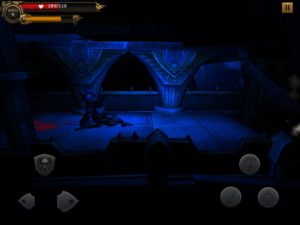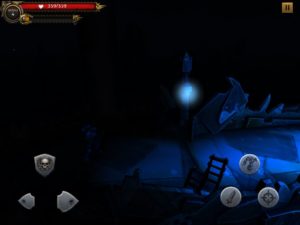 The levels do not necessarily require a big strategy in normal mode, you have to be mainly careful: you never know what is hiding after a jump or a door to destroy. Suddenly, you can quickly find yourself between two crossfires and the monsters quickly start to hurt. In particular, you have to watch out for some deceitful little orcs that explode as soon as you get close to them. Shooting is therefore more than recommended without forgetting the shield if they are too close.
On other occasions, we will meet bosses. Much stronger, they do not forgive. A blow of mass in excess and presto, return to square one.
Besides, a good thing: there is no death penalty. You can start from zero after a defeat as many times as you want (or as you have to, a matter of life point) without having to pay anything. Useful for the stunned who, despite several attempts, continue to run into the exploding orcs! Not to mention the timeless sessions of jumps above the void (or even worse, menacing cogwheels), platform game style that I hate.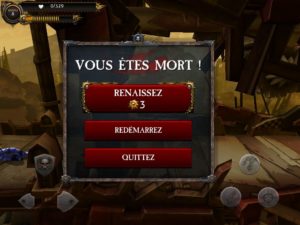 Rest in peace...
At the end of each completed level, we obtain a score according to the victims and the combos, reduced by the time taken and the damage taken. If we have been efficient, we can hope for 3 stars. Otherwise, we'll have to settle for less. There, I had been effective!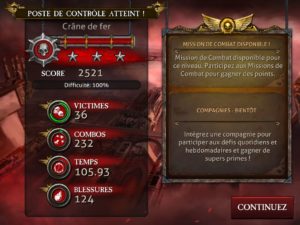 After this table, we systematically return to the sheet of his character, we have a gift that we can open!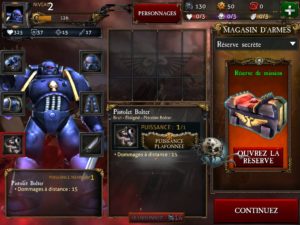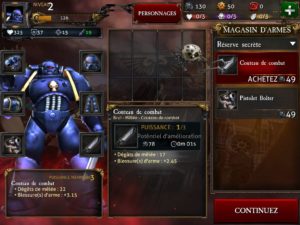 We will then be given a choice of various items that can be purchased using the gray currency offered at the end of the mission. A word of advice: only buy items that are really useful and of minimum green quality. Money goes quickly, very quickly, and it would be a shame to waste it on a part that is only a little better than your current one. Especially since the money will then be used to improve the pieces of equipment.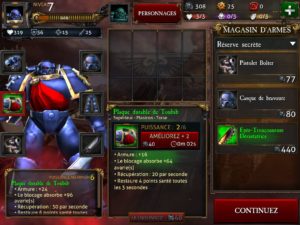 Let's quickly talk about this interface which will be familiar to a lot of gamers. Our character wears pieces of equipment, 6 in total (Accessory, Breastplate, Ranged Weapon, Melee Weapon, Lesser Armor, Helmet). Each piece will have different values ​​such as attack for weapons or armor for armor (logic). There will then be various bonuses, such as my breastplate which allows me to regenerate my life. This is not what will save me but it is appreciable.
If your Ultramarine tires you, you can opt for another character, to be unlocked with different types of currency via the "Characters" interface accessible from the character sheet or the missions map. Silver is the currency earned by completing levels while gold currency is bought for real money.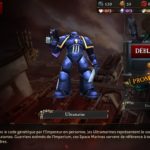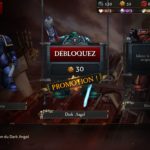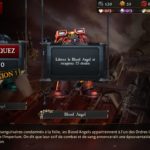 Note that the new character begins level 1. You must therefore be motivated to redo everything ...
Red Seals are bounty rewards, obtained by completing combat missions, in cooperation with other players (online mode). Combat missions are unlocked when you successfully complete a mission with 3 stars.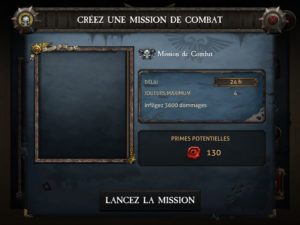 This currency, a priori called bloodthirsty, allows you to buy additional items.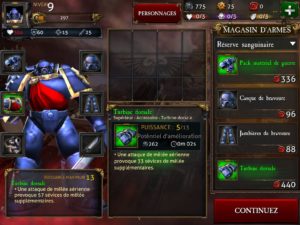 Despite the fact that the game is not free, it is possible to boost your experience by going back to the cashier by purchasing gold coins. Packs of 50, 120 and 250 gold are accessible from the "+" at the top right of the coins. With this gold currency, you can buy a character (the Dark Angel at 30 gold) but also additional reserves to have more equipment!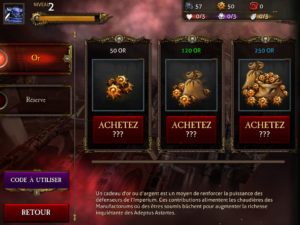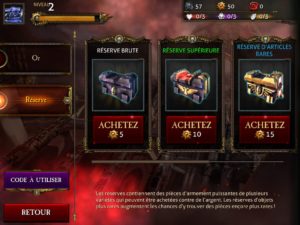 Finally, you may have noticed another button on the mission map, with a "16" indicated on it. The Codex references the information found throughout our adventure. There are 5 categories: Mission Codex, Mithra's Story, Space Marine Codex, Ork Threat and Weaponization Codex.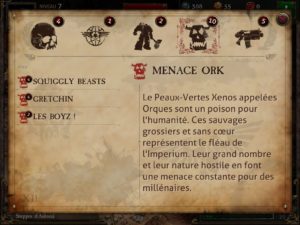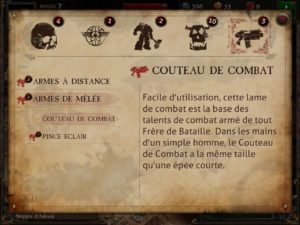 If you're looking for a good vent, Warhammer 40,000: Carnage is perfect for that. The combat missions are linked (about fifty each with 3 difficulty modes) and the enemies are legion. You will be able to hit, slice and disembowel orcs while advancing your character. And if you don't have enough yet, you can unlock the other 2 characters, for twice the carnage! Not to mention that the game is regularly updated and that we can therefore expect other characters and / or other missions soon.
However, do not wait for a more advanced experience or a real story: it is only a very nagging action game, as we like them (but in small doses for me).
The game is available on Android and iOS, allowing you to kill orcas no matter your system: