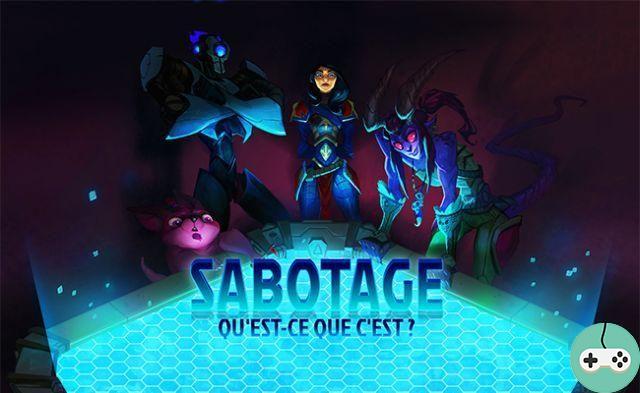 We've all known this for a while, the next big monthly update will include a new battlefield : Sabotage! But what is the principle of this PvP mode?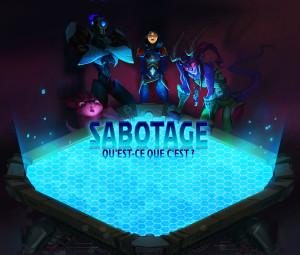 Sabotage is a battlefield that sees the Exiles and the Dominion face off against 15 vs. 15 on the Rochedague pass. It promises a need for reflection, coordination and BOMBS !
What to do to win? Well it's simple: destroy enemy reactor. And how do you destroy it? I'll let you guess ... and yes, with bombs! You can throw it at the enemy reactor via a ship or play the fool and go and lay it yourself.
Here is the map of the battlefield: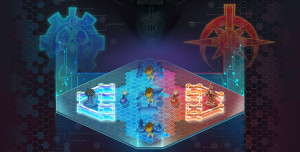 Let's analyze this map ... So, we can see in each base the reactor of each faction. There is a bombs in front of the base, it is therefore most certainly the place where they are picked up to go and do a sore spot for the ugly bad guys. Finally, in the center, there is 3 satellites ! The map looks great. This is indeed the case and you will be able, for the first time, use your mounts in battlefield!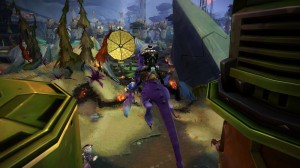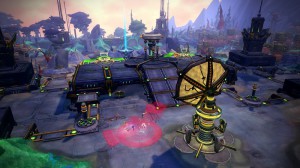 What are satellites used for? Well, by capturing them you will be able to order air strikes on enemies to progress towards the enemy base and get closer to their reactor to blow them all up! There are therefore 3 satellites which are called respectively from top to bottom: the Eldan ruins, the Mines and No Man"s Land. Needless to say, these satellites will be very important.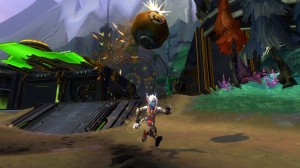 Let's move on to the bombs: you will be able to pick up the bombs at the place indicated on the map! What can we do with it? What we want ! Explode your enemies amuse you? You can. Explode reactors bursts you? You can too!
Are you afraid of exploding with the bomb? Band of cowards! Anyway, Carbine heard you and added a countdown which will only be displayed for your team when you drop the bomb on the ground.
Last thing about it, if a bomb is dropped on the ground by an enemy, I guess if he got killed without putting it down, or maybe there's a way to put it on the ground without blowing it up, well you can pick it up and use it against your enemies !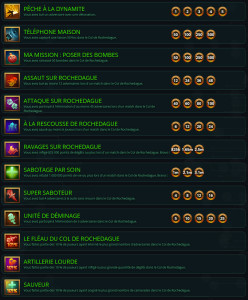 Fans of success? Carbine has obviously thought of you. Below is the list of the different achievements to achieve in Sabotage!
To end on this battlefield, why not talk about the end of a battlefield: the rewards ! You will be able to recover a pair of boots : the Col de Rochedague Boots! Boots that can be either light, medium or heavy armor, level 46 and with a few special tricks: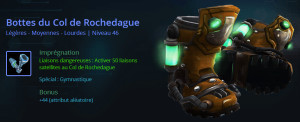 I don't find it particularly crazy, I ask to see what is behind the impregnation and what the Special represents. But the rewards are not over yet! There will also be 5 decorative elements for each faction :
Basic fence of the Exiles : an electric fence. Warning: May cause eye protrusions, ash trails, smoke from various openings, and frizzy hair. Barbed wire, on the other hand, is completely harmless, unless it is used as dental floss, sewing thread or breadcrumbs.
Exile's medical monitor : medical equipment. Warning: Following any medical advice for this device is at your own risk. Prolonged exposure may result in mild radiation poisoning and placebos addiction.
Turret of the Exiles : a turret (no kidding!). Warning: ammunition production temporarily unavailable for security reasons. It is not recommended to use laser turrets to cut roasts and other chickens
Exile Projector : a projector which would have, I quote, two positions: striptease and prison. Warning: random availability of bulbs
Exiles Notice Board : a panel containing the answers to all the questions, even if they are unreadable. Warning: reading can lead to intellectual enrichment, literary pretensions, existential dissatisfaction and the adoption of a neo-romantic philosophy with scarf and hair in the wind
Content1
Cage du Dominion : a cage (without comment ...). Warning: any prolonged incarceration can lead to escape attempts, an obsession with movie posters, lepidoptera, limes hidden in loaves of bread and all manner of literary masterpieces.
Dominion emblem : an emblem of your faction, for the nationalists. Disclaimer: Emblems are often used as substitutes for ideological thinking
Dominion military perimeter : apparently a military wall. Warning: Sitting on this wall can lead to irreversible head trauma in smart eggs, romantic hand-holds and other melancholy contemplations of heavenly objects.
Dominion Care Kiosk : like the Exiles! Warning: Hospitalizations can lead to health insurance malfunctions, award-winning TV shows, and other avian adventures
Dominion Fuel Tank : ball powder tank (and no ping-pong balls)! Warning: do not store more than 30 °
In short, that's it for this battlefield that promises a lot of action and explosions! You can see it all in pictures with the newly released DevSpeak!
Does he make you want to blow people up?