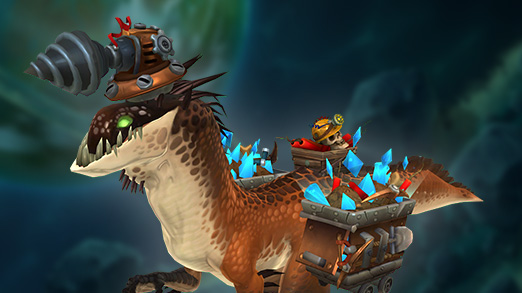 WildStar today unveils a new feature that will bring its share of rewards: The Cosmic Program! This is the final spanish-speaking name of the loyalty system.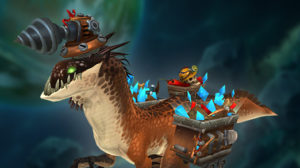 Thanks to it, you will be able to receive rewards by making purchases in the in-game store. This program takes into account all expenses made on WildStar, subscription included. It has several levels of rewards:
Tier 1:

1000 cosmic points: immortal miner's helmet (costume)
2000 cosmic points: unlimited access to circles, guilds and squads
3000 cosmic points: -50% recharge of resurrection on the spot
4000 cosmic points: Friendly clown (pet), -10% risk during overload for crafting, + 10% target radius size for crafting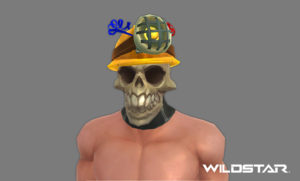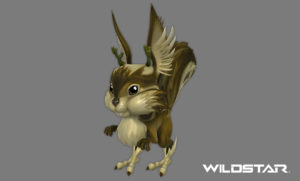 Tier 2:

5250 cosmic points: 10 auctions / sales possible for the commodity market as well as the auction house
6500 cosmic points: extractor set (frame decoration)
7750 Cosmic Points: 2x faster rest experience and + 50% cap increase
9000 cosmic points: Velocirex of the Cursed Lands (mount)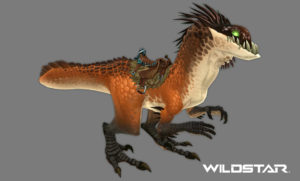 Tier 3:

12000 Cosmic Points: + 10% to obtain additional materials when harvesting
15000 cosmic points: Sumptuous Poobah (costume), + 50% reputation gain in combat
18000 cosmic points: Northern Lights Dye
21000 cosmic points: Little beast (colloquial), title "Capitalist"
24000 cosmic points: War Pig of the Devoted (mount)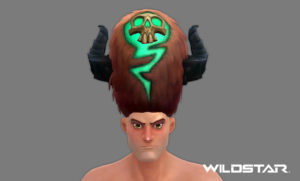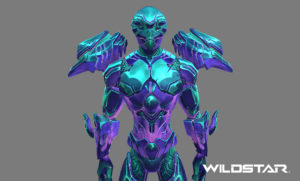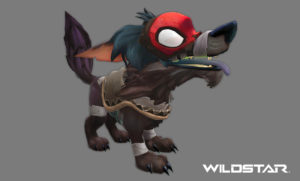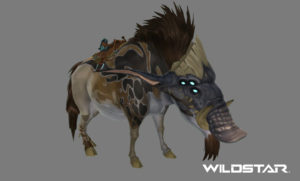 At the moment we only have the details of the first 3 levels, but when free-to-play comes out, there will be 6 and more will be added later. Players in the beta have already been able to obtain an osun house (we visited it here) or a technophage hoverboard.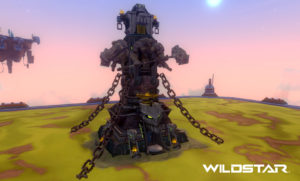 To get cosmic points, you have these solutions:
redeem a WildStar game code :

standard edition: 12000 points
deluxe edition: 15000 points

make a purchase on the WildStar website
buy or use a CREDD :

purchase: 4000 points
use: 1000 points

spend NCoin in the WildStar in-game store (after the launch of free-to-play):

2 points per NCoin spent
pack 400 NCoin : 200 points
pack 800 NCoin : 420 points
pack 1600 NCoin : 880 points
pack 4000 NCoin : 2300 points
pack 8000 NCoin : 4800 points

apply a subscription code :

15 days: 1800 points
30 days: 3000 points
60 days: 6000 points
These points are linked to the account and you will be able to see where you are in the in-game store: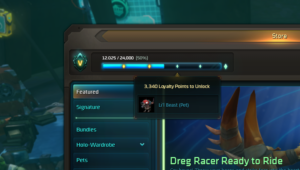 When switching to free-to-play, players will receive cosmic points for what they have already done so far, including:
each month of subscription (see below)
Deluxe upgrade: 3000 points
name change: 4000 points
paying kingdom transfer: 4000 points
For the subscription, cosmic points will be applied to each payment, so every month for a monthly subscription, every 3 months for 3 months of subscription, etc. :
1 month subscription: 3000 points
3 month subscription: 9600 points
6 month subscription: 20400 points
12 month subscription: 45600 points
The longer you subscribe, the stronger the bonus points awarded.
What do you think of this system? Is it likely to get you to spend?