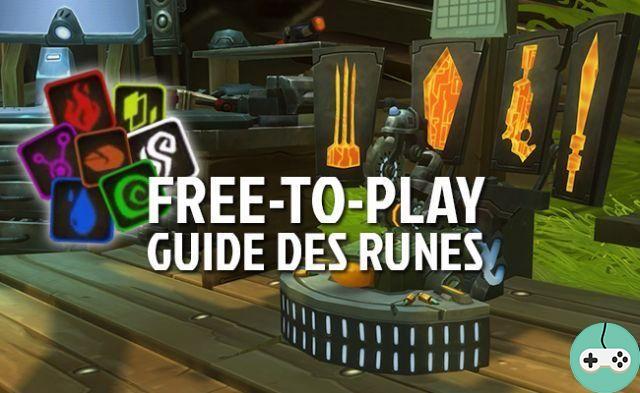 Over the past few weeks, there have been a number of articles regarding the overhaul of characteristics and the improvement of the rune system. Today, we will see in detail how the latter works!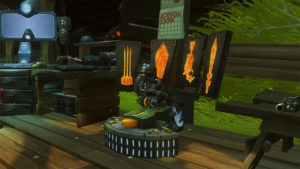 To briefly introduce the runes, these are upgrade items for gear which can have a number of rune slots depending on its rarity. The runes will thus improve the characteristics of your character by a certain amount, which makes it an essential element, especially at high level.
As usual, the management of the runes is done in the runes stations that can be found in town (see image above), or via the portable station that can be purchased in the in-game store. The interface looks like this: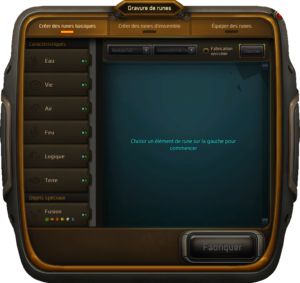 We can see 3 tabs:
Create basic runes
Create set runes
Equip runes
Create basic runes
Basic runes are simple runes classified by element and by level that will grant characteristics. They are independent and are not found in a rune set, so they will not grant additional bonuses.
Among the elements, this has not changed:
Water
Fri
Air
Feu
Logic
Earth
Fusion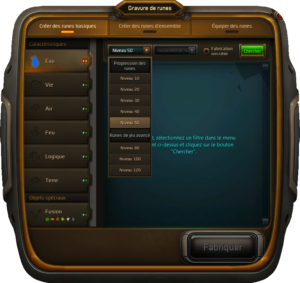 Note that the Fusion is in fact a universal element which can include any element. Then, for the levels, it is in increments of 10, or 10, 20, 30, 40 and 50, then once at 50, there are power levels that will lead to rune levels of 80, 100 and 120 which will follow the difficulty in play.
Once an element and its level have been selected, you can search for all the runes available for the combination: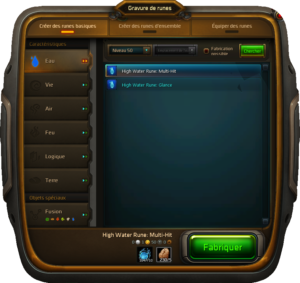 Here, level 50 Water element runes
By clicking on the desired rune, you will be able to see at the bottom of the window the components necessary for the creation of this one, here 1.50 gold pieces, 10 water signs and 5 rune fragments. Once created, you can apply it to your equipment in the corresponding item or in a Fusion slot (see Equip Runes tab)
Create set runes
At high level, you will be able to create another type of runes: set runes. These runes are found in a set and will grant you a certain number of energy points for that set. If we take for example the Concentration set, you have 6 levels of energy points and at levels 2 to 6, bonuses will be applied to you: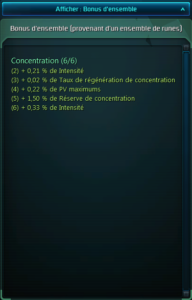 For the possible runes, you will have them on 2 levels of rarity, blue and purple, and will apply the same properties to you, but will offer you more or less energy charges (1 for blue, 2 for purple). The components required to create them also vary: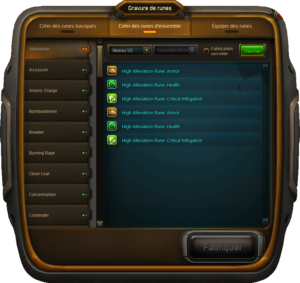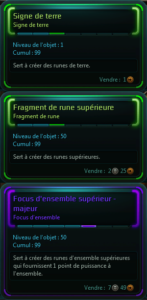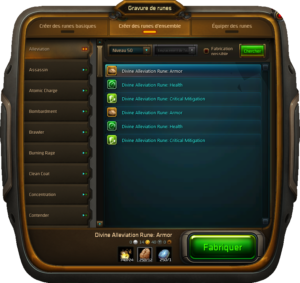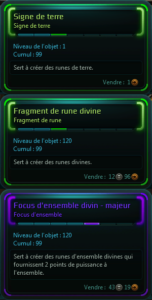 Equip runes
Once your runes are created, they must be applied to your equipment! As a reminder, you can only put an element in its corresponding type or in the Fusion type. For example, a Water element rune can only be applied in a Water slot or in a Fusion. The interface looks like this: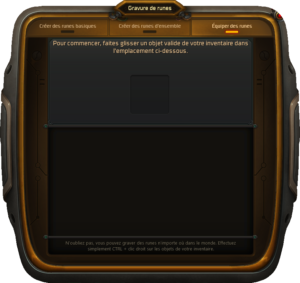 You can drag the part you want to improve into the small square, the rune locations will appear in the window: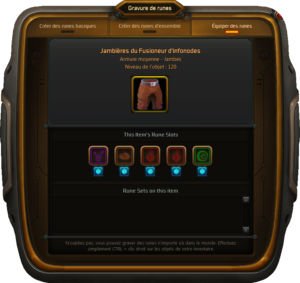 For this piece, we can see that we can put 1 Fusion rune (or any other type), 1 Earth, 2 Fire and 1 Life. Do you only have runes of a different type? What a pity ! Rest assured, Carbine has got you covered! You can probably see the dice under each location, by clicking on them, a window will appear and offer you several things: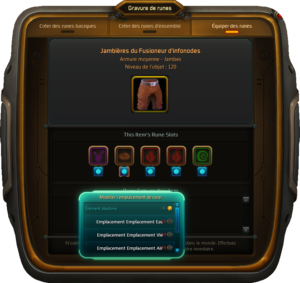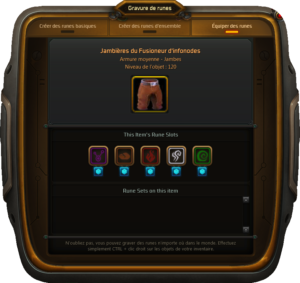 Change the location item to a random item for cash
Change the location item to a chosen item for Service Tokens
Note that the item type seems to be able to change as many times as you want, as you can see in the second image above where a Fire slot has been changed to Air, but the die has not not disappeared. For your information, Service Tokens can be purchased from the in-game store for NCoin or OmniBits, or can also be found in bags in Daily Login rewards.
Finally, to apply a rune, all you have to do is click on a location, a window with the possible runes for this location will appear, you will just have to click on the desired rune and confirm. If the chosen rune is part of a set, it will directly add its amount of energy.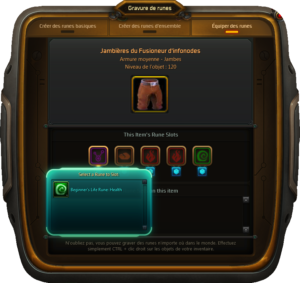 You are now ready to improve your equipment properly, it's up to you to adapt the ones that suit your style of play! I advise everyone to use this feature from level 10 if you are doing PvE or PvP, for quests, I don't think that is necessary, unless you want to go up as fast as possible!