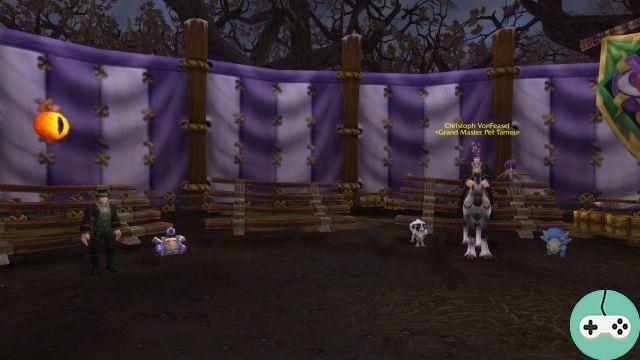 In 6.0, the Darkmoon Faire was enriched with many new elements:
Firebird Challenge
Darkmoon vouchers
Corrupted Blood Elf Costume
Suites
Firebird Challenge
A new daily quest is available: Firebird Challenge. This mini-game involves passing through rings of flame on a flaming phoenix using the Wings of Flame upgrade. Each time you pass through a ring, you gain an additional 10 seconds of flight. To succeed in the quest, you have to cross at least 15 rings.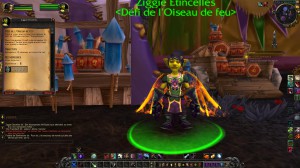 3 achievements are linked to this race:
High Aerobatic: Obtain 10 Flaming Rings during a Firebird Challenge flight session.
Master of the Rings: Obtain 20 flaming rings during a flight session of the Firebird challenge.
Brood of Alysrazor: Obtain 50 flaming rings during a flight session of the Firebird challenge. This achievement grants the Blazing Wings toy which gives our character a pair of flaming wings to show that we have completed the Firebird challenge (lasts 1 hour). This achievement requires being responsive and especially not wasting time between rings.
Darkmoon vouchers
With our vouchers it is possible to buy new items in Chester:
Baroud de Nemelex Xobeh: 130 vouchers
Haunting Memory: Haunts a target for 1 hour, causing them to periodically experience Spirit World effects - 90 good
Nobleman's Garb: 75 coupons
Nobleman's Skirt: 75 coupons
Noble's Sophisticated Boots: 55 good
Nobleman's panties: 75 coupons
Nobleman's Coat: 75 coupons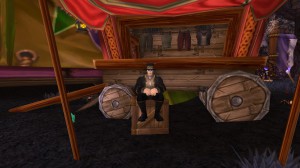 Apart from the 90 voucher souvenir, the other items are linked when equipped and can therefore be resold at the auction house or given to friends!
Corrupted Blood Elf Costume
An elite can be found in a cave at coordinates 74, 38: Erinys. The Broken Promises quest is recovered from the body. As a reward, you get Ring of Broken Promises, a fun item to transform into a Corrupted Blood Elf.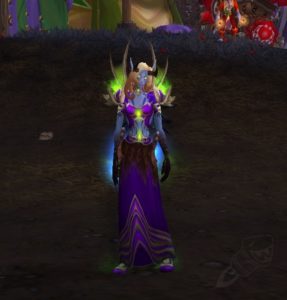 Mascots
A repeatable quest calls for defeating the pets of the newly arrived Pet Tamer Master, Christoph VonFeasel. He has 3 pets:
Otto, a cow with Trample, Feed, and Darkmoon Curse
Syd, an octopus-style tentacle critter, with Water Jet, Whirlpool and Bubble
Mr. Pointu, a dinosaur with Impale, Tricorn Charge and Tricorn Shield
As a reward, you get a bag, Superior Darkmoon Familiar Supplies, which can contain Syd the Squid.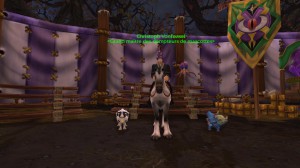 Suite
Who says extension, says increase in level (of character and equipment) and therefore jewels of iLvL 620 (requiring a minimum level of 91). We have been entitled to it since the launch of World of Warcraft, Draenor is no exception to the rule:
Chain of Irons allows you to obtain the Knight's Crest
Suite de Lunes allows you to get the Sand Merchant Scholarship
Sequence of Visions allows you to obtain the Winged Hourglass
War Sequence allows you to obtain War Skull
Calligraphers are therefore again called upon to create Darkmoon Cards of Draenor using the level 700 recipe Calligraphy: Darkmoon Card of Draenor. To simplify the creation of sequels, a little novelty specific to Warlords: there are now wild cards, like the Iron Joker, which can rarely be obtained when using a card. These jokers are to be exchanged for a corresponding card of your choice (there is 1 joker per series of cards, therefore 4 jokers).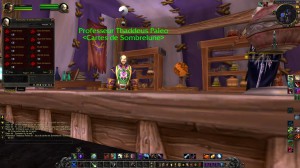 You can continue reading on the topic:
presentation
darkmoon cards
additions made to 5.1
additions made to 5.3
additions made to 5.4
additions made to 6.1