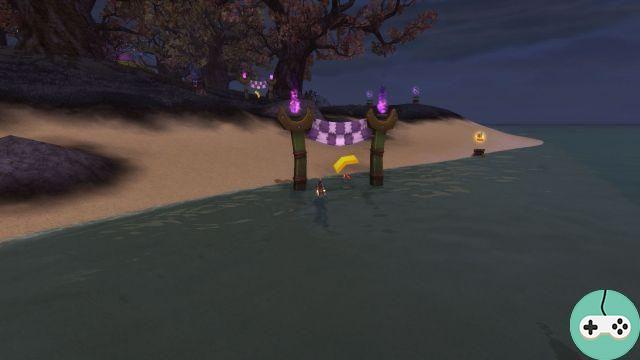 In 6.0, the Darkmoon Faire was enriched with many new elements:
Racing game
Achievement
Objects
Racing game
From the docks, a new frenzied race is offered to speed enthusiasts.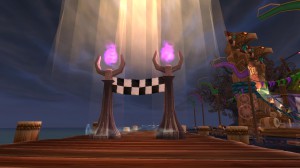 A quest is offered during your first visit. It consists of going up to a blue post located on the big rocks on the left, continuing on the coast towards the west and then coming back.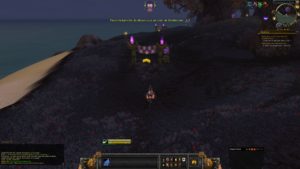 Although here it is not particularly necessary, you can start to train.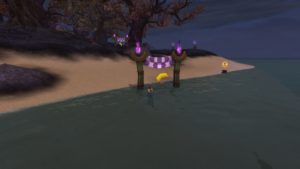 Then, we get the repeatable quest which here asks to rally 3 poles of different color as quickly as possible (time is counted in "gongs"). Different elements to recover allow you to increase the pace. There are boots to run faster and walk on water.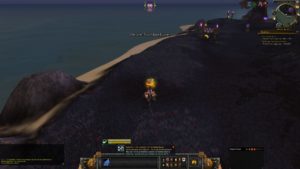 And some kinds of springs allowing you to jump forward (watch out for the axis!).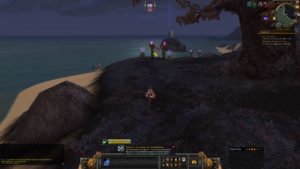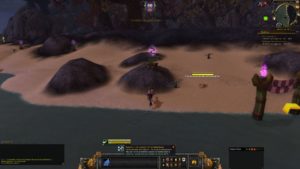 On the other hand, electric wires slow down. And sometimes, it really looks like an obstacle course! To survive it, our mount has a unique spell for it, Banner Jump to be used intelligently at the right time.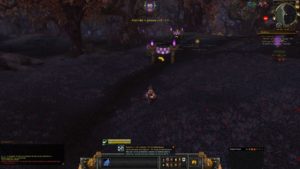 In itself, it is not necessary to go through the porticoes, it is only useful in combination with Jump to the banner. In the coming months, different races are planned with mounts, but also achievements and different rewards:
March 2015
April 2015
May 2015
June 2015
Darkmoon Driver with the Race Strider which rewards a Fire Eater's Vial
Large Bolide: Gold with the Bolide which rewards an Order of the racing minizep.
Crazy Race Driver with the Race Trotter which rewards a Checkered Flag.
Bolide: Gold with the Bolide which rewards an Eternal Darkmoon Firework.
Grand Rocketonaut: Gold with the Rocketonaut which rewards a Darkmoon Contemplator.
Rockéonaut: gold with the Rockéonaut which rewards an Attractions Panel.
Big Arm: Gold with Big Arm that rewards a Darkmoon Cannon.
Bigarm: Gold with Bigarm that rewards a Darkmoon Gaze.
Achievement
New toys can be collected by completing achievements on certain games:
Darkmoon Ring Launcher: Successfully cast 10 rings during one session
Darkmoon Tote Order: Obtain 45 points during one session
Flask of the Fire Eater: Complete the race with a maximum of 11 gongs
Objects
Chester, a new clothes and curiosity seller in 51.2, 75, sells various items:
Baroud de Nemelex Xobeh: 130 vouchers
Haunting memory: 90 vouchers
Nobleman's Garb: 75 coupons
Nobleman's Skirt: 75 coupons
Noble's Sophisticated Boots: 55 good
Nobleman's panties: 75 coupons
Nobleman's Coat: 75 coupons
Remember that you can also collect inheritance objects. There are 29 Heirlooms and 35 are needed for the Achievement Capture of Heirlooms which rewards Bécane with Driver!
You can continue reading on the topic:
presentation
darkmoon cards
additions made to 5.1
additions made to 5.3
additions made to 5.4
additions made to 6.0