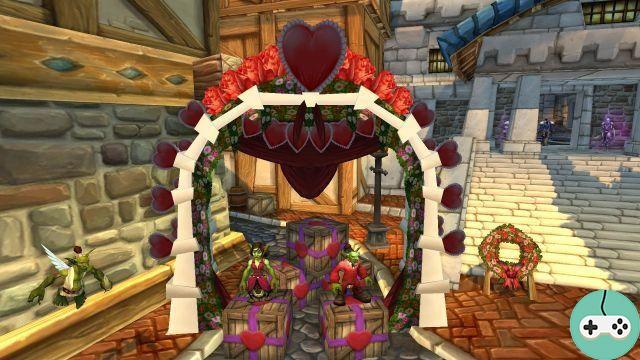 The world event, love in the air, returns to settle until February 16 on the occasion of Valentine's Day:
quests
La Royale Chemistry Key
Objects
Achievements
Compared to the previous edition, there are some new features:
Apothecaries are level 110 and give necklaces from iLvl 880, which makes them pretty much a must have for many players!
Damaged Heirloom Scabbard costs 450 Love Tokens
quests
A continuation of the quest, given by apprentice inspectors in the capitals (Horde / Alliance), is achievable only once per character (if you did it last year, you will not be able to do it again this year). She brings to inspectors Lapince Tordboulon for the Horde and Latenaille Tordboulon for the Alliance, near the main camp, where you will find 3 repeatable quests:
Distribution
Destroy the Royal
Gift
Every day you have a distribution quest:
A classy cologne cloud: spray 10 people with La Royale Eau de Cologne Spray.
A perfect little touch of perfume: spray 10 people with the La Royale Perfume Spray.
Candy Bombing: Throw samples of La Royale Chocolate Taste to 10 people.
Identify PCs or NPCs who do not have a little pink heart on their heads and activate the item of the day. The debuff lasts 10 minutes and can be canceled by players.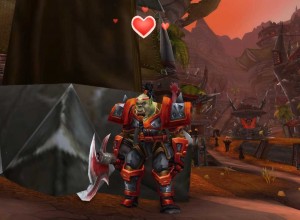 Depending on your level, the quest to dethrone the Royale adapts, so there are 9 versions:
Horde / Alliance: level> 5
Horde / Alliance: level> 14
Horde / Alliance: level> 23
Horde / Alliance: level> 32
Horde / Alliance: level> 41
Horde / Alliance: level> 51
Horde / Alliance: level> 61
Horde / Alliance: level> 71
Horde / Alliance: level> 81
This quest is daily.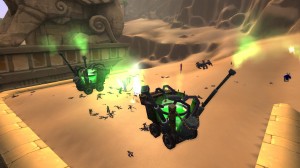 Note that by killing the members of La Royale, you recover lovely charms, on cardboard monsters that reappear rather quickly (well, suddenly, there are also a lot of people). In the same area, you can collect the quest Follow the recipe which allows you to recover 3x Tonic "Pana-C" La Royale transforming into a zombie.
Any defeated enemy (of minimum green difficulty) has a chance to drop lovely charms. Once 10 charms are collected, they can be transformed into a lovely charm bracelet to give to the faction leader of the day:
Horde
A Gift for the Warchief: Orgrimmar
A Gift for the Banshee Queen: Undercity
A gift for the great chef: Pitons-du-Tonnerre
A gift for the Regent Lord of Quel'Thalas: Silvermoon City
Alliance
A gift for the King of Stormwind
A Gift for an Ironforge Lord
A gift for the high priestess of Elune: Darnassus
A gift for the prophet: the Exodar
These repeatable quests allow you to obtain 5 tokens of love per quest, serving as currency for the purchase of many items (useless but essential). With 14 days of event, you will therefore accumulate 20 * 14 tokens of love through this.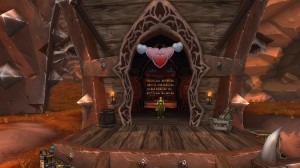 La Royale Chemistry Key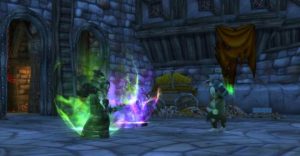 Thanks to the group finder (or by talking to an inspector), you can participate in the encounter against the 3 apothecaries, in Shadowfang dungeon. This meeting is suitable for all levels (from the 16th). This can quickly sting if you do not know the principle which is based on the two types of damage inflicted (fragrances):
the seductive scent (purple)
cologne (green)
The bosses will do various damage to the tank and damage, which can quickly become important, via areas on the ground of one type or another. It is therefore necessary to guard against it as much as possible by taking vials, on the table on the left just before the bosses: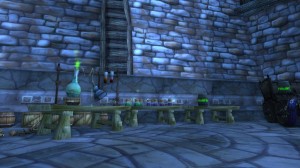 You can take the 2 vials but they cancel each other out, so you can only enjoy the effect of one vial at a time! Add them to your shortcut bar and change depending on the situation (purple for the first boss, then green for the second). Bosses give each fight an item, epic quality, of iLvl 635:
Heartbreaking charm
Wink of love
Sweet scent brooch
Necklace of the Pure Heart
Shard of twirling happiness
And the first time of the day, we get a heart-shaped box that can contain:
5 to 10 tokens of love
Toxic wastes (7%)
Vile Fumigator Mask (7%)
Forever Lovely Pink (7%)
The Heartbreaker (1.3%)
Large Love Rocket (0.03%). Note that it is necessary to be 98 minimum to have a chance to find this mount.
Starting with the less fortunate case where you only get 5 tokens on each encounter with the apothecaries, you will therefore accumulate 70 love tokens through this.
Objects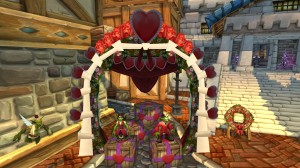 The lovely merchant sells various useful items mainly for achievements. The most difficult to have is the mount, the fast inseparable, which requires 270 tokens of love. With the 280 wages of daily quests and the 70 wages (possibly 140 but let's go for the worst case) of the daily meeting with the apothecaries, you will have plenty!
Sold items
Swift Lovebird: 270 tokens
Canoe of love: 270 wages
Solid artichoke heart: 100 tokens
Truesilver Arrow: 40 tokens
Lovebird chick: 40 wages
Manufactured Love Prism: 40 tokens
Eau de Cologne "Bravade": 1 pledge
"Enchantress" perfume: 1 token
"Eternal" perfume: 1 pledge
Eau de Cologne "VIGUEUR": 1 pledge
"VICTORY" perfume: 1 pledge
Eau de Cologne "Sorcellerie": 1 pledge
Bag of heart-shaped candies: 2 tokens
Romantic picnic basket: 10 tokens
Evening dress box: 20 tokens. Has a chance to contain one of three garments: Red Formal Garment, Purple Formal Garment, or Blue Formal Garment.
Handful of rose petals: 2 tokens
Artichoke heart: 10 tokens
Love rocket: 5 tokens
Pledge of love: 1 charming charm bracelet
Lovely Dress Box: 20 tokens. Has a chance to contain one of four dresses: Lovely Blue Dress, Lovely Purple Dress, Lovely Red Dress, or Lovely Black Dress.
Lovely rose: 5 tokens
Silver arrow: 5 tokens
Box of chocolates: 10 tokens
Achievements
There are 15 achievements associated with this event, but only the following 12 are required for the achievement Heart of Artichoke which grants the title to Heart of Artichoke.
The charm operates: make 12 bracelets (thus collecting 120 lovely charms).
Flirt with Disaster (Horde / Alliance): Buy any hard liquor, a handful of 2 Love Tokens rose petals, cologne (for men) or perfume (for women) to 1 token of love from the lovely merchant, combine it all (in a good way) and throw the rose petals at Jeremyah Payson, under the bank stairs in Undercity or at Sraaz, a pie vendor in Ironforge.
Dangerous Love: Complete one of the quests to dethrone the Royal.
Nation of Worship: Complete the 4 quests to offer the lovely charm bracelet to the leaders of your faction.
Sweet tooth: The candies can be found in the box of chocolates, purchasable for 10 tokens of love from the lovely merchant.
Cute, let's go see the rose: collect a bouquet of red roses or ebony roses from a dungeon boss.
In the heart ! : buy 2 x5 silver arrow
Do you feel lonely? : Buy a romantic picnic basket for 2 tokens of love and a box of chocolates for 10 tokens of love from the lovely merchant, go to Dalaran with another player and share the moment with your companion.
Pink fireworks: buy 2 x5 love rockets for 10 love tokens, add the rockets as a shortcut and spam your keyboard or mouse!
Handfuls of love: buy 3 handfuls of rose petals for 6 tokens of love and be patient to find the 11 class / race combinations. You can also arrange with a friend who creates low level characters for you!
Be mine ! : The 8 candies can be found in the heart-shaped candy bag, which can be purchased for 2 tokens of love from the lovely merchant.
No mercy for the artichokes: buy an artichoke heart, which can be purchased for 10 tokens of love from the lovely merchant, then go to the 5 areas indicated. Make / pity on it (the decoy can be bought by someone else).
5 other achievements are linked to this event but are not mandatory:
Love, Always: Buy the mascot for 40 love tokens from the lovely merchant.
Gentle ... but firm method: complete the encounter against the 3 apothecaries in Shadowfang dungeon (accessible via the group finder)
You have a beautiful dress, you know: buy an evening dress box for 20 tokens of love.
This could save your life (new in 2015): you have to get a necklace from the apothecaries and launch the fireworks of the object
Everyone Loves Me (New for 2015): Another player must use their Manufactured Love Prism on you!
Have fun !