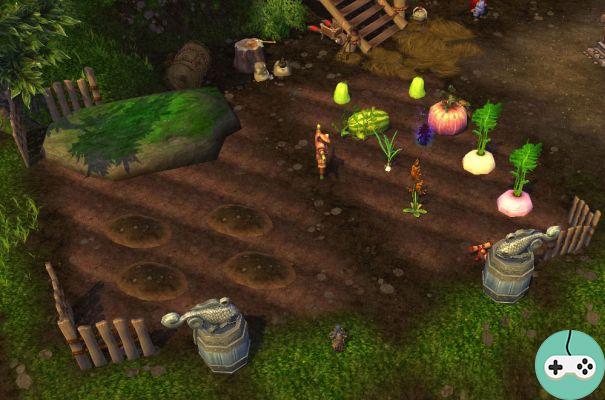 6 days after the first expansion (I had lesson 1 on the 29th and this lesson 2 on October 05), I became revered among the Plowmen and Yoon entrusted me with the second expansion mission: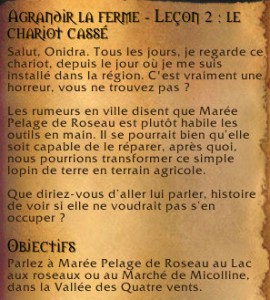 Indeed, in case you have not noticed it, 4 locations of the field are invaded by weeds and the carcass of an old cart. Maybe if this cart were fixed, the farm could expand!
When we go to see Marée Pelage de Roseau, on the quay, she is delighted to be able to help: "Do you need help? You've come across the right person!" She wants to help but for that she needs wood: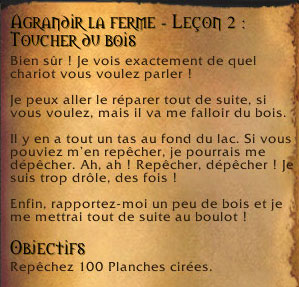 No problem, the lake is full of them. Unfortunately, it's also filled with unfriendly groupers and crabs: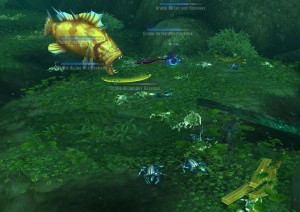 Once the wood has been returned to Marée Pelage de Roseau (a bit long as the name ...) the pandaren is very happy: "Wow! This wood will do perfectly. You have done a good job, Onidra. I gather my equipment and I meet you at Yoon's farm. I bet I'll be there before you! " More than to join her at the farm!
Indeed, the lady is working. 15 minutes later, it's over (you must stay connected for 15 minutes, otherwise the timer stops)! The farm is now 12 locations: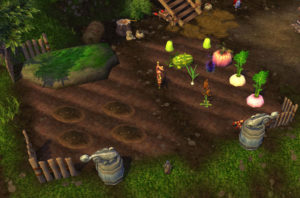 No doubt Lesson 3 will require breaking stones. Shall we talk about it again when I pass elated?