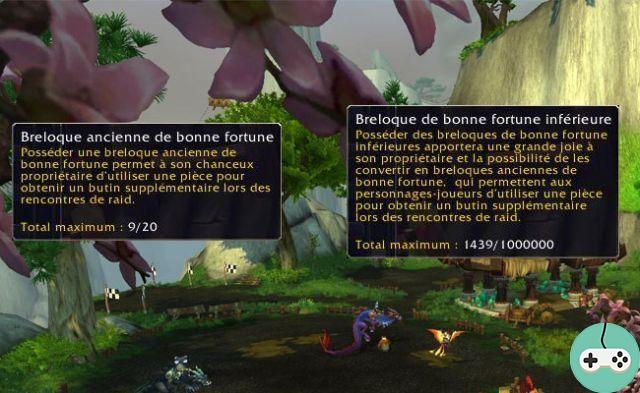 Already, to be sure that we are talking about the same thing, when I speak of raid tokens, it is these 3 old charms of good fortune that we get every week in exchange for 90 old charms of inferior good fortune from NPCs in shrines (Horde / Alliance). Lesser charms are obtained by doing daily quests and allow, in raid, to have an additional chance of drawing in the loot table of the bosses, no matter the mode of difficulty. In the absence of a piece of equipment, we get bag with gold.
Currently, it is possible to have a maximum of 10. In 5.2, it will be possible to have up to 20: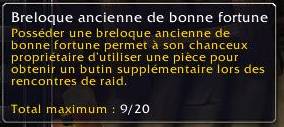 A message on the forum indicates that these charms will be deprecated for Raid 5.2:
Perfect
Daxxarri
source
Just for clarity's sake, once patch 5.2 is live, Elder Charms of Good Fortune will only apply to Mogu'shan Vaults, Heart of Fear, Terrace of Endless Spring, the Sha of Anger, and Salyis' Warband (Galleon). There will also be a brand new Elder Charm equivalent currently called the Mogu Charm of Fate. MRFs will be used in the new content being released in 5.2 including Throne of Thunder, Nalak the Storm Lord, and Oondasta (ooh, say it again!). They'll still be "purchased" with lesser charms of good fortune though, exactly how the current Lesser Charm to Elder Charm conversion works.
We'll be sure to let you guys know how various currencies (including Conquest and Valor) will work before the release of the patch, so you have some time to plan.
What I translate as follows:
Just to clarify, once Patch 5.2 hits the servers, Ancient Good Fortune Charms will only work at Mogu'shan Vaults, Heart of Fear, Spring Terrace, and Sha of Fear. and Galion. There will be a new style of charms, currently called Mogu Charm of Fate. These tokens will be used in new 5.2 content (Throne of the Thunder King, Nalak the Stormlord and Oondasta). They will still be "purchasable" with Lesser Good Fortune Charms, just like the current conversion with Old Lesser Good Fortune Charms.
We'll be sure to update you on any changes to the various currencies (including Conquest and Valor points) ahead of the patch, so you can plan ahead.
While this information is yet to be confirmed (and may change by the time of deployment), I think my 1439 lower charms will dust in my currencies for a while!