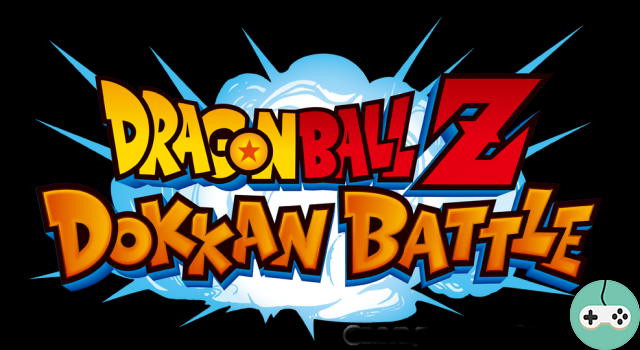 The universe of Dragon Ball is quite vast and known to most people because it has rocked many generations with manga and anime (Club Dorothée here we are). Akira Toriyama's series has seen many video game adaptations over the years across multiple platforms. We note for example the series of Budokai for fighting games or even recently the series Xenoverse. This time we are going to talk about a mobile game that mixes several types of games.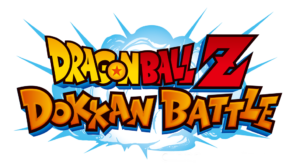 Even though it's still a game designed for mobiles, Dokkan Battle has a storyline that is a bit confusing and doesn't break a rabbit's three legs. An unknown villain will collect the seven crystal balls and ask the dragon Shenron who is the greatest warrior in the universe. To answer this question, Shenron created a rift in the spatio-temporal continuum where all the characters of the saga will be able to fight for the title. The story in itself is not crazy but as we have seen, it is not (necessarily) the story that makes the success of a game (Candy Crush, Clash of Clans, ...) . The game is broken down into two main parts: story mode and event mode. The first will allow you to evolve through the storyline alongside Trunks while in the second the events are missions linked to the game's lore. We can for example fight Broly the legendary warrior or even Cell during the Cell Games. Some of these events will allow you to accumulate medals to evolve your characters.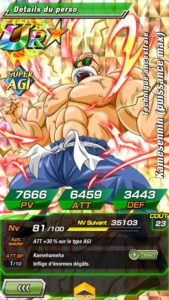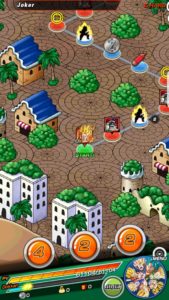 Let's talk about the gameplay of the game, you will have to create your deck from the cards in your collection (we will come back to this point a little later). Your deck is made up of six unique characters. Each of your cards has three important points:
Leader ability, which will increase the capabilities of your entire team (one per team).
The passive ability, which will trigger in your combat turn under certain conditions.
Links, which will increase your characters' abilities if they have the same links.
For each of the missions, your team will advance on a board of boxes where you will have to advance like a goose game. You will be able to collect on the checkerboard various items of support (blue capsules), training (red capsule) and medals (pink capsule). However, most of the game is not there but in the battles that will be triggered.
Each of your characters has a unique color that will have a weakness and an advantage over another according to a predefined pattern. On each of your turns, you will be able to move your three characters on the board to maximize links or block enemy attacks. To maximize your damage, you will need to put your character into a special attack by collecting 12 ki balls. A ball of your character's color is worth two points while the others are worth only one point. Even if the grid is random when the ki balls go down, your different skills can be used to decrease the number of ki balls that your characters must absorb to go on special. You will understand, the creation of your team before and during your game is essential to advance in the levels.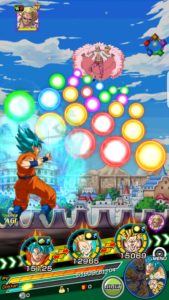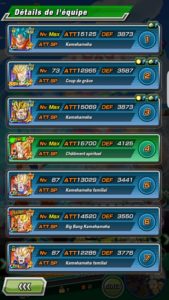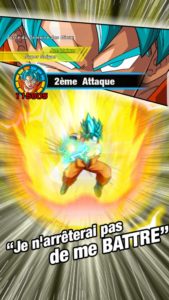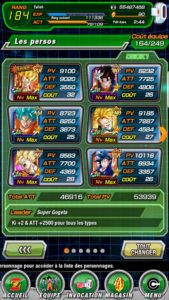 As I was able to talk about previously, Dokkan Battle is a card game where each of your cards will have different skills and rarity. The rarest cards (SR and SSR) are found in the portals which are added regularly to the game. To make summons in these portals, you will have to use Dragon Stones also called DS by the players. These can be recovered in the story mode (1 per level) and on the various periodic events. Unfortunately, these stones are a scarce commodity when the contents have been cleaned up once. The only ways then to collect stones will be the new unfinished events and as you can imagine: the credit card.
However, even without these summons which will (hopefully) give you a serious boost, you will still have events to console you with the possibility of recovering characters of a certain rarity that can be evolved thanks to the medals of the current event. These characters may also be needed for certain events. To give an example, a Legendary rarity (LR) Goku can only be obtained with Super Strike characters, an event type. The second difficulty with these events is that they can impose certain restrictions such as a limited team cost or that the bosses to face have certain attack or defense abilities.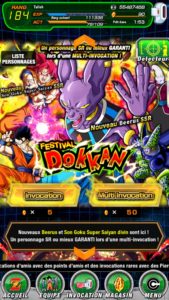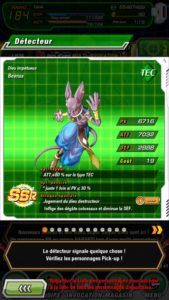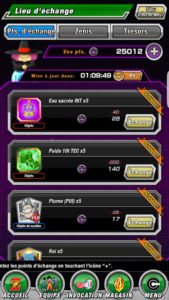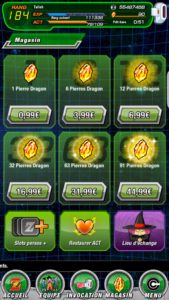 To conclude, Dokkan Battle remains a good mobile game with a significant addictive side. You should know all the same that the game has a Pay To Win side given that the futures portals are not free and that the only solution will remain the Tenkaichi Budokai tournament but will require a certain investment in terms of time (allow 10 hours of game per day to get to 80 wins and top 10K). Besides that, the game remains quite strategic for the creation of teams and its organization in the fights. The various events and their restrictions will highlight your characters that you may not be used to using in your regular teams. Guides will soon be arriving on Games Managers based on in-game events to help you get started and tackle the events well.