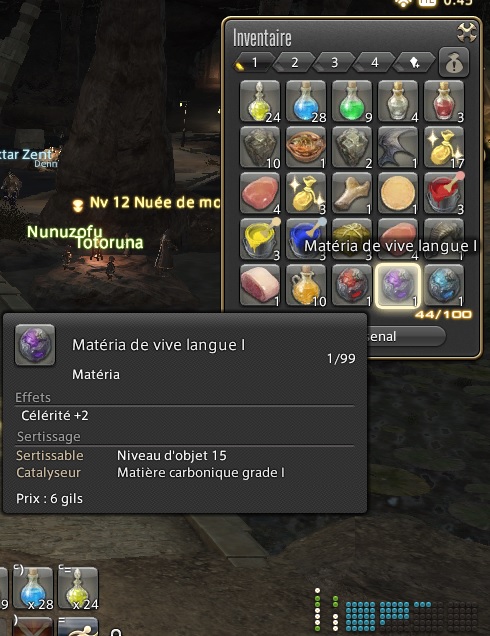 Hiroshi Minagawa returned to several points about the game.
Inventory
Currently, there is no function to trier inventory which results in a happy mess in our bags!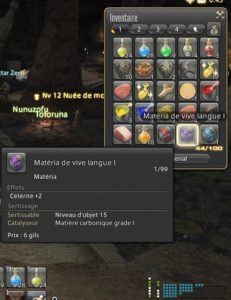 Inventory overview during Phase 3
This function was planned but had to be changed. In phase 3, the Arsenal was implemented, it is the bag that stores all our equipment. With the Arsenal, your inventory increases to 400 places. Basically, sorting had to be handled through the player's databases on the server. This is no longer possible and this whole process needs to be overhauled. The team will ensure that it is the customer who does the sorting.
For Phase 4, you will discover the features following:
Possibility of automatically separating the received objects by category.
Better identification of the equipment you can equip. Those that cannot be marked with an X.
I still miss the possibility of seeing if an item of equipment is part of an outfit or not. And, as far as the inventory search function is concerned, you will have to wait a bit. The person working on it already takes care of the sorting function. One thing at a time !
Window size and fonts
Phase 4 will host the possibility of change size of each window individually as well as the ATH. You will have the choice between:
80% (minimum size)
100% (standard size)
120% (maximum size)
Some precisions :
Your settings will be saved and you will find them the next time you log in, by opening another window, etc ...
Each window can have a different size.
The performances allow to change the window size from 5 to 300 *%. After the release of the game, it is planned to increase the possibilities of customization by going from 50 to 200%. In addition, for phase 4 you will be able to hide the interface while continuing to fight and use your actions.
Enemies icon
Following feedback from the testers, modifications will be made to the icons for Phase 4. During Phase 3, the icon conveyed two pieces of information:
Sa color indicated the behavior of the enemy: red for aggressive, orange for the one who lets you wander quietly.
Sa forms and size indicated the rank of the enemy. If the strength of a monster is most often estimated by its level (a level 10 monster is ideal prey for an adventurer of the same level), they also have a rank indicating whether you must fight it alone or several.
During Phase 2, the red icon indicated if a monster was aggressive only. For Phase 4 this system will be reviewed. Players have complained about the lack of visibility and clarity of this icon, as it indicates two pieces of information by color and shape.
Aggression, on the row icons, will be displayed as follows:
aggressive: orange yellow
non aggressive: blue green
Des symbols indicating aggressiveness on the range icon will be added;
rank icon (non aggressive)
rank icon (aggressive, the icon is displayed)
In order to improve display performance, an icon will now display two symbols instead of having two icons for each. Hiroshi Minagawa specifies that it is necessary to have two types of icons (one with symbol and one without) but adjustments will be made later.
I'm not sure I got it all. the best will be to see what it gives during phase 4!