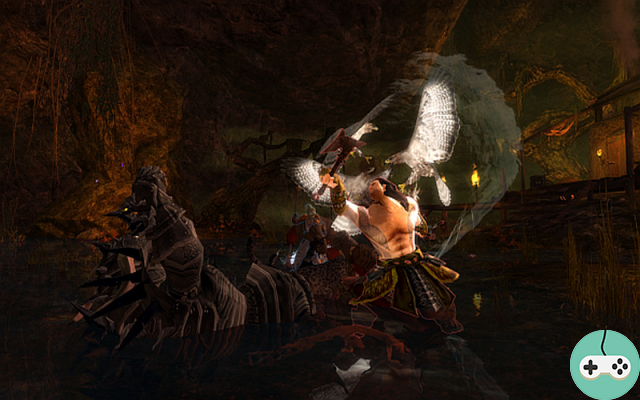 Marsh is one of the 9 Fractals present in the new dungeon Mist Fractals.
Summary:
Presentation
Loyalty card
Strategy
Rewards
Presentation
The Marais is a place where you can get lost very easily. You will have to find wisps which will be used to open the passage to a boss who destabilizes the fractal.
Kill him in order to stabilize it all as you know how to do.
Loyalty card
here is full detailed dungeon map.
The rest of the article will explain point by point how to succeed in this dungeon.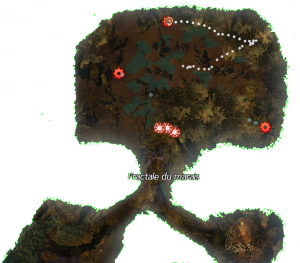 Make me bigger!
strategies
Associated successes:
Marsh Fractal Stabilizer: Finish the fractal
Footwork: Do not trigger any trap during your passage in the fractal, no one should trigger any
Strategy:
The goblins
As soon as you arrive in the swamp, you will be able to see a huge amount of traps on the ground. There are bear traps, taut wires and other types of well thought out traps. Open your eyes in order to succeed in the "Footwork" achievement?
For this first part, you will need to collect 3 wisps scattered around the map. The goal is to collect them and bring them to a specific location before the time runs out! Time runs out as soon as a player in the party grabs a wisp.
Obviously, in order to complicate matters, monsters of all kinds (in addition to traps) will not make your job easier.
In addition, the swamp is made up of a maze of plants and walls may pop in front of you, forcing you to wander until you find another passage.
As soon as a player takes a wisp, a countdown starts and players only have 30 seconds to report the 3 wisps.
When a player wears a wisp, they can no longer use their weapon skills.
If the wisps are not brought in within the time period, the map is reset: the walls change, modifying the paths and the position of the wisps.
The walls move while you bring back the wisps, which makes it even more difficult!
Opening of the passage and stabilization of the fractal
This done you will only have to kill The Moussu ou Carnasse, according to the path which revealed itself to you when the wisps were brought in.
Nothing really complicated except to quickly kill the summons of the bosses and avoid their few big bursts (A lot of damage in a minimum time)
Good luck ?
Here is the exploration of the Marais:
Rewards
Each time you level up, the difficulty increases and the rewards are better. So you will earn more Fractal Relics and more items!
Relics of Fractals rewards according to the difficulty chosen
Level 1 to 5: 5 Relics of Fractals;
Level 6 to 10: 6 Relics of Fractals;
Level 11 to 15: 7 Relics of Fractals;
Level 16 to 20: 8 Relics of Fractals;
Level 21 to 25: 9 Relics of Fractals.
Daily safe
Levels 2 and 4: Bag of gold + 15 relics
Level 6 and 8: Bag of gold + 20 relics
Level 10+: Bag of gold + 25 relics and a possibility of obtaining a ring Ascension.
There will also be some changes depending on your difficulty level:
From Level 10: Bosses begin to inflict new Agony condition. Coagulated Mist Essence Balls can be dropped. Rings can also be obtained from bonus chests;
From Level 21: Infused Rings can be obtained from bonus chests (+5 Agony resistance).
Obviously, equipment drops all the way through your dungeons?
Thank you for reading me and I tell you very soon for new guides!
Do not hesitate to send me your own version or pictures of the swamp, that would make us very happy and other players could also enjoy it?
Also if you feel like writing for gw2-guide, the procedure can be found here!
Thank you !
source
Inspired by Artificial Wave, spanish Wikipedia GW2 and my experiences.