This is news that should delight nomads and fans of tablet and mobile games.
Indeed, in an article published on the official website, the developers suggested that a version of the card game would be available on Android tablets before the end of the year. They have, according to their statements, make their priority.
Perfect
Blizzard
source
Over the past year, many of you have asked us when we are going to release Hearthstone on Android. We try to do things one by one with Android tablets being the priority on our list. Our team hopes to be able to release the game on Android tablet before the end of the year; We only have a few mana crystals left to polish and angry chickens to hunt.
Other information contained in this publication: mobile game development. The developers wanted to respond to the many players who asked if the game would one day be suitable for IPhone and Android mobile. Again, the game team wanted to be reassuring by predicting an release of these versions for next year. A mobile version already exists in the development premises, but a large part of the work remains to be done, especially with regard to the user interface.
Perfect
Blizzard
source
Even though we already have a working internal version, we don't expect it to be finalized until early next year. It is very important to us that the mobile version of Hearthstone offers the same gaming experience as the one for tablets and computers. Rethinking the user interface is our main challenge because it must be intuitive and offer the same quality of play as all our other platforms.
For Windows Phone users like me, you may need to be patient or switch phones (laughs).
Finally, an infographic has been published presenting us a certain amount of data which proves that Blizzard's card game has conquered a large audience.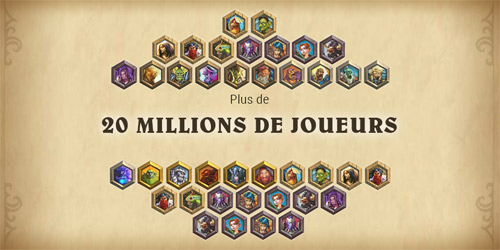 And you, what do you think of this news? Can't wait for Hearthstone to hit your mobile device?