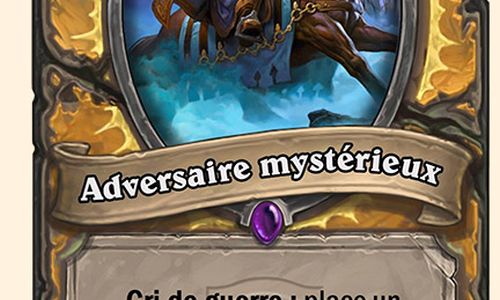 Since August 24, the HeartStone expansion, the Grand Tournament, has been released. Numerous predictions on the cards were made as to which card would be the big winner of the expansion, which ones would make it possible to make a new top-tier deck on the game. Many players saw the Warrior, the Druid, the Mage and especially the Paladin come out big winners of this expansion. The concern is that none of the new card additions dethroned the flagship deck, and the most powerful in the game, of course I mean the boss Grim.
The paladin was however illustrated with this new card that is the mysterious opponent who gave life to the deck currently very played on the ladder: the Secret Paladin.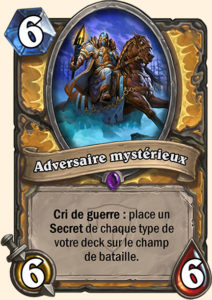 Map analysis
Statistics : for 6 mana, we have a 6/6, therefore extremely strong statistics. It is also out of the reach of the Big Game Hunter.
Power : This is where this card gets a lot of attention because it places a secret of each type in your deck on the battlefield. So she can potentially ask 6 secrets, which is huge. Taken one by one, the secrets of the Paladin are very weak, which is why he was not very successful. If you have land mastery, placing Noble Sacrifice, Avenge, Repentance, and Redemption, all in the same turn with this card, gives a huge card advantage on the land.
Card power : we can say that this card is in the same category as the Unstable Portal. She can finish the game on her own, but sometimes she can be just as weak. This is the great paradox! If the opponent controls the terrain and handles the start of the game well against our posed monsters, the Mysterious Opponent on his own is not that powerful because the paladin's secrets are rather weak. In addition, if we know the secrets, we can activate them as we wish, which facilitates the management of the card.
To conclude, this card is disturbing in the sense that it turns a very uncompetitive deck (the secret paladin) into a very (too) powerful deck. Blizzard had claimed not to want to release a new Dr Boom but we already call the Mysterious Adversary Dr T6! In addition, with the reduction in its effectiveness against the Grim boss deck, it leaves a monumental boulevard for this deck that will make more than one player cry!