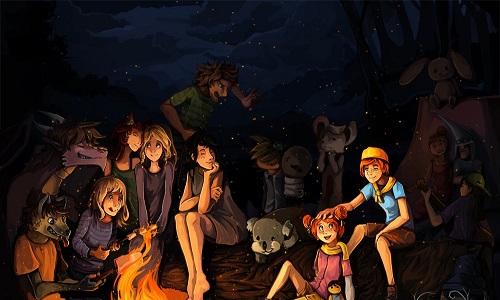 Let's think outside the box with an interview with Lou Lubie who tells us about his fantastic project! Indeed, what better way to talk about a game than to let the person in charge of the project speak but also a member of the game development team. And when I speak of a team, I should rather speak of a small army because Rose in the Woods was created by a team of 82 internet users.
Without further ado, I suggest you listen to Lou Lubie talk to us about Rose in the Woods :
And if you don't have time to listen to it all, here's what they say:
The game
Rose in the Woods is the story of a forest campsite that goes wrong. During the night, a little girl disappears and her older brother sets out to find her in the woods. We play this young man, armed with his slingshot and we will have to fight monsters arena shooter style so a top view shooting game in a closed space. Small originality that the designers tried to bring to the concept. We will also be able to help allies lost in the forest and place them by our side in the tower defense arena. The allies have different powers and we therefore have a small strategic dimension which is added to a rather nervous gameplay.
A little game is also offered between each level to find allies. It is a random system where you click on pairs of eyes in order to illuminate them with the fireflies that you collect in the levels. There is therefore a micro-management system in the arena that forces you to move away and put yourself in danger in order to recover these precious fireflies to spend them and acquire more allies to increase your chances of finishing the following levels. Bringing allies back to life also requires fireflies. This little game was implemented because gaining new allies is more interesting for the player if he feels he deserves them.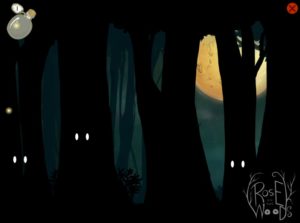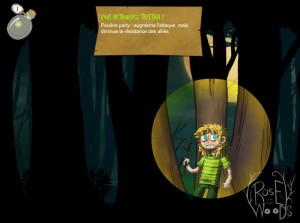 Despite the fact that it is available on browser and developed in flash, it is not at all a casual game. The game is indeed very difficult and the last levels are a real puzzle. This hardcore gamer side can be explained by the fact that people interested in creating a video game are above all enthusiasts. Under these conditions, making a kill-the-time Facebook game is obviously less interesting. But let's talk about these famous people.
Project
Regarding the development phase, the greatest peculiarity of the game lies in the fact that Rose in the Woods was produced by a team of 82 internet users. All of these people have done their part one by one, and most of them have never seen each other. The vast majority of participants come from Spain but there are also Canadians and Reunionese!
All this little world found themselves on a blog, the small video game factory, which Lou Lubie launched last July. The principle of development is as follows: Lou Lubie writes an article every 2 or 3 days to keep people informed of the progress of the project and each person brings their small batch of novelties, each in their field (game design, graphics, sound, music, levels, etc.), Lou Lubie obviously managing the development part. It is therefore a collaboration with a creative team made up of Internet users like you and me and an independent developer that allowed the development of Rose in the Woods.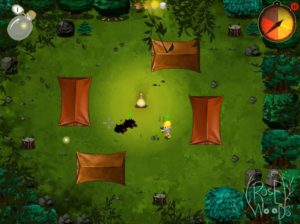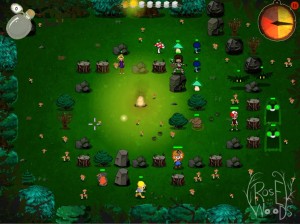 This development process was an opportunity for these people to learn how to design a video game. It was also necessary to call on some professionals, in particular to issue criticisms about the game. They are therefore big players such as Ubisoft, Arkane Studios or Cyanide.
The development process lasted 3 months and required the implementation (from A to Z) of a level creation tool so that each object, element can be incorporated randomly into the maps. We needed an editor to keep everything consistent and varied.
Reception in the press
It must be said that the general press (excluding indie games) has very well received Rose in the Woods. It must be said that the project is ambitious and the experience out of the ordinary. For a preview of what happened during PGW for the game, click here!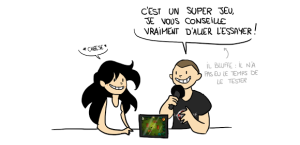 The future
The idea to create a game came from the Draw Forum, a place where people communicate only through drawings. Every year, forum participants were invited to participate in the design of a very basic little game by incorporating their avatar into the game. This year, Lou Lubie wanted to create something more ambitious and Rose in the Woods was born !
The future does not lie in the design of a new project (well not right away) but things will rather intensify for Rose in the Woods, it is now a question of making it known by distributing it via professionals very interested in gait and play.
Thanks again to Lou Lubie for granting us this interview and we leave with images of the game!